Cisco (CSCO) delivered record earnings of 43 cents this second quarter and that is a whopping 27% increase off of the same quarter in 2011. Net sales also rose, to a quarterly record of 11.5 billion which is 11% higher than the previous year. Analysts are forecasting continued growth over 2011. Its upcoming earnings are expected to be 23.30% higher and for the year-16.67% higher than 2011.
When comparing Cisco to other well known investments, one can see what a value the stock really is. Price to Sales Ratio indicates how much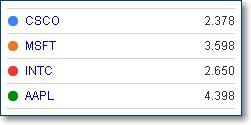 an investor is paying for one dollar of sales. It actually costs less to sell a Cisco product than it does three other well known stocks.
When we look at the price to book ratio of the same four companies, it again looks like a great value. The price to book ratio tells us what it costs us for one dollar of its net assets. Simply put, it shows what shareholders will get after the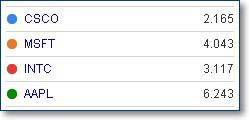 company is sold and all its debts are paid off.
With record setting earnings and net sales, continued forecasts of healthy growth through the year, and by showing itself as such a value stock alongside other big tech companies, Cisco is a strong healthy stock to own.
We believe the stock will continue to move up this year. On an early trade this year, we looked at a long term debit spread trade with options played out to October. With the present move down and the given strength of the stock right now, we recommend an outright Call option play. A May 20 call option is priced reasonably at $0.67. There is no reason one cannot buy an option straight up or look out farther and possibly create a calendar spread. In any event, the stock is ripe for a long term buy and a number of different option plays for short term income.
Disclosure: I have no positions in any stocks mentioned, and no plans to initiate any positions within the next 72 hours.