By G C Mays
South American soybean (SOYB) crop estimates continue to shrink due to the severe drought conditions that persisted throughout the key pollination period of the growing season. In addition, the prospective plantings report revealed that total soybean acres planted this marketing year would fall from 74.97 to 73.90 million acres. This along with lower production has resulted in prices in excess of $14 per bushel.
Corn (CORN) has swiped some of those soybean acres as the USDA expects farmers to plant 95.9 million acres of corn this spring, which is a big jump from the 91.9 million acres planted a year ago. How these recent events will affect the sales of fertilizer and seed companies remains a mystery as fertilizer and crop prices have diverged over the last few months. Mosaic (MOS) missed consensus estimates by ¢0.09 when it reported its 3rd quarter earnings and while Monsanto (MON) reported a strong 2nd quarter, the company expects a flat second half of their fiscal year compared to the previous year. With the extra corn acres planted, tons sold by nitrogen fertilizer company CF industries (CF) could be brisk during the planting season. However, prices received for that tonnage is still unclear as ammonia, urea, & nitrogen prices have ranged from flat to down during the calendar years first three months. CF Industries is tentatively scheduled to hold its 1st quarter earnings conference call on May 4th.
The USDA reduced soybean production estimates by 1.5 million metric tons in both Brazil and Argentina due to more crop damage than expected.
click to enlarge images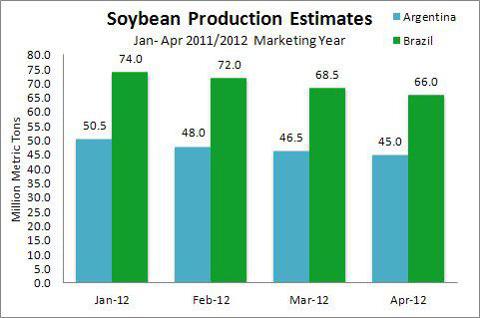 Click to enlarge
Source: The Mays Report
USDA estimates tend to lag by a month due to the timing of surveys, and based on contacts in Argentina, we should expect at least one more reduction in Argentinean soybean and corn production estimates. USDA reports will not show the extra reductions until May. Corn production estimates are stable to increasing in Brazil.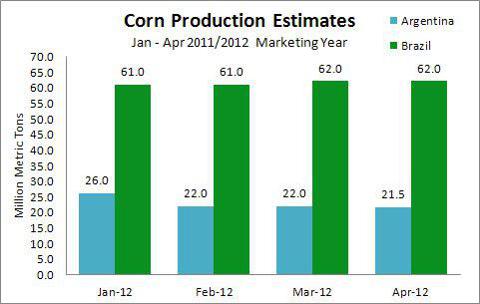 Click to enlarge
Source: The Mays Report
China reduced its beginning corn stock estimates by 4 million metric tons due to a 4 million metric ton reduction in domestic consumption during the 2010/2011 marketing year. However, this only resulted in a 1 million metric ton reduction in 2011/2012 ending stocks as China switched 3 million metric tons of corn feed to wheat, which reduced total demand by the same amount.
The USDA raised average soybean prices to $12.25 from $12.00 per bushel while average corn prices stayed at $6.20 per bushel.
We are seeing conflicting signals in both the commodities and fertilizer markets. Lower soybean production is causing soybean prices to move higher while the extra corn acres are both bearish for corn prices and bullish for companies that sell nitrogen fertilizer and are competing to fertilize a share of those nearly 96 million acres like CF Industries, Agrium (AGU), and Potash Corp (POT). Investors in these stocks need to keep an eye on fertilizer prices as well as watching to see if dealers follow through on their wish to clear their inventories and cut risk this planting season if they wish to solve the puzzle of divergent crop and stock prices.
Disclosure: I have no positions in any stocks mentioned, and no plans to initiate any positions within the next 72 hours.