Even though QE3 expectations pushed its price higher last week, gold is lagging behind. Both charts below show that the precious metal should stand higher.
On a relative basis, the gold/silver ratio failed to track the SP 500/MSCI Emerging ratio over the last few weeks. The ongoing correction in the SP 500 will likely trigger the mean reversion of both series, but higher gold prices would not be at odds with that scenario and may even help the convergence.
Real rates (as gauged through TIPS yields) suggesting gold should stand around 1750, not 1650.
click to enlarge images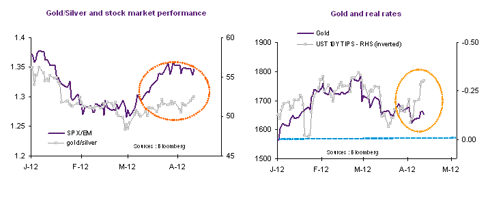 Technically, the picture is not alluring, as any rally could be seen as corrective given the downward price channel of the precious metal. We could easily have gold resuming soon its downside trend towards 1553-1570 ahead of 1520". How do we reconcile those views?
The dollar could provide some guidance. There is a strong link between monthly changes of the dollar index (DXY) and the Gold-Oil-Ratio (GOR): positive changes in the DXY come along with negative changes in the GOR. The recent picture shows that after a February/March disconnect, mostly attributable to the (limited) Iran premium on oil, both series are back together, and there is no apparent mispricing.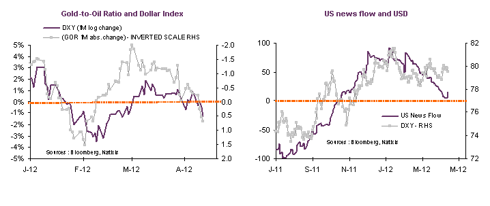 The DXY has shunned the declining news momentum over the last few days, but this may not last if the Fed member's speeches remain bearish. It could support gold on the upside, but this would be short-lived.
Today's diverging signals on gold prices reflect the plurality and versatility of its drivers. If the short run picture is slightly bullish for the precious metal, there is no genuine reason for us to alter our bearish call for June (1520 USD).