On Friday morning, April 13, 2012, JPMorgan Chase & Co (JPM) and Wells Fargo & Co (WFC) both reported Q1 2011 earnings that beat Wall Street average estimates. Nonetheless, both large banks declined on Friday-- along with most financials. JPMorgan is the largest U.S. bank in terms of assets, while WFC is the largest in terms of market valuation, and also the largest U.S. home lender.
JPMorgan reported net income of $5.38 billion, or $1.31 a share, compared to $5.56 billion, or $1.28, in the same quarter last year. At that time there were more shares outstanding, with the reduction due to JPM's buyback plan. See a recent performance chart for JPM:
(click to enlarge)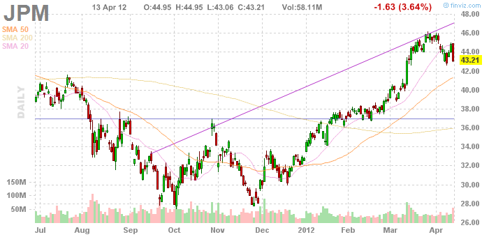 Last year, the bank earned its most ever in a single quarter, so this quarter's 3.1 decline from that level is still rather significant. Many estimated the bank would earn below $1.20. Much of JPM's increase in earnings is related to mortgage refinancing, which continues to be a popular choice for many U.S. borrowers. Mortgage and related fee revenue was about $2 billion, compared to a loss of nearly half a billion last year. JPM also noted strong increases in its trading revenue and income.
Wells Fargo reported a 13 percent rise in first-quarter profit and set a quarterly record for the bank as it increased income from new mortgages and refinancing, and continued to mitigate losses from legacy mortgages. WFC's net income increased to $4.25 billion, or 75 cents per share, compared to $3.76 billion, or 67 cents per share a year earlier. The results were slightly above Wall Street analyst average estimates.
Below is a recent performance chart for WFC:
(click to enlarge)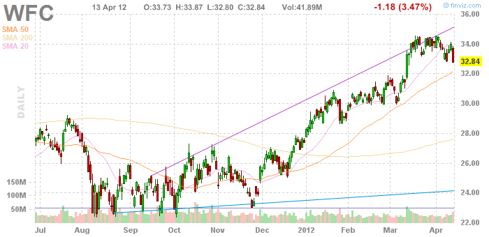 JPMorgan and Wells Fargo have been two of the better performing large U.S. banks through the financial problems that have plagued the markets over the last few years. While many banks were forced to shed non-core assets in order to raise capital, JPM and WFC acquired more assets and substantially increase the already massive market presence of each institution.
In particular, JPM acquired Bear Sterns and Washington Mutual, while WFC acquired Wachovia, with both also acquiring many other smaller banks and segments. Both JPM and WFC also continue to hold substantial loss reserves related to legacy mortgages, and will likely continue to have high litigation costs related to mortgage issues for the next several quarters. Such litigation risks concern all of the large banks.
Citigroup Inc. (C)is the third-biggest bank in terms of assets, behind JPMorgan and Bank of America Corp. (BAC). Citigroup is scheduled to report Q1 2012 earnings on Monday, April 16, 2012, with BAC reporting on April 19. Both BAC and Citigroup have performed exceedingly well so far this year. Shares in Citigroup have appreciated approximately 28 percent since the start of 2012. See a recent performance chart for C:
(click to enlarge)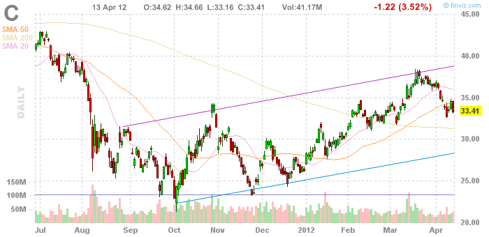 Wall Street average estimates are predicting that C will report about one dollar per share in earnings on $19.85 billion in revenue. This would be a slight revenue increase over the same quarter last year and earnings in line with Q1 2011.
Goldman Sachs Group. (GS) will report its results on Tuesday, April 17. Goldman has less exposure to retail banking and mortgage refinancing than do banks such as C, JPM and WFC, and greater exposure to investment banking and trading. Wall Street average estimates predict $3.55 in earnings per share for GS on $9.33 billion in revenue for Q1 2012. Such results would mean Goldman would generate about $2.5 billion less in revenue than it did in Q1 2011, but earn over double the earnings per share it earned last year for the same quarter.
Bank of America will follow on Wednesday, April 19. Bank of America has appreciated about 56 percent so far in 2012, even after selling off through the last two weeks. See a recent performance chart for BAC:
(click to enlarge)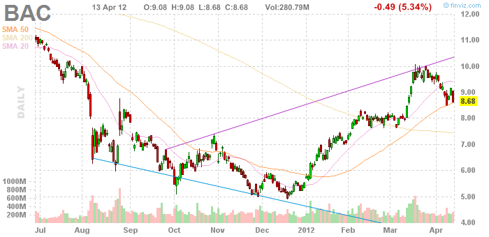 Since BAC sold so many assets during 2011 in order to raise capital, it is expected to earn considerably less revenue and income than it did during Q1 of 2011. BAC was one of the worst performing financials in 2011, and is among the best performing so far in 2012.
Both JPM and WFC set high bars for their large-cap financial peers, and the sector as a whole has outperformed the broader market so far in 2012. Since both JPM and WFC sold off after reporting, it appears possible that the whole sector could correct downward if the other banks report less rosy results next week.
So far this year, the S&P 500 financial sector has appreciated about 16.37 percent, with all of the above-named financials outperforming the sector and the broader S&P 500, which has appreciated about 9.26 percent since the start of 2012.