Powerwave (NASDAQ:PWAV) once again guided revenues down for Q1-2012. Here is the link to the release. While most companies would not issue such a release on a Friday without providing any relevant commentary or color, Powerwave management has once again proven that they lack the leadership to take this company forward. This is the 3rd quarter in a row that they have missed expectations. For followers of Powerwave, this has been a truly disappointing period which management continually claims to be a result of a slowdown. Part of that is correct, but for long term investors (I have followed the company for 15 years), the real problem has been the management team that has been operating this company since 2007. CEO Ron Buscher has to go as he has not delivered on anything over the last few years. Revenues have gone from $890 million with expectations of reaching $1.0 billion to what they are today, $352 million in trailing 12 months through Q1-2012. Couple this with cash burn too troubling to mention along with a management team that continues to claim they are not losing market share. A chart below describes the pain shareholders have had to endure.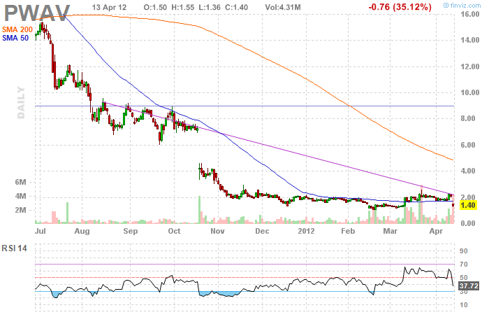 Click to enlarge
Back in November, I formally sent a letter to the Board of Directors suggesting that they pursue a strategic review before it's too late, highlighting my concerns. I followed that up with a second warning letter in February of this year stating that with the current CEO at the helm, PWAV would be in trouble if the spending slowdown continued longer than expected. Back on the last conference call (transcript here) management didn't believe revenues would go down sequentially from the Q4 level of $60m. Now they are telling us that revenues will be $40-$45 million. So let me recap, 3 quarterly revenue targets were missed, starting with Q3-2011 in November when they reported $77 million on estimates of $168 million (missed by 55%).
If you as an employee of any type of company had this kind of performance record, you would be fired. Add on top of that some extremely generous stock options which can be seen here, one has to question what the Board of Directors is discussing during their meetings.
Unfortunately, Tora Capital does not have the resources or muscle of a Carl Icahn or Bill Ackman to formally pursue ousting this management team and is issuing this open article for others to voice their opinion as shareholders.
Tora Capital through its funds and various relationships has a position of about 120,000 shares of common stock and advises others that also hold shares in the company. Despite our efforts to make suggestions, we have not heard anything from management on a plan to improve the situation within the company.
Links to our letters to Powerwave's Board of Directors can be found here and we recommend other shareholders formally voice their concerns to Powerwave. Management has to provide a formal plan on how they plan on saving this company. So far, I have not heard anything meaningful, which suggests a lack of leadership. In addition, this has been confirmed by numerous people I have spoken to within the industry.
One final note, if you don't have a plan, bring in someone who does or do a strategic review. There are numerous investment bankers waiting for your call.
Disclosure: I am long PWAV.