Some energy companies tend to rise and fall with oil prices, adding some worry lines for investors. But what if you found a company that can endure the mood swings of the energy market and still provide good, long-term returns? I think I found that in Apache (APA). For the past 58 years, Apache has been diversifying its resource extraction units and creating a stabilized company to weather the energy sector storms. The company has been growing through acquisitions and smart plays. Apache produces not just in North America, but also in the Gulf of Mexico, Egypt, Australia, Argentina, and the U.K.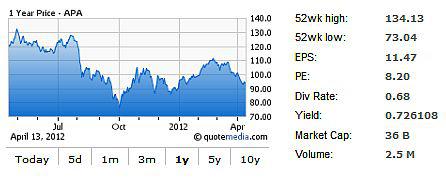 There are several reasons I believe this company to be a good play. The number two U.S. independent oil and natural gas producer by market value behind Anadarko (APC), Apache has been in an acquisition mode- making it even more attractive. The company recently announced its merger with Cordillera Energy Partners III LLC. Apache is using the sale of a $3 billion bond offering to help with this purchase. This deal will allow Apache access to Cordillera's estimated proved reserves of 71.5 million barrels of oil equivalent and current net production of 18,000 barrels of equivalents per day. This is in addition to a finalized deal earlier this year when Apache acquired Mobil North Sea Limited assets for $1.25 billion from the U.S. oil giant Exxon Mobil (XOM); and the 2010 buys from BP (BP) of upstream assets in the United States, Canada and Egypt for roughly $7 billion; and Devon Energy Corp.'s assets in the shallow waters of the Gulf of Mexico.
Apache recently partnered with Pancontinental (OTC:PCOGF), Origin Energy Limited (OTCPK:OGFGF), and Tullow Oil (OTCPK:TUWLF) for a 50% stake to drill a well on an offshore Kenyan block. The project will take a few months to complete and is expected to produce a maximum of 4.9 billion barrels of oil. In West Texas, the company is spending more money to bring up the bubbly crude, up to $2 billion planned for 2012. Last month, CEO Steve Farris said,
I'd be really surprised if it (spending) doesn't go up to $2 billion by the end of the year. We've doubled our (Permian) activity over the last 18 months and we have 30 rigs running. We've got 3 million gross acres so we're in all the major plays.
Apache also has partnered with Chevron (CVX) for a 13% ownership interest in the Wheatstone Liquefied Natural Gas project. This will provide an additional capacity of 8.9 million tons per year and start up in 2016. In March, Apache agreed to a joint venture with Yara International ASA (OTCPK:YARIY) and Orica (OTCPK:OCLDY) to build a 330,000 metric tons ammonium nitrate plant on the Burrup peninsula, and distribute ammonium nitrate to mining customers in the Pilbara region.
Apache is also very active in developing oil and gas resources in Australia, and has a large pipeline of projects in both the exploration and development stage. Over the next three years, these projects are expected to bring thousands of barrels of production to the company's base. The company has allocated $1.8 billion in capital for the Australian operations this year, which is up from $1 billion from last year. Also, last year the company had 6.7 million gross acres under lease in Australia with average daily production of 69,000 barrels of oil equivalent (BOE) from this region.
According to the numbers, the mean forward P/E of Apache's competitors is 13.2, which suggest that Apache is undervalued relative to its publicly traded competitors. The company's earnings have had an increase of 10% year over year, resulting in a forward P/E ratio of 6.7. By comparison, Andarko Petroleum is expecting EPS of $5.05, an earnings increase of 29%, for a forward P/E ratio of 14.8; EOG Resources (EOG) expects EPS of $6.8 next year, an earnings increase of 32%, for a forward P/E ratio of 15.3; and Devon Energy (DVN) is expecting EPS of $7.28 next year, an earnings increase of 15%, for a forward P/E ratio of 9.5.
Because of the glut in the natural gas market, Apache has been proactive with the liquid side of production. With approximately 50% of Apache's production being liquids, but being the wise little train that could, Apache is putting its natural gas to good use. Like Encana (ECA), Apache is using natural gas to power its drilling rigs instead of using diesel fuel. Like Chesapeake Energy (CHK), Kodiak Oil & Gas (KOG), Cabot Oil and Gas (COG), and others, finding new uses for natural gas is a priority. As Steve Farris stated
What we need to do is increase the amount of natural gas demand in this country. From an economic standpoint, it's a no brainer.
In 2011, Apache generated $4.5 billion in net income or $11.47 per share while the company's production rose 14% to 748,000 barrels of oil per day. It increased proven reserves to 3 billion boe, while replacing 125% of production through drilling. Apache has a market cap of close to $38 billion, with about $10 billion of operating cash flow and debt of about 20% of Apache's capitalization. This year, the company expects to grow production by 7%-13%.
Additionally, the company raised its quarterly cash dividend to 17 cents per share (68 cents per share annualized), representing an increase of approximately 13% over the previous payout. The company is ready to sustain a steady dividend growth over the next few months that would improve long-term shareholder value. This is just another move highlighting the company's strong cash flow position, making this company more attractive.
Disclosure: I have no positions in any stocks mentioned, and no plans to initiate any positions within the next 72 hours.