With Google's (GOOG) earnings report out of the way and the company's stock price taking an almost 4% haircut Friday, entering a bull-put credit for Google's stock will be considered. Entering a bull-put on a bad haircut or following a bad haircut day is often a good strategy. A bull-put credit spread may be entered by selling one put option and purchasing a further out-of-the-money put option.
There wasn't a lot of new information in the company's Q1 2012 earnings call, however, Google did announce an upcoming stock split with issuance of a new class of stock which has equivalent rights to the company's current Class A and Class B stock, but does not have voting rights. Additionally, the company's revenue came in at $10.6 billion with a 24% year-over-year growth rate.
Google may be everywhere, but for the first time in five years there's one place it isn't. In 2011, Google Inc. lost its long-held position at the top of the BrandZ global brand-value league table published by international market research group Millward Brown. The Internet and software corporation now has an estimated brand value of $111 billion, and has been toppled from its perch by the $153 billion new leader, Apple (AAPL).
This doesn't mean the value of Google is declining. The company's story is one of constant growth, at a spectacular pace which only slowed, not too surprisingly, in 2009 . Many people will be familiar with the story of the two Stanford student nerds, Larry Page and Sergey Brin, who in 1996 built a search engine to determine the importance of individual web pages. In just 15 years the 'little engine that could' has mushroomed into a global web-browsing, communications and information sharing giant. Its interests include mapping, smartphones, e-mail, messaging, documents, blogging, images, photo sharing, social networking, merchandising, language translation, publishing, newspaper digitizing, music, airline information, library scanning and more.
Google earns almost all of its revenue from advertising, through its own websites and from AdWords, AdSense and DoubleClick, its user-friendly programs for creating and monitoring ad campaigns in third-party web pages and blogs. Keyhole, the precursor of Google Earth, was acquired in 2004, followed by YouTube in 2006. Android, the open platform for mobile devices, was launched in 2007, and its little green robot icon is now almost unavoidable. The open source browser, Google Chrome, has enjoyed widespread adoption since its 2008 release. Social networking platform Google+ appeared in 2011.
For an Internet-focused organization, Google has a surprisingly large and widespread physical presence, with around 32,500 employees in more than 70 offices around the globe. The company is committed to the development and growing possibilities of an open web not just for individuals but also for enterprise, with Gmail, Google Calendar, Google Docs and the Google Sites website creation tool. The Google Apps marketplace provides access to hundreds of third-party business applications. (Company overview)
Google's revenue reached $38 billion in 2011, an increase of 29% over 2010. $37 billion was generated by advertising (72% from Google websites, 28% from Google Network members' sites), with the balance coming from sales of operating systems, platforms and enterprise products. Geographically, 46% of revenue came from the U.S., 11% from the U.K. and 43% from the rest of the world. R&D and sales & marketing expenses ($5 million each) have both grown as a percentage of revenue over the last two years. Net income was $9.7 billion ($29.76 per diluted share). Cash and marketable securities amounted to $45 billion at year end. (2011 financial tables)
The dependence on advertising for 96% of revenue should create a risky business model with revenues liable to fluctuate significantly according to the economic environment. However, the revenue and profit picture from 2001 to 2011 is one of not just spectacular growth but also amazing resilience in the face of tough conditions in some years. Still, the company says that it does expect downward pressure on its operating margins in the future. Margin generated from Google Network Members is significantly less than the margin on revenues from advertising on the company's own websites, so a change in the advertising product mix in favor of network members would also see the margin decline. (2011 Form 10-K) In 2011 Google paid a $500 million penalty to settle a Department of Justice investigation into its illegal online advertising on behalf of Canadian pharmacies selling in the U.S.
The company's diverse business model means that it has an equally wide array of competitors. They include the search engines Yahoo (YHOO), privately-owned Mozilla, and Bing (owned by Microsoft (NASDAQ:MSFT)); e-commerce websites such as Amazon (AMZN), eBay (EBAY) and PayPal (also owned by eBay); social networks like Facebook (NASDAQ:FB) (IPO now tipped for May 2012) and privately-held Twitter; and commercial software companies like Microsoft and Apple, which is of course also a mobile apps and smartphone competitor. Google competes not only for customers and revenue with these companies, but also contends with them in recruiting and retaining technical staff.
Larry Page, Google's CEO, spoke enthusiastically about the company's first $10 billion quarter during the Q4 2011 earnings conference call held on January 19 2012. Google+ users doubled during the quarter to 90 million, with 60% engaging daily and 80% engaging weekly. He described Android's growth to 250 million devices as 'mind-boggling', and Chrome as 'on fire', while Gmail, YouTube and DoubleClick also continued to grow. Over 5,000 new customers a day are signing up for enterprise products. However, it was made clear in the Q&A session that, since Android is open-source software, Google is still in the very early stages of finding lucrative ways to monetize this star performer. When that happens, probably sooner rather than later, Apple may once again have to yield top place to Google on the brand league table.
Before selecting a particular bull-put credit spread to trade, consideration for the price range for the short strike price is given. A stock chart for Google is shown below:
(Click to enlarge)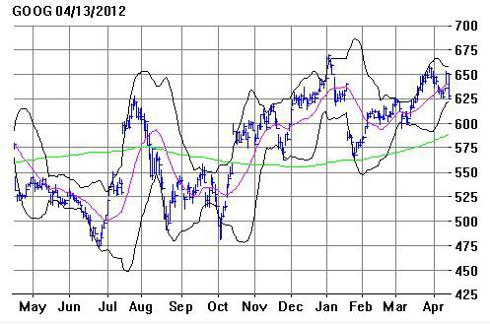 Click to enlarge
Looking at the chart, it can be observed that the stock price has a fairly strong support level around $560 which was tested in November of 2011 and again in January of 2012. Based on this, a bull-put credit spread will be considered for a short strike price less than or equal to $560. Since April options are going to expire shortly, a bull-put credit spread for May is considered.
Using PowerOptions tools, a table of bull-put credit spreads were found as shown below:
(Click to enlarge)

Click to enlarge
The 2012 May 550/560 bull-put credit spread has a short strike price that is 10.6% out-of-the-money and can be entered for a net credit of $0.65, which represents a potential return of 7% (70.5% annualized). The 2012 May 550 put option is purchased at a bid/ask midpoint price of $1.52 and the 2012 May 560 put option is sold at a bid/ask midpoint price of $2.17. A profit/loss graph for one contract of the bull-put credit spread is shown below: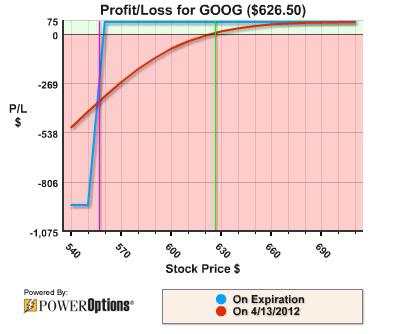 A management point is set for $590. If the price of Google's stock drops below $590, then consideration for management of the position for an exit or a roll should be given.
Disclosure: I have no positions in any stocks mentioned, and no plans to initiate any positions within the next 72 hours.