Sensex, India's Benchmark Index, is up 33.60% YTD. However, about 30% of those gains have come during the last 8 weeks. Overheated?
Also, I just noticed that the one stock that no one talks about (including me) is the Telecom Giant Videsh Sanchar Nigam Limited (VSL). VSL is up about 44% YTD.
The Indian markets have mostly been driven by Indian Stocks not listed here in the United States. The only US listed stocks that have participated in this run are ICICI Bank (NYSE:IBN), HDFC Bank (NYSE:HDB), newly listed Sterlite (SLT) and Videsh Sanchar Nigam Limited (VSL).
Investors who put their money in the Indian ETF, IPATH ETNS (NYSEARCA:INP), have done pretty well with YTD gains of 54%. Obviously, INP gives you exposure to the overall Indian market.
The two Indian closed end funds, IIF and IFN, are trading at about a 10% discount to NAV even after their recent run. It seems pretty obvious that investors prefer INP over IIF and IFN.
Indian Stocks Weekly and YTD Price Change - Week ending October 12, 2007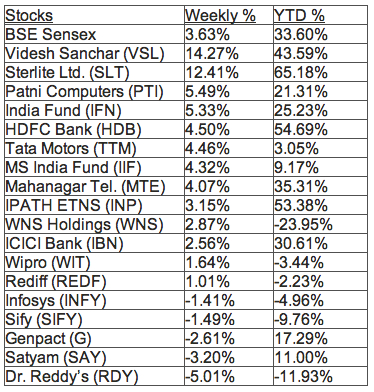 Disclosure: I don't have a position (long or short) in any of the stocks listed above. Subject to change anytime.