South American drought conditions have helped soybean prices soar in the last two months. However, excellent rainfall coming to the U.S. wheat and corn belt areas could set the stage for very large U.S. crops in the coming months. The result? A potential more longer-term bearish situation for grains heading into summer. The long old crop soybean, short new crop corn spread has widened quite a bit the last few months, due to the very tight Southern Hemispheric soybean stocks situation.
History suggests that when La Nina dies (and given the fact the winter has been so warm) corn yields tend to be above trend-line most of the time.
The chart below shows U.S. corn yields since 1982. I marked those years (with squares) in which La Nina died and potential late summer or fall weak El Nino conditions developed. One can see that historically, U.S. corn yields tended to be above trend-line during these situations.
With good rains coming to China as well in coming weeks, an overall reversal in grain psychology should be the case into summer. Lower summer grain prices could be a benefit for such companies as Tyson Foods (TSN), which has seen close to a 20% drop in its share prices. But if one is expecting a major bull move in grain ETF's in the next 6 months, I am leaning against this happening. In fact, such ETF's such as iPath Dow Jones-UBS Grains ETN (JJG), Teucrium Corn Fund (CORN) and ELEMENTS MLCX Grains Index ETN (GRU) could all be "selling" opportunities as the weakened La Nina and other cycles I look at portend potentially large crops this year.
Again soybean prices have rallied on the South American drought. There may continue to be "psychological" worries about summer weather problems, but if July/August conditions are ideal, even new crop November soybeans could fall 8-15% by later August.
(Click to enlarge)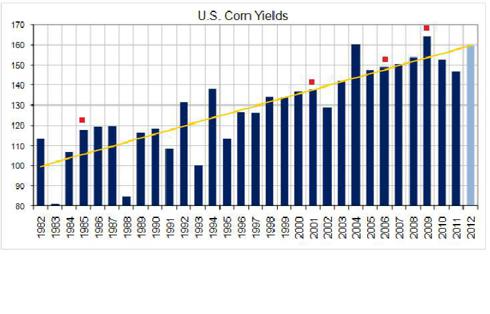 Source: FC Stone
Record warm winter helps natural gas reach $2.00. What about the summer and hurricane season?
(Click to enlarge)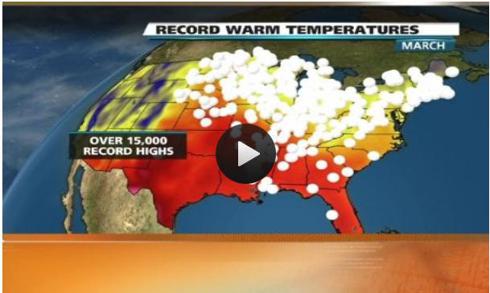 Source: NWS/NOAA
The United States economy received a big boost this winter from the unusually warm weather and natural gas prices have indeed reached $2.00. This was brought on, of course, by the continued huge supply of natural gas, more drilling and the record warm winter. If you recall, we forecast a record warm March, due not only to global warming factors, but what we call the Eastern Pacific Oscillation Index (EPO). This index has been positive for an incredible 18 consecutive months. This means that low pressure has been dominate over Alaska, and has helped to pump up warm air over much of the United States. Anchorage, Alaska just recorded their snowiest winter on record, and as the chart shows below, the blue area illustrates this persistent low pressure and one reason why natural gas inventories have seen more of a glut.
(Click to enlarge)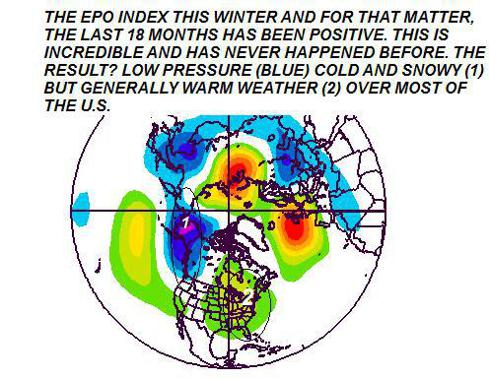 Source: NCEP
Will El Nino form, and what summer weather may mean for natural gas prices and crops
So is there any hope for a rally in natural gas prices in the coming months? Often, short covering rallies are fast and furious. It would not surprise me that later this spring or early summer, some sort of 30-50 cent move up in prices will occur. This could happen ahead of the hurricane season and North American summer. However, ocean temperatures in the eastern Pacific are now warmer than normal. This could be a precursor for El Nino conditions later this year. Warm ocean temperatures in this region can sometimes increase shear in the Gulf and may possibly limit the Gulf coast hurricane season again. At the same time, however, changes in sea surface temperatures near Greenland and the Northeast U.S. might suggest that some hurricanes that do form may track further west towards Florida and eastern United States.
Hence, barring any unexpected government policies to increase natural gas demand and cut shale production, or a natural disaster, natural gas prices may not see a major sustained rally for quite some time.
The key for this summer's weather? Will El Nino form? And what about the EPO index?
The key for this summer's weather is going to be not only what happens over Greenland and the Arctic ocean, but also the fate of the EPO index. If this index switches to negative and low pressure gets erased by warmer, drier weather near Alaska, then the odds of a hot, Midwest and/or eastern summer would be low. It may take a hot summer and active hurricane season to really get natural gas prices out of the doldrums, and right now, I do not see this happening.
Disclosure: I have no positions in any stocks mentioned, and no plans to initiate any positions within the next 72 hours.