Offering unlevered appreciation potential of 58% to estimated net present value [NPV] of $121 a share, buy-recommended Lukoil Oil Company (OTCPK:LUKOY) offers rich resources and effective management amid the improving economic environment of Russia. Second quarter 2007 results, reported Sept. 12, set new records while exceeding our expectations with the help of lower taxes.
As a result, we raise our projections of unlevered cash flow (Ebitda) for the next twelve months which could lead to a future increase in NPV. As an integrated company with both oil production and refined product operations, Lukoil pays a high excise tax on exported crude oil, but also makes a high margin on refined products for the growing home market.
In an ironic commentary on the investment attraction of Russia, Bloomberg reports that the bond market is providing money to Russian companies on the most favorable terms ever in the wake of housing bond defaults in the U.S. Finally, the continued strength of the ruble compared to the U.S. dollar is likely to be a positive factor for confidence in Lukoil stock despite rising dollar translation of costs denominated in rubles.
LUKOY.PK 1-yr chart: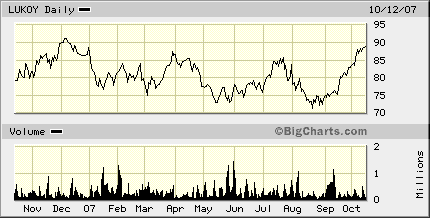 Originally published on September 12, 2007.