On a cold day in February of 2009, my wife asked me what I wanted to do for my birthday. We had just recently married the past November and received a significant amount of money as gifts for our wedding. Having been in love with the market since I was a kid, I asked her if she would look at stocks with me in bed the next morning. We talked about where she liked to shop and would look up the ticker on yahoo finance (sorry I didn't know about SA at the time).
Having been a fan of Warren Buffett and value investing, I had a sense of how to value a company. this was nowhere near the experience I have now, but that's part of the lesson of this story. We were in the middle of the scariest time in the market's history I could remember. The tech bust was scary, but there was something about being on our own and having to pay a mortgage and everything else that goes with it that made this market even scarier than 2000-2002. We were determined to make smart decisions with our money, and did not want to start off on the wrong foot by picking a loser.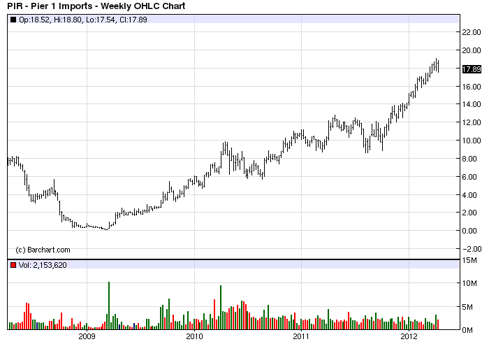 Then we typed in Pier One (PIR), and it made us hesitate. All I can remember was trying to decide with my wife if we should buy 5000 shares for .20 cents apiece. That is not a misprint, 20 CENTS. I thought to myself, "There has to be a reason it is selling for .20, something is wrong; they are probably going bankrupt or something." I didn't have the experience or even the thought to go ahead and read an annual report or quarterly statement. All I saw was the news and the chart, what looked like a stock going to 0. Ultimately we laughed it off, we told ourselves no one is going to be spending money at a store like Pier One, it's overpriced, everyone will just go to Wal-Mart (WMT) to get their housing stuff. I can't believe how naïve and stupid we were.
With that being said, here is a list of stocks selling for under $2. Maybe you can find your Pier One, just make sure you read the annual and quarterly reports first.
Flagstar Bancorp Inc. (FBC) $0.84
Cell Therapeutics, Inc. (CTIC) $1.16
TransAtlantic Petroleum Ltd. (TAT) $1.23
Crown Media Holdings Inc. (CRWN) $1.39
Vantage Drilling Company (VTG) $1.49
Golden Star Resources, Ltd. (GSS) $1.60
Lexicon Pharmaceuticals, Inc. (LXRX) $1.60
Rite Aid Corp. (RAD) $1.66
Popular, Inc. (BPOP) $1.80
GenOn Energy, Inc. (GEN) $1.97
Please remember a stock selling at a very low price does not necessarily mean it is cheap. You must look at how much the company earns relative to the price it trades at.
Disclosure: I have no positions in any stocks mentioned, and no plans to initiate any positions within the next 72 hours.