Last week, Titan Machinery (TITN) beat analysts' quarterly earnings estimates and shareholders were rewarded with a new fifty two week high. On Thursday, shares traded up 10% for the day and hit a new mark of $35.26. Shares of Case New Holland (CNH) and John Deere (DE) both traded higher on the strength of Titan's earnings.
Titan Machinery sells brands from Case New Holland including: Case IH, Case Construction, New Holland, and New Holland Construction. Titan operates 96 dealerships in North America and 9 dealerships in Europe. Through its dealerships, Titan Machinery has a huge market lead in key Midwestern states and the push for agriculture and construction equipment in those regions. States with dealerships are:
· Colorado
· Iowa
· Minnesota
· Montana
· Nebraska
· North Dakota
· South Dakota
· Wisconsin
· Wyoming
In Europe, the company operates in Bulgaria and Romania across nine dealerships.
Titan Machinery shares have risen too much in the last week for me to get excited about. Before the earnings beat, analyst RW Baird upgraded shares to outperform based on improving agriculture, strong regional construction, and growth in the Bakken shale region. The firm set a price target of $37. With shares already close to that target price, I decided it was time to look at the company whose products are selling so well on Titan Machinery's dealership lots.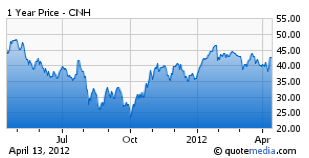 Case New Holland sells its agriculture and construction equipment through a large network of dealers. The company now has over 11,300 dealers spanning 170 countries. The company is majority owned by Fiat Industrials. Brands sold by Case New Holland include:
Agricultural Equipment:
· Case IH
· New Holland
· Steyr
Construction Equipment
· Case
· New Holland
· Kobelco
Case New Holland reported net sales of $4.8 billion during the most recent fourth quarter. This was an increase of 27% from the previous year. For fiscal 2011, net sales increased 25% to $18.1 billion. Earnings were higher from increased sales in both the agriculture and construction equipment units. Agriculture equipment sales were up 24% for the fourth quarter and 23% for fiscal 2011. Construction equipment sales increased 39% for the fourth quarter and turned in a 32% increase for the year.
Fiscal 2011 saw an increase in net sales of 25%. The 18.1 billion in net sales was led by increases in both construction and agriculture equipment sales throughout the year.
· Construction equipment sales increased 32% to $3.9 billion.
· Agriculture equipment sales increased 23% to $14.2 billion.
· Operating margin increased to 8.1% (6.1% 2010)
· Operating profit of $1.5 billion, an increase of 65% from 2010.
· 2011 earnings per share of $3.82 ($2.08 in 2010)
Equipment sales for fiscal 2011 broke down as:
· 79% Agriculture
· 21% Construction
Sales by region came in as:
· North America 42%
· EAME/CIS 32%
· Latin America 16%
· APAC 10%
Earlier in March, Case New Holland entered an alliance with Norwegian company Orkel. The move helps Case New Holland strengthen their hay and forage business. Case New Holland has over thirty new product launches in 2012. In January, tractor orders were up 50%, combine orders up 30%, and construction equipment up 24%. Also in March, the company announced a new investment in Brazil. The investment will help fund a plant that will begin operations in 2014.
For fiscal 2012, Case New Holland has projected revenue to increase 5%. The company has also projected operating margin to be above 8.6%. By segment, the company expects construction sales to be up 15-20%, and agriculture sales to increase 0-5%.
Case New Holland reports first quarter earnings on April 25th. For the first quarter, analysts are forecasting $0.72. On Case New Holland's website, they break down earnings estimates through 2014 as follows:
· 2012 - $4.29
· 2013 - $4.65
· 2014 - $4.86
With the success of Titan's recent earnings, Case New Holland could blow past that number. Case New Holland represents three percent of assets in the Market Vectors Agribusiness ETF (MOO). For anyone looking for a nice agriculture play for 2012, I encourage taking a look at the company's shares before that day and consider purchasing.
In 2011, I selected Case New Holland as one of my top ten stock picks for the year. It appears I was a little early in selecting the stock. When shares were trading at $47.74 at the beginning of 2011, I recommended buying the stock thanks to a new plant in China, the stock trading at less than 10 times earnings, and strength in agriculture. I recommended a target price of $60 by the end of 2011.
For the year, shares lost 25% and finished 2011 at $35.99. In my top ten results article, I once again recommended buying shares of Case New Holland. With shares trading at $45.21, they are closing in on a new fifty two week high ($48.50). I once again set a price target of $60 and think that could prove conservative over the next few years with growing demand for food and new construction in emerging markets.
Disclosure: I have no positions in any stocks mentioned, but may initiate a long position in CNH over the next 72 hours.