Agriculture is an increasingly interesting investment category, as the global arable land per capita decreases due to a combination of reduced waters supplies in some areas, an overall increase in world population, and the increased demand for meat as opposed to grains in developing countries (meat is more land intensive than grains).
Investment in agriculture can be approached from several angles, one of which is manufacture of fertilizers to increase yields per acre.
There, of course, environmental issues with overuse of fertilizer, run-off contamination of water, increased eutrophication, adverse effects of fish populations, etc. Those issues are outside of the scope of this discussion, and until and unless the "total cost" of commerce (such as societal cost of remediation) is a business reality, those issues are not immediately relevant to an investment discussion of fertilizer.
What's In Fertilizer:
If you were to look for a bag of fertilizer for your lawn or garden, you would notice the letters N, P and K on the bag, with an indication of the relative proportions of each. Those letters stand for Nitrogen, Phosphorus, and Potassium. There are other minerals in fertilizer, but those are the big three, and the same ones farmers use.
Where Do They Get the N-P-K?
Different land conditions and agricultural purposes need different mixtures of N, P and K. Different fertilizer companies have varying focus and mixes the basic fertilizer components they produce.
N - Nitrogen is derived from natural gas and air.
P - Phosphate is derived from phosphate rock, which is mined
K - Potassium if derived from potash, which is mined.
Natural gas and air are essentially unlimited. Phosphate rock is considered limited. Potash is not considered to be limited.
The producers of N are fragmented with low barriers to entry.
S&P Description of Fertilizers:
Fertilizers are substances or mixtures that contain one or more of the major plant nutrients and sometimes secondary and/or trace nutrients. They are added to soil to replace essential nutrients depleted by crops.
The main nutrients are phosphorus (in the form of ammonium phosphates and superphosphates derived from phosphate rock), nitrogen (supplied as anhydrous ammonia and urea), and potassium (supplied as potash).
Fertilizer markets are both seasonal and volatile. Demand is a function of grain prices, government farm programs, the acreage and mix of crops planted, weather patterns, farming practices, and currency exchange rates. Population growth and dietary trends play important roles as well.
The cultivation of corn is the largest single use of fertilizer in the United States, at about 45% of total consumption. Wheat is a distant second (13%), followed by soybeans and other oilseeds (6%), cotton (5%), fruits and vegetables (5%), and all other crops and uses (26%).
Economics of N-P-K:
The economics of making the N for fertilizer is process efficiency and is natural gas price sensitive. The economics of making the P is focused on ownership of proven reserves. The economics of making the K is also based on reserves, but scarcity is not an issue.
As you read through the business descriptions and annual reports of the companies, awareness of their mix of production and reserves is important.
Goldman Sachs said today:
"Industry fundamentals have turned significantly more favorable since the last round of updates, with exceptional pricing gains in nitrogen and tentative signs of a recovery in phosphate and potash materializing,"
The U.S. fertilizer market is rather mature, with the greatest growth opportunity in developing countries.
Fertilizer Company List:
There are a small number of significant fertilizer companies readily accessible to investors through U.S. markets.
There is a larger universe of fertilizer stocks followed by Credit Suisse. Here is a list from an April Credit Suisse report: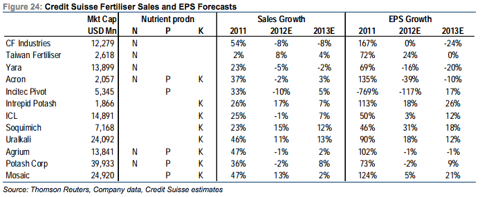 Local symbols for the fertilizer companies traded outside of the U.S. are:
(Norway) Yara: YAR
(Taiwan) Taiwan Fertilizer: 1722
(Russia) Acron: AKRN
(Australia) Incitec Pivot: IPL
(Israel) Israel Chemical: ICL
(Russia) Uralkaly: URKA
You would probably have difficulty obtaining the Russian shares, but the other markets are readily accessible through global trading desks. The Taiwan Fertilizer stock is less liquid than the other non-Russian stocks, and the local dealer mark-up is higher than in the other markets (perhaps as much as 1% each way, versus 1/3% to 1/2% each way for Norway, Australia and Israel).
Stock Yields, Payout, Valuation, Insider Holdings and Ratings:
Yara is traded in the pink sheets (OTCPK:YARIY) as is Israel Chemical (ISCHF.PK), but the liquidity in both cases is inadequate in our opinion.
Buy, Hold Sell Ratings for U.S. Traded Stocks (4/13):
POT: 20 B, 5 H, 2 S
CF: 11 B, 7, H, 0 S
TNH: N/A
AGU: 18 B, 8 H, 0 S
MOS: 13 B, 9 H, 0 S
SQM: 7 B, 4 H, 2 S
IPI: 3 B, 6 H, 3 S
Strong Buy and Buy referenced as Buy
Underperform and Sell referenced as Sell
Buy, Hold, Sell Ratings for Stocks Traded Outside U.S. (4/13):
Yara: 22 B, 15 H, 2 S
Taiwan Fertilizer: 11 B, 5 H, 1 S
Incitec Pivot: 8 B, 8 H, 0 S
Israel Chemical: 11 B, 9 H, 0 S
Russian stocks omitted.
Price, Earnings and Dividend Charts: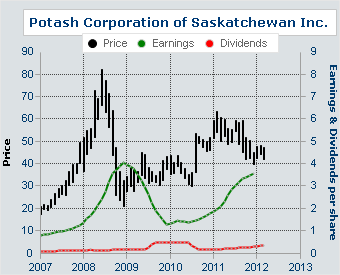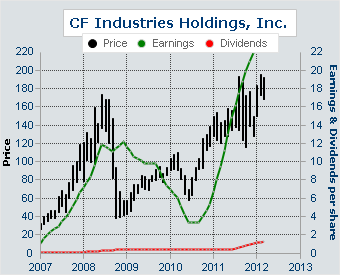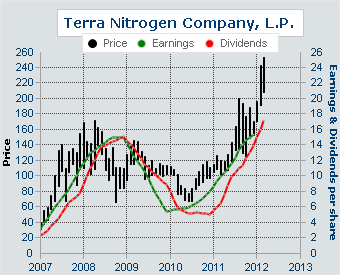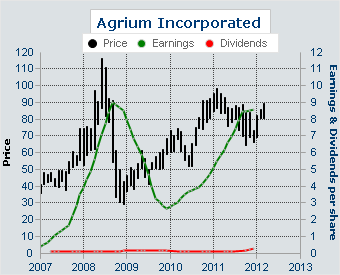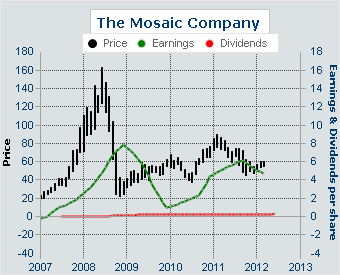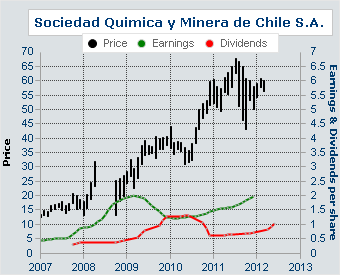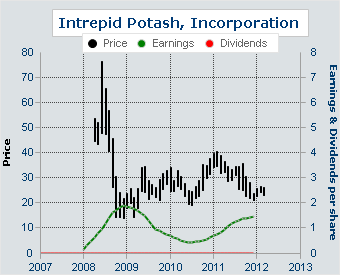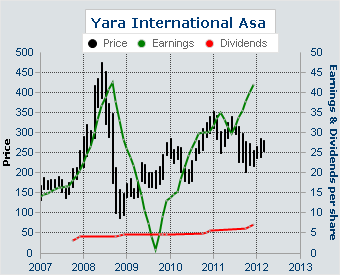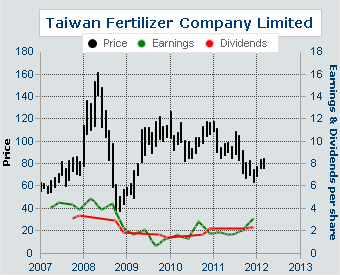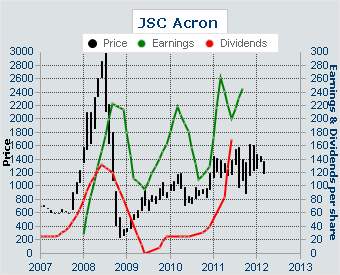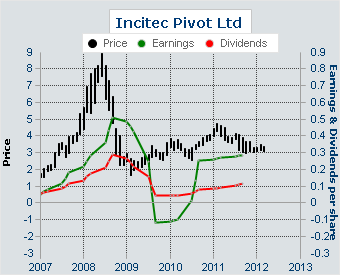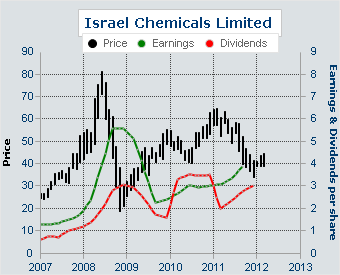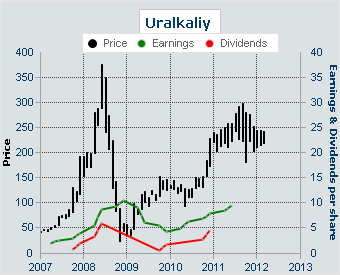 Company Business Descriptions and Website URLs:
POT: Potash Corporation of Saskatchewan Inc. (PCS) is an integrated fertilizer and related industrial and feed products company. It is a producer of potash, phosphates and nitrogen producer. PCS owns and operates five potash mines in Saskatchewan and one in New Brunswick. It also holds mineral rights at the Esterhazy mine in Saskatchewan where potash is produced under a mining and processing agreement with a third party. Its phosphate operations include the manufacture and sale of solid and liquid phosphate fertilizers, animal feed supplements and industrial acid, which is used in food products and industrial processes. Its nitrogen operations include the production of nitrogen fertilizers and nitrogen feed and industrial products, including ammonia, urea, nitrogen solutions, ammonium nitrate and nitric acid. It has nitrogen facilities in Georgia, Louisiana, Ohio and Trinidad. As of December 31, 2011, it held 22% ownership interest in Sinofert Holdings Limited (Sinofert).
Sinofert Holdings Limited (Sinofert) is an investment holding company. The Company is engaged in manufacturing and selling of fertilizers and related products. The Company, along with its subsidiaries, is engaged in the production, import and export, distribution and retail of fertilizer raw materials and finished products, and the provision of technical research and development and services relating to the fertilizer business and products. Sinofert operates in two business segments: sourcing and distribution, which is engaged in the sourcing and distribution of fertilizers and agricultural related products, and production, which is engaged in the production and sale of fertilizers. Its subsidiaries include China Fertilizer (Holdings) Co., Ltd., Wah Tak Fung (B.V.I.) Limited, Sinochem Fertilizer (Overseas) Holdings Ltd., Sinochem Fertilizer Co., Ltd., Dohigh Trading Limited and Sinochem Fertilizer Macao Commercial Offshore Limited
CF: CF Industries Holdings, Inc. is a manufacturer and distributor of nitrogen and phosphate fertilizer products worldwide. The Company operates in two segments: the nitrogen segment and the phosphate segment. The Company's principal products in the nitrogen segment are ammonia, granular urea, urea ammonium nitrate solution and ammonium nitrate. Its other nitrogen products include urea liquor, diesel exhaust fluid and aqua ammonia, which are sold primarily to its industrial customers. Its principal products in the phosphate segment are diammonium phosphate and monoammonium phosphate. The Company's market and distribution facilities are concentrated in the midwestern United States and other agricultural areas of the United States and Canada. It also exports nitrogen fertilizer products from its Donaldsonville, Louisiana manufacturing facilities and phosphate fertilizer products from its Florida phosphate operations through its Tampa port facility.
TNH: Terra Nitrogen Company, L.P. produces nitrogen fertilizer products. The Company's principal products are anhydrous ammonia (ammonia) and urea ammonium nitrate solutions , which it manufactures at the Company's facility in Verdigris, Oklahoma. The Company conducts its operations through an operating partnership, Terra Nitrogen, Limited Partnership (TNLP and collectively with TNCLP, the Partnership). Terra Nitrogen GP Inc. is a partner of both TNCLP and TNLP and owns 0.05% general partner interest in the Partnership. The General Partner is an indirect, wholly owned subsidiary of Terra Industries Inc., which is an indirect, wholly owned subsidiary of CF Industries Holdings Inc.
AGU: Agrium Inc. is a global producer and marketer of agricultural products. It operates through its three business units: Retail, Wholesale and Advanced Technologies. Retail operates in North and South America and Australia and sells crop nutrients, crop protection products, seed and services directly to growers; Wholesale operates in North and South America and Europe producing, marketing and distributing three primary groups of nutrients, which includes nitrogen, potash and phosphate for agricultural and industrial customers worldwide, and Advanced Technologies produces and markets controlled-release crop nutrients and micronutrients in the broad-based agriculture, specialty agriculture, professional turf, horticulture, and consumer lawn and garden markets worldwide. In May 2011, the Company acquired CerealToscana S.A. In May 2011, the Company completed the divestiture of the majority of the commodity management businesses of AWB Limited to Cargill, Incorporated.
MOS: The Mosaic Company, formerly GNS II Corp., is a producer and marketer of concentrated phosphate and potash crop nutrients for the global agriculture industry. It is a supplier of phosphate- and potash-based crop nutrients and animal feed ingredients. It mines phosphate rock in Florida and process rock into finished phosphate products at facilities in Florida and Louisiana. The Company mines potash in Saskatchewan, New Mexico and Michigan. The Company operates in two segments: Phosphates and Potash. The Company's Phosphates segment sells phosphate-based crop nutrients and animal feed ingredients throughout North America and internationally. The Company's Potash segment is engaged in the production of potash globally. www.mosaicco.com/
SQM: Sociedad Quimica y Minera de Chile SA is a Chile-based company engaged in the production of specialty plant nutrients and chemicals commodities. The Company's activities are structured in six business units. Specialty Plant Nutrition, involved in the production of organic fertilizers and nutritional solutions under the Ultrasol, Qrop and Speedfol brands. Iodine, engaged in the extraction and production of iodine derivates. Lithium, chemical element principally used in the production of rechargeable batteries. Industrial Chemicals, active in the production of such chemicals as sodium nitrate, potassium nitrate and boric acid, among others. Potassium, which includes the production of potassium chloride and potassium sulfate. The last business unit is Other Products and Services, which comprises additional support to the other segments.
IPI: Intrepid Potash, Inc. is a producer of muriate of potash (potassium chloride or potash) in the United States and are engaged the production and marketing of potash and langbeinite (sulfate of potash magnesia), another mineral containing potassium, magnesium, and sulfate, that is produced from langbeinite ore and as Trio when it refers to sales and marketing. Its Carlsbad assets consist of underground mining operations, which are supported by surface processing facilities. It is also operators of solar solution mining operations, as its Moab and Wendover facilities both utilize these techniques for recovering potash. Its revenues are generated from the sale of potash and Trio. As of December 31, 2011, the Company owned five potash production facilities, three in New Mexico and two in Utah. Its two products are potash and langbeinite, which is marketed as Trio.
YAR (Norway): Yara International ASA is a Norway-based company engaged in the business of crop nutrition and industrial solutions. The Company is engaged in the supply of mineral fertilizer, converting energy, natural minerals and nitrogen from the air into products for farmers and industrial customers. The Company's operations are divided into three operating segments: Downstream, Industrial and Upstream. Downstream offers a range of fertilizer products and services, ranging from standard nitrogen products to complete crop nutrition solutions. Industrial develops and markets chemical products and carbon dioxide to non-fertilizer industries, such as the chemicals, utilities, civil explosives and food and beverage industries. Upstream produces ammonia, urea, nitrates, nitrogen-phosphorus-potassium (NPK) fertilizers and other nitrogen-based products, as well as phosphoric acid and feed phosphates. Yara International ASA has operations in more than 50 countries and sales to approximately 150 countries.
1722 (Taiwan): Taiwan Fertilizer Co., Ltd. is principally engaged in the manufacture and sale of fertilizers, as well as chemical products and electronic chemicals. The Company's fertilizer products include ammonium sulfates, calcium superphosphates, compound fertilizers, calcium ammonium nitrates, organic fertilizers, nutrients, urea and potassium chlorides. The Company's chemical products include industrial urea, liquid ammonia, nitric acids, melamine and sulfanilic acids. The Company's electronic chemicals include photo resist agents, strippers, purifiers and solutions, erodents, organic acids and alkalis, among others. The Company distributes its products within Taiwan's domestic market and to overseas markets, including mainland China, Southeast Asia, Europe and the Americas.
AKRN (Russia): Akron OAO is engaged in the manufacture, distribution and sales of chemical fertilizers and related by-products. The Company operates in five segments: Acron (Veliky Novgorod), Dorogobuzh, Hongri Acron, Logistics and Trading. Acron (Veliky Novgorod), Dorogobuzh and Hongri Acron manufactures and sells chemical fertilizers. Logistics includes transportation and logistics services provided by the Company's Estonian sea ports and Russian transportation companies, as well as an association of several business segments. Trading includes the Company's fertilizer trading companies in Russia and overseas. Other includes logistics operations services, which is separate from those included in the logistics segment, agricultural and managerial operations. It operates as a vertically integrated business, encompassing four business lines: production, mining, logistics and distribution. In February 2011, the Company acquired a 65% interest in Balttrans OOO.
IPL (Australia): Incitec Pivot Limited is engaged in the manufacture, trading and distribution of fertilizers, industrial explosives and chemicals, and the provision of related services. The Company operates in two segments: Fertilizers, which includes Incitec Pivot Fertilizers , Southern Cross International and Fertilizers Elimination, and Explosives, which includes Dyno Nobel Americas, Dyno Nobel Asia Pacific and Explosives Eliminations. DNA is engaged in the manufacture and sale of industrial explosives and related products and services to the mining, quarrying and construction industries in the Americas, and the manufacture and sale of agricultural chemicals. DNAP is engaged in the manufacture and sale of industrial explosives and related products and provides services to the mining industry in the Asia Pacific region.
http://www.incitecpivot.com.au
ICL (Israel): Israel Chemicals Ltd. is an Israel-based global group engaged in the development, production and marketing of fertilizers, industrial products, performance products and metallurgy. The Company, through its subsidiaries, is engaged in the production of bromine. It also produces potash, magnesium and phosphate, along with food additives and water treatment biocides. ICL's production facilities are located in Israel, the United States, Europe, South America and China. The Company benefits from access to certain natural resources, such as potash, bromine, salt, magnesium and magnesium chloride from the Dead Sea, phosphates and limestone from the Negev desert in Israel and potash from the underground mines of Northern Spain and North Yorkshire in the United Kingdom.
URKA (Russia): Uralkaliy OAO is a Russia-based company, which is engaged in the chemical industry. The Company specializes in the production of potash fertilizers. Its product portfolio comprises pink muriate of potash (PMOP), white muriate of potash and granular (GMOP). The Company is active through one representative office, located in Moscow, as well as numerous subsidiaries, located countrywide. Uralkaliy OAO operates on the potassium and magnesium deposits located in Berezniki, Perm and Saint Petersburg. Its production assets include seven plants and five mines. Uralkaliy OAO sells its products domestically, as well as exports it abroad to over 40 countries, including the United States, China, Brazil, India and South-East Asia. In May 2011, the Company incorporated to its structures Silvinit OAO.
Investment Conclusion:
Taking yield, dividend payment consistency and growth, and valuation into consideration, we believe that Yara is the best alternative.
Yara is a large growth-at-a-reasonable price company, in a stable developed country, with a global footprint, a reasonable yield, and history of dividend growth.
Israel Chemical offers interestingly high yield, which may be a function of the war risk there, and perhaps also foreign exchange risk. It has a generally upward sloping dividend stream, but it is irregular.
Here is a table of calendar year dividend payments for those two companies in local currencies.
| | | |
| --- | --- | --- |
| | YAR | ICL |
| 2001 | 0.00 | 0.11 |
| 2002 | 0.00 | 0.10 |
| 2003 | 0.00 | 0.10 |
| 2004 | 2.25 | 0.12 |
| 2005 | 2.35 | 0.33 |
| 2006 | 2.50 | 0.22 |
| 2007 | 4.00 | 0.32 |
| 2008 | 4.50 | 0.58 |
| 2009 | 4.50 | 0.45 |
| 2010 | 5.50 | 0.48 |
| 2011 | 7.00 | 0.76 |
Disclosure: QVM owns CF and YAR as of the creation date of this article (April 16, 2012).
Disclaimer: This article provides opinions and information, but does not contain recommendations or personal investment advice to any specific person for any particular purpose. Do your own research or obtain suitable personal advice. You are responsible for your own investment decisions. This article is presented subject to our full disclaimer found on the QVM site available here.
Extra Risk on Non-U.S. Exchanges: If securities on non-U.S. exchanges were identified, this disclaimer applies to those securities.
Additional disclosure: Disclosure: QVM owns CF and YAR as of the creation date of this article (April 16, 2012).