Weekly Outlook: Last week was interesting as we bounced around quite a bit on various headlines, earnings, and economic data points. Stealing the show was the European situation with bond yields rising in Spain and Italy that caused some weakness in our markets as "risk-off" trading became prevalent again. The drop in yields mid-week, along with some good signs from Alcoa (AA) earnings, helped to raise the market.
Yet, the week ended poorly as Google (GOOG) earnings were not well received by the market despite a beat on EPS and good outlook. Additionally, a weak Michigan Consumer Sentiment Index also curbed confidence. The market jumped significantly on each day, and we may be entering a volatile period as various headlines mixed with low volume could drive markets more wildly.
The most important things this week will be the start of earnings season, developments in Europe bond yields as well as economic data, USA economic data, and Fed talk. For economic data, we have a pretty busy week ahead of us with Retail Sales, Empire Manufacturing Index, Business Inventories, and NAHB Housing Market Index all on Monday. Tuesday brings us Housing Starts, Building Permits, and Industrial Production. Thursday will give us an important Initial Jobless Claims report as well as Existing Home Sales, Philly Fed Index, and Leading Indicators.

The economic data for the week will be crucial for the market. The data is front-loaded at the beginning of the week with some key reports about the state of our American recovery. Housing, retail, manufacturing, and industrial production are all going to be front and center for the market. With those numbers good, we will definitely see a possibility for the market to rise higher this week. Initial claims on Thursday will be more important than many other weeks after the rise last week. If those claims stay inflated, the bull market run could be hindered from more movement.
As important as economic data is, earnings are also going to be really important as well. Here are just a few of the major earnings reports that will be released this week: Citigroup (C), Coca-Cola (KO), Goldman Sachs (GS), IBM (IBM), Intel (INTC), Yahoo! (YHOO), Halliburton (HAL), American Express (AXP), eBay (EBAY), Microsoft (MSFT), General Electric (GE), and McDonald's (MCD). With the amount of blue chip companies that are reporting this week, we are going to have a lot of influence in the market from earnings. With the amount of rise the market has made this year already, earnings are going to need to continue to be strong to keep this rally going.
As we have seen already from AA, the market is going to reward companies that have good outlook. At the same time, companies that have been rising that do not seem to "blow out" earnings may struggle to continue higher. We have a small sample, but we will need strong reports to get a good market result this week.
Additionally, we have to continue to keep our eyes on Europe. Bond yields in Spain and Italy are extremely important to this market. If we do not keep these yields down, we may see the market continually hit by them. We do have a lot of European data this week to watch that will probably predict bond yields somewhat. Tuesday is the important ZEW Survey and Consumer Price Index. Wednesday gives us the Great Britain jobless claims, unemployment rates, and Bank of England minutes. Thursday we get Euro-Zone consumer confidence, and we end Friday with German business climate reports and producer price index. Those reports will definitely be able to move bond yields a lot this week, which in turn will definitely power our market.
We do have several Fed speeches this week that can be influential. Tuesday, Fed Chairman Bullard will be speaking on the economy. The Philly Fed Index is on Thursday as well as Empire Manufacturing on Monday. It is a light week, though, for the Fed. Given Europe, data, and earnings, though, we may take a week off the QE talk to look at other important items that can influence the market.
Overall, we see the market as having some very important earnings and data reports. The market will most likely start the week off with a lot of influences, and its hard to predict with a lot of question marks. Unfortunately, we think we will need quite a bit of good data and earnings reports in order to have a decent week. Weakness in these reports will definitely hurt the market as its likely that Europe will be weak without some solid reports. Spain and Italy do remain a problem for the market, and we cannot ignore them. Yet, we do have a lot of other major reports that can provide a balance. Watch the early reports this week to direct us this week!
Stocks To Trade:
Two stocks we will be looking at this week are Coach (COH) and Buckle (BKE). We like doing a ratio trade on Coach and Buckle where we buy COH and short BKE. Coach has been very strong this year so far, and we continue to like the luxury sector with growth in the Chinese market fueling a lot of Coach's recent success. This quarter looks like another big growth moment for them as EPS is expected to grow from 0.62 to 0.75. Buckle, on the other hand, is looking at much lighter growth YoY from 0.71 to 0.76. Both charts are sitting at the same points, but as we near both earnings, we think that Coach has the ability to rise more with a lot more growth potential. We like a 1:1 ratio on the buy:short.
Trade #1: Long COH, Short BKE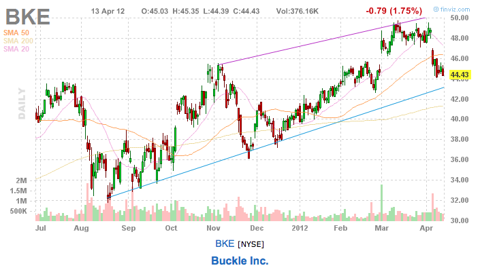 Click to enlarge
Oxen Group Holdings:
We have the following positions. In our Short-Term Equity Portfolio we are long CF Industries (CF), Melco Crown (MPEL) and Sempra Energy (SRE). In our Options Portfolio, we are long Monster Beverage (MNST), Dollar General (DG), SPDR Gold (GLD), Visa (V), Starbucks (SBUX), Google , and IBM . We are short Apollo Group (APOL) and Johnson Controls (JCI). We have a reverse iron condor in Direxion Financial 3x (FAS). In our Earnings Portfolio, we are long Ace Limited (ACE), Ulta (ULTA), Canadian Pacific (CP), Ashland (ASH), Coinstar (CSTR), and Goldman Sachs . We are short Amazon.com (AMZN).
Chart courtesy of finviz.com.
Disclosure: I am long SRE.