For once this year we are actually beginning to see significant selling pressure rather than buying pressure. The S&P 500 has been climbing higher and higher since December of 2011 and is now beginning to falter. While a healthy correction is well warranted here, selling could accelerate into the summer.
There are many pivotal points in the coming weeks and months for the stock market, and right now all the focus is on earnings. Should earnings fail to impress on a broader market scale, or should Apple (AAPL) falter and wane in the spotlight, we could see a more brutal downward swipe. By the time May rolls around, we should have a general scope of how things will play out.
So far we've seen some big names report, such as Google (GOOG), Alcoa (AA), and JP Morgan (JPM). I want to focus more specifically on the financial sector going forward. Let me first start by saying that JP Morgan and Wells Fargo (WFC) both beat earnings estimates when they reported Friday before the bell. However, this did not stop the market from selling them off, as they both finished down approximately 3.5%.
While I'm not going to dive into each report specifically, there were both some impressive, as well as some unimpressive aspects to the reports. Though different people will claim different reasons for the sell off, and whether or not it was deserved, I think we can all agree on one thing: JPM and WFC are two of the best in the banking sector.
Knowing this leads me to believe that I should have lower expectations going forward for the rest of the banks. A whole slew of banks report earnings within the next week starting with Citi (C) (4/16), then Goldman Sachs (GS) (4/17), Bank of America (BAC) (4/19), and Morgan Stanley (MS) (4/19). My expectations are not for the banks to fail miserably causing a dramatic sell off, but rather for most (possibly all) of them to beat their estimates. But the conference call is where most of the information is contained, and words can be more powerful than the initial numbers, especially when the reports are really dissected. In the last several years we have seen many of the banks sell off in mid-April due to their reported earnings, and JPM and WFC have already began to show the same repeated pattern.
Before the open on Monday, Citi will report their 1st quarter results. Analysts expect Citi to earn $1.00 per share, exactly the same as last year, which they beat by eight cents. Though they may beat, Citi has a history of selling off, and I don't expect much to change now, especially with the overall market currently demonstrating a lack of strength. Below is a three year chart of Citi showing its performance after their earnings date.
(click to enlarge)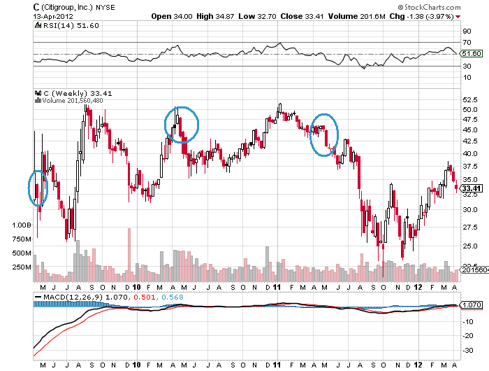 Above: 3-year chart of Citi in weekly intervals. Courtesy of stockcharts.com
Though past results certainly does not indicate future performance, it can give traders and investors a heads up for what may be to come. I don't think shorting Citi, or any other specific bank is the best way to play. I think shorting or being long puts on the Financial Select Sector SPDR Fund (XLF) will provide the best opportunity. It has been clear that the XLF has struggled to get over $16, and is beginning to break trend.
With the accelerated decline on Friday due to JPM and WFC, the XLF is sitting right at its 50-day simple moving average. Should Citi not tell the market what it wants to hear, and the banking sector sees another dramatic sell off of 3-4%, the XLF should close significantly below the 50-day simple moving average. From there, unless the rest of the banks can save it with some stellar reports, I would expect the XLF to run down to the $14 range, at the minimum.
(click to enlarge)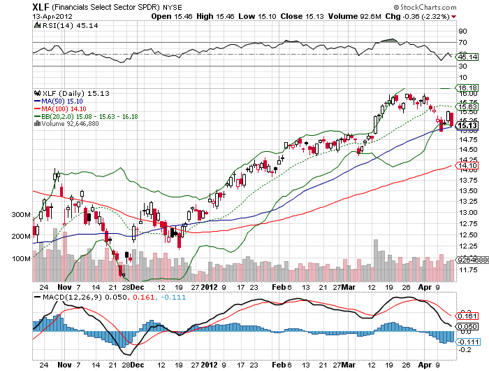 Above: 6-month chart of XLF in daily intervals. Courtesy of stockcharts.com
In the chart you can clearly see the XLF sitting at both the 50-day simple moving average and the lower end of its range on the bollinger bands. The financial sector has been absolutely spectacular in 2012 thus far, and a pullback would be welcomed, if we want to see another leg higher. I also think XLF puts would be a great hedge. For instance, if one is currently long the banks, or equities in general, purchasing some puts on the XLF would be a great way to protect positions if a decline is indeed on the horizon.
The financial sector likely won't fight the tape in the coming days, whether it be up or down, but will likely be one of the catalysts driving the direction of the overall market. Therefore, being long equities will likely fall in the hands of how earnings are perceived this week, and if that happens to be in a negative fashion, then being long the XLF puts will allow one to protect profits in other positions.
The Trade
Buy 1 XLF May 15 put
Net debit (max loss): .44 or $44
delta: -44
Days until expiration: 33
For simplicity, only one contract is used. Had you been able to pick this contract up several days ago, it could have been bought for approximately .30, or $30. But I still feel there is plenty of time and room to get in. The 15 strike is right at-the-money, and will gain in value should the overall financial sector continue to decline. The same price June 15 strike puts are .65, or $65, which would allow more time for the intended move. However, by May expiration, I expect a majority of the intended move to be completed, with a bulk of the banks reporting earnings this week. Also, the buyer will not being paying up for volatility, as it is currently measured at just 25.8.
The financial sector is already leaps and bounds from where it was several years ago, and it will continue to get stronger and stronger. Though earnings aren't quite what they used to be, hopefully we won't have to worry about another financial crisis, which is still fresh in many of our minds.
I expect the banks to do very well, as the domestic picture is getting much more clear, we don't have CDS defaults to worry about (as of now), and the constant stress testing is keeping them well prepared for the worst. However, long term success still has short term trips, and in the coming weeks, we may see a prime opportunity to expose such an event.
Additional disclosure: I am short the XLF via long May 15 puts.