Real Estate Investment Trusts (REITs) have gained broad recognition for maintaining strong consistency in dividend performance. Since REITs, by definition, distribute at least 90% (annually) of taxable income to shareholders in the form of dividends, the attraction to the repeatable income model lies in the way the sources of revenue led to consistency and powerful compounding.
REITs today specialize in a variety of property types. They invest in most major asset sectors with nearly two thirds of investment being in offices, apartments, shopping centers, regional malls, and industrial facilities. The rest is dividend among hotels, self-storage facilities, health-care properties, and some specialty REITs that own anything from prisons, theatres, and golf courses to timberlands.
As a fixed-income alternative, REITs have become more mainstream today as the benefits for investing in these high-quality alternatives include high yields (average 15-year dividend yield is around 8%), simple tax treatment (REITs send form 1099-DIV to their shareholders, containing a breakdown of dividend distributions), liquidity (shares are bought and sold on a stock exchange), and diversification (adding REITs to a diversified investment portfolio increases returns and reduces risk since REITs have little correlation with the S&P 500).
REIT Conversions on the Rise
An abundance of opportunities exist for companies in non-traditional REIT businesses to convert to REITs, according to David Levy, tax partner with the law firm Skadden, Arps, Slate, Meagher & Flom. In a video interview last month with REIT.com at REITWise 2012: NAREIT's Law, Accounting and Finance Conference in Hollywood, Fla., Levy discussed what he characterized as the "evolving REIT sector." This consists of a diverse groups of companies that have a variety of business models. They specialize in areas ranging from cell towers to prisons to data centers.
Essentially, "any type of business that requires the business to either own a lot of real estate in order to function or lease a lot of real estate in order to function" is "REIT-able" in Levy's opinion. As such, Levy said he foresees a wave of specialty REITs coming to the market in the near future. "If markets hold up, if the economy holds up, we will see a lot of transactions and REIT conversions," he said. "If not this year, then at the end of this year and early next year."
Levy noted, however, that the diversity of business models means that every conversion presents its own set of unique challenges. "Each one of those companies has a different set of operational needs and financing needs, he said. "Those needs can give rise to different types of challenges when those entities think about doing business in REIT form."
Two very recent examples of proposed REIT conversions include American Tower (AMT) and Corrections Corporation of America (CXW). Analytic Firepower, a Seeking Alpha writer, has written ten articles on American Tower and the proposed specialty REIT's risk related characteristics and less desirable investment fundamentals.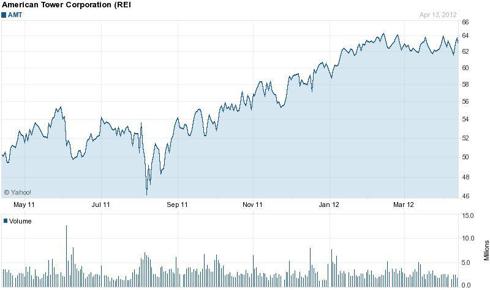 Also, last week Corvex Management (Keith Meister's hedge fund) filed a 13D with the SEC regarding shares of Corrections Corporation of America. Corvex has a 4.43% ownership stake in Corrections Corp. with 4,410,000 shares. Also an ex-Pershing Square analyst, Mick McGuire (owner of hedge fund Marcato Capital Management) joined Corvex in this endeavor as fund owns a 2.61% ownership stake in CXW with 2,596,023 shares. In the fine print of the 13D filing, the two hedge funds say that they think shares are undervalued and an attractive investment. They've had conversations with each other as well as management and the board to discuss various aspects of the business.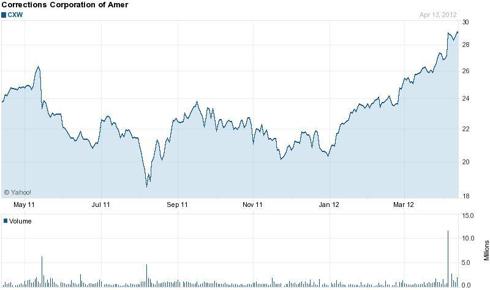 Corvex and Marcato believe that a REIT conversion would "result in a significantly lower cost of equity capital, increased growth prospects and a material increase in value for all the Issuer's shareholders based on current trading multiples of comparable publicly traded REITs."
Non-Listed REITs Validate Model?
Recently two non-listed REITs have also entered the publicly-listed space and another one is set to enter later this year.
I wrote a Seeking Alpha article on American Realty Capital Trust (ARCT) in late February as the triple-net operator listed as a publicly-traded REIT, almost four years to the day since the REIT was launched as a non-traded publicly-listed security. The ARCT portfolio (as of January 31, 2012) is 100% occupied and consists of 485 single tenant, free- standing properties, located in 43 states and Puerto Rico, with over 15.6 million leasable square feet leased to 61 different commercial enterprises doing business in 20 different industries.
Since that IPO, American Realty Capital has completed a full-cycle event (non-traded investors purchased these illiquid shares at $10 each) and the newly listed REIT has, in its first 28 days since listing, 72 million shares that have traded and the REIT hit an all-time high, closing at $11.24 per share on April 10 (intraday it hit $11.25).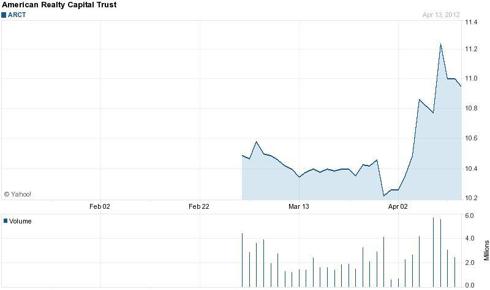 Retail Opportunities of America (RPAI) also made its debut last week as a publicly-listed shopping center REIT. As fellow Seeking Alpha writer, Kevin Quon, explained, "Retail Properties of America underwent its initial public offering, raising $254 million by offering 32 million shares at $8/share. The company was listed on the NYSE, and featured JP Morgan, Citigroup and Deutsche Bank as its lead underwriters. It came in below the range of $10/share to $12/share that was originally proposed."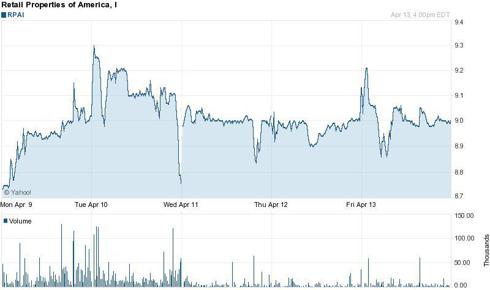 I consider ARCT to be a successful public-listed REIT on all fronts. The older and new investors should benefit from the high-quality portfolio that is currently paying a dividend of around 6.5%. However, I consider the RPAI listing to be nothing but a "can kicking" strategy. RPAI's $8 offering price not only came up well short of its expected pre-offering price of $10 to $12 but it also took some reverse-stock-split engineering to get the price to $8. For those investors who originally bought the REIT at $10 a share, the actual split-adjusted value of the stock is less than $3 per share (a decline of over 70%).
In addition, the RPAI shopping center portfolio is less than average and most of the properties were acquired when cap rates were at historical lows and today the occupancies are historically high. There are too many other quality shopping center REITs that are paying out more attractive risk-aligned yields than RPAI. (See my Seeking Alpha article on Build a Habit Forming Dividend Strategy With These 7 Retail REITs).
W.P. Carey has announced plans to merge its Corporate Property Associates 15 Inc. (CPA®: 15) non-traded REIT into W. P. Carey & Co., LLC (NYSE: WPC ). Upon merging of these two entities, the merged company will become a publicly-listed REIT. The total transaction value is estimated to be around $2.6 billion, including the assumption of CPA®: 15 debt of $1.2 billion. The proposed merger transaction is expected to close around Q3 2012.
Carey's merged companies and new REIT will provide REIT investors with sound income as the company's remarkable track record of consistency (built on extraordinary risk-control and principal preservation) is driven by decades of risk management experience and dividend sustainability.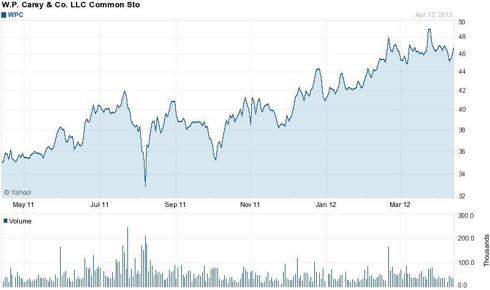 More public non-listed REITs are choosing to list in the public markets, and Kenneth Betts, an attorney with Locke Lord, hopes it's the start of a trend. "We haven't seen much real liquidity events in terms of the listing of non-listed entities since 2007," he said during a video interview at REITWise 2012: NAREIT's Law, Accounting and Finance Conference in Hollywood, Fla. "So this movement in late 2011 and early 2012 is very exciting for those of us who practice in that area." (For more information on non-traded REIT listing, you can see my recent article in Forbes.com.)
Make Some Dough on a REIT IPO?
There are certainly benefits to investing in a non-traded REIT conversion (to a listed equity) in that the "blank check" platform provides investors with an established track record and an equally beneficial assessment of management practices. Unlike an IPO, the conversion investor can become reasonably familiar with the portfolio and make an evaluation of risks associated with the investment opportunity.
The average publicly-listed equity REIT dividend payout is 3.54 percent (source:NAREIT), considerably higher than that of government bonds or money-market funds (155 basis points above the yield on the 10-year U.S. Treasuries). The equity REIT sector is growing and many REIT executives are betting that by going public now they can raise cash to pay down their own debt or to gobble up more properties.
Benjamin Graham the father of value investing and much of modern security analysis, recommended in his treatise, The Intelligent Investor, that investors steer clear of all initial public offerings. The reason? During an IPO, the previous owners are attempting to raise capital for expanding the business, cash out their interest for estate planning, or any other myriad of reasons that all result in one thing: a premium price that offers little chance for buying your stake at a discount. Often, he argued, some hiccup in the business will cause the stock price to collapse within a few years, giving the value minded investor an opportunity to load up on the company he or she admires.
The problem comes from the fact that if you find a truly outstanding business - one that you have conviction will continue to compound for decades at rates many times that of the general market, even a high price can be a bargain. Conversely, this is the same reason to invest in an established equity REIT - a proposition that delivers safety in principal and repeatable dividend performance. Such REITs are proven fixed-income alternatives and accordingly enjoy sustainably robust dividend yields (mostly due to low correlations with stocks and bonds).
One of the most prolific examples of safety and reliability is Realty Income (O). Due to the contractual nature of the leases (long-term single tenant net lease), Realty Income has one of the most durable track records for dividend sustainability. This extraordinary consistency boils down to 501 consecutive and increased dividend payouts - ranking the triple net REIT one of just seven other REITs with an equal or better repeatable dividend record (as discussed in my recent Forbes.com article). This reliable fixed-income alternative is paying a 4.7 percent yield and is considered a true SWAN (sleep well at night) alternative.
Realty Income's dividend history: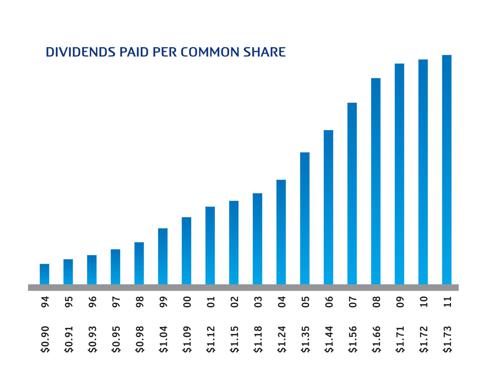 Disclosure: I have no positions in any stocks mentioned, and no plans to initiate any positions within the next 72 hours.