Physical gold ETF products gained around 1.5% in value last week as a continued pullback in the equity markets helped gold. GLD, the largest physical gold ETF in the world, rose for the week in a stair step pattern until a regression on Friday. (more on that later) Here's the chart displaying GLD's performance last week from Yahoo Finance.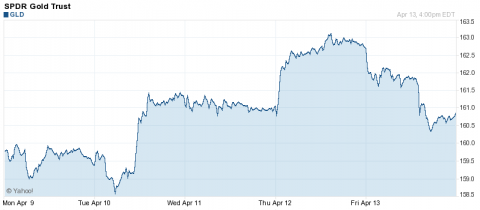 Click to enlarge
A Good Week
Physical gold ETFs were led in performance by the smallest gold ETF, the ETF Securities Asian Gold ETF (AGOL). Of the three mainstream gold ETFs - all of which are above the billion dollar AUM mark - the iShares gold trust, IAU, edged out the competition with a 1.64% return for the week. The ETF Securities Swiss Gold ETF, SGOL, trailed the peer group. Here's the full weekly physical gold ETF performance grid from GoldETFs.biz.

A Sub Par Year
Despite the positive week, physical gold ETFs have been on the decline since late February and are just shy of a 6% return year to date. The lowest expense ratio ETF in the category, IAU, continues to lead all gold ETFs in 2012 performance. Here's the grid from GoldETFs.biz.
Lower Lows
A closer look at the price of gold reveals that gold has continued to hit a series of lower lows since its cliff dive in late February. This plunge was based off FOMC comments that were interpreted to limit the chances for a QE3, a move that would have been positive for hard assets like gold.
Here's the year to date performance chart of IAU with the 150 day moving average displayed. In addition, note the arrows I used to highlight the series of lower lows since the end of February.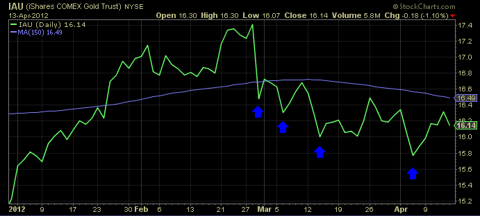 Click to enlarge
Technically this does not appear very favorable for gold, however it does seem to be playing into the hands of analysts who see a near term gold price consolidation and then a run toward $2000 an ounce later in the year.
Outlook
Going into next week, it appears there is still some bullish sentiment towards gold. In the weekly Bloomberg commodity traders survey, 19 of 26 respondents expected gold to experience gains for the week. (when exactly was this survey taken?) With slower economic growth out of China reported on Friday (see the GLD chart on Friday) and concerns about the latest EU debacle (also known as Spain) mounting over the weekend, it seems very likely gold will suffer this week.
After all, recent EU originated "risk off" allocations have hurt gold by strengthening the U.S. Dollar. Since physical gold is primarily denominated in U.S. Dollars, a stronger dollar means gold is worth less dollars and vice versa. Thus it does not seem out of the question that gold could dip this week as the U.S. Dollar strengthens over turmoil in Europe. If this happens one wonders if gold will decline to yet another lower low, which would be the fifth such occurrence since late February.
Disclosure: I have no positions in any stocks mentioned, and no plans to initiate any positions within the next 72 hours.
Additional disclosure: Christian Magoon publishes GoldETFs.biz.