In this article:
Part 1: Ivanhoe Mines' (IVN) share price is down again, for the 3rd time since September 2011.
Part 2: A look at select details from the Oyu Tolgoi 513 page technical report that rating agencies and media have cited for Ivanhoe Mines share price decline and downgrades.
Part 3: Current events may create further price dislocation.
Part 4: Value opportunities created in junior copper-gold miners operating in the same region by Ivanhoe Mines' recent share price action. Review of the price action in four junior copper-gold miners in the region I discussed previously in November and December 2011.
Part 5: An in-depth look at two of those junior copper-gold miners in the region, one of which I interviewed in Mongolia in February 2012.
Part 6: Conclusion and notes.
Ivanhoe Mines' share price is swooning again under the weight of a wave of news stories. The shares were down 30% from their March 13, 2012 close as of April 13, 2012. This is the third major offensive on Ivanhoe Mines' share price since September 2011. I discussed the prior two declines in Ivanhoe Mines share value in December. Since that time, Rio Tinto (RIO) has taken a 51% ownership stake in Ivanhoe Mines (in January 2012) and Ivanhoe Mines signed a memorandum of understanding in April 2012 to sell its 57.6% stake in SouthGobi Resources (OTC:SGQRF) to Chalco (ACH).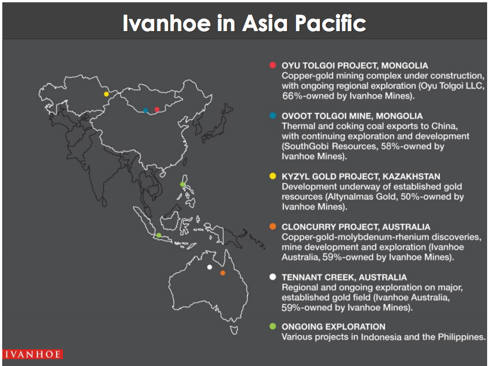 Click to enlarge
Source: Ivanhoe Mines March 2012 corporate presentation.
Recent Ivanhoe History
Bloomberg noted a big date for Ivanhoe Mines that looms is May 11, 2012:
Ivanhoe will recommend investors vote to end the rights plan at its annual meeting on May 11, the Vancouver-based company said [January 17, 2012] in a statement. Rio has been restricted to holding a 49 percent stake in Ivanhoe by a standstill agreement, which was set to expire yesterday, Ivanhoe said.
(Step-by-step instructions on how to access Ivanhoe Mines SEDAR fillings and rights agreement are at the bottom of this article.)
Whereas Reuters noted in January:
Analysts said Rio, still scarred by its costly takeover of Canadian aluminum giant Alcan in 2007, was unlikely to move aggressively to take over Oyu Tolgoi or Ivanhoe - or get into a potentially bruising battle with Ivanhoe CEO Robert Friedland.

Rio's preference, they said, is most likely to lie with a friendly deal with Ivanhoe directors to give Rio control of Oyu Tolgoi in a cash and share swap, leaving behind Ivanhoe's other assets, including stakes in coal miner South Gobi Resources, Ivanhoe Mines Australia and Kazakh project Kyzyl Gold.

Credit Suisse analysts valued the 66 percent stake in Oyu Tolgoi at $13.3 billion in a note earlier this week.
Ivanhoe Mines' market cap at current valuations is below $10 billion, and they still have their stakes in South Gobi Resources, Ivanhoe Mines Australia and the Kzyl Gold project.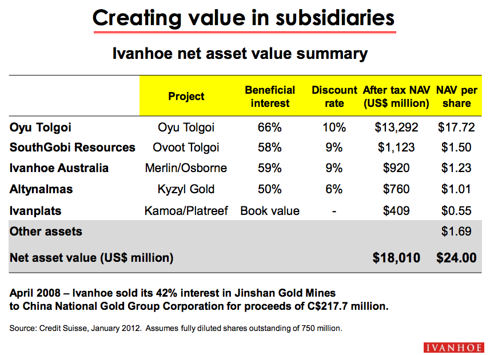 Click to enlarge
This chart shows the referenced Credit Suisse valuation of Oyu Tolgoi. Source: Ivanhoe Mines March 2012 corporate presentation.
PART 2
What Was The Problem Last Week?
Well... It Was About 600 Pages... And Not A Tolstoy Novel
The joint Ivanhoe Mines-Rio Tinto-Mongolian government Oyu Tolgoi project recently released a 513 page technical report and Ivanhoe Mines issued a 100 page annual report for 2011, and the reaction to these reports sent share prices plunging.
To provide some context, according to the World Bank in Mongolia: Mongolia's GDP growth for 2011 was 17.3%, and:
Core inflation (which excludes food and energy, because they are typically more volatile) has also kept increasing throughout the year (Fig 8) reaching 12.4 percent yoy (3mma) in December [2011].
However, media outlets and negative analyst reports seem to ignore this market relevant data, as much as they ignore the long-term perspective of a mine scheduled to operate for 60 or more years with geographical proximity to the world's biggest sovereign natural resource consumer (China).
Changes in the new technical report include (page 3) a "Revised start date for first ore production from third quarter 2013 to third quarter 2012." However, the Brisbane Times and many other media outlets immediately seized on negatives in the Oyu Tolgoi report:
[The] 513-page technical report into Oyu Tolgoi, which warned that ore grades would be less impressive than earlier thought, while the costs of mining and processing would be higher.

The report also flagged that the development of underground mining at the site could be delayed.

It was unclear last night how the report related to a media statement issued by Ivanhoe last month, which flagged construction cost increases from $US5.9 billion to $US6.2 billion and foreshadowed delays, should problems persist in finding a short-term power solution for the project.

The report prompted BMO Capital Markets to downgrade the stock from ''buy'' to ''hold'', prompting a savaging for Ivanhoe shares on the Canadian market.

Rio Tinto refused to comment on the report and the accuracy of its claims last night, prompting suspicions that the release of the report might be yet another chapter in the long, strained relationship between Rio and Ivanhoe executives.
Below is a table from the report not one media report mentioned: the assumed prices used for the commodities being mined in the Oyu Tolgoi technical report which are significantly lower than current commodity prices.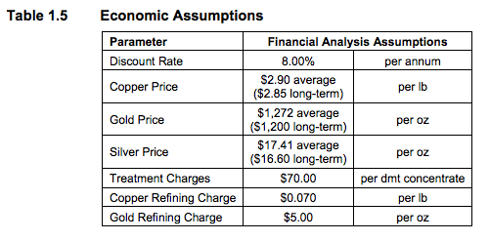 Click to enlarge
Source: Found on pages 24 and 458, Oyu Tologi technical report.
One should keep in mind that the life of the Oyu Tolgoi project is estimated to last between 60 and 100 years, so the prices of the commodity resources may fluctuate during that time.
Control-F [FIND] The Word "Cost" In The Technical Report,
Select Quotes (italics added by author)
The word "cost" appears 265 times in the Ivanhoe Mines technical report. Inspired by the sensational reporting and downgrades by BMO and TD Securities, I ventured to use the Control-F search function for every incident of the word cost and see what caused Ivanhoe Mines share price to lose over 30% of its value in a matter of days. Here are some selections.
Page 15 and 277: "The Hugo Dummett underground deposit will be mined by block caving; a safe, highly productive, cost-effective method."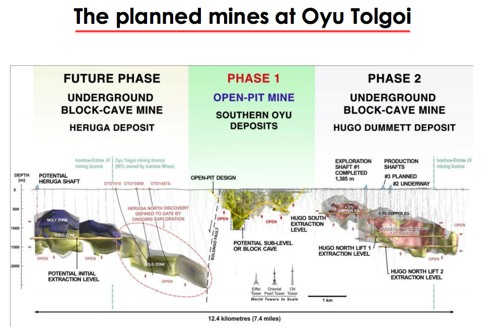 Click to enlarge
Source: Ivanhoe Mines March 2012 corporate presentation.
Page 20: "The development of a borefield to access groundwater reserves within the Gunii Hooloi aquifer basin has been established as the most cost-effective option to meet the raw water demand for the project."
So far, not too bad. Then, a smoking gun on page 21 in the "Underground Development" section (the below quote is again repeated on pages 34, 366, 383, 452, 478 & 488).
In addition possible scope changes have been indicated including:

Additional development and excavation expenditures

The addition of a shaft No 5

An additional crew underground

Increased operating cost due to design changes
Yes, they said it seven times in this report, it's possible operating costs will go up as designs for the mine are improved.
Searching the word cost also brought me to aspects of this technical report that are geared toward a bankable study for $4 billion in project financing. Page 279:
The IDOP Technical Report is based on the technical, production and cost information contained in the OT LLC study titled Integrated Development and Operations Plan (IDOP). IDOP was completed by the Rio Tinto appointed management of OT LLC in March 2011 as the basis for the proposed project financing. Ivanhoe has reported that on 18 March 2012, the Ivanhoe Board of Directors approved a conditional comprehensive financing plan. The financing plan contains three principal elements: project finance, bridge finance and equity.

Ivanhoe is in an advanced stage of discussion with a core lending group of financiers for a $4.0 billion project-finance facility. The core lenders group is comprised of European Bank for Reconstruction and Development, Export Development Canada, International Finance Corporation, BNP Paribas and Standard Chartered Bank. US Ex-Im Bank and its adviser, Standard Bank, the World Bank Group's Multilateral Investment Guarantee Agency and the Australian Export Finance and Insurance Corporation recently joined the lender group. Ivanhoe has indicated to AMC that the lenders have received a report from an independent engineering assessment that indicates IDOP is suitable to support the technical for consideration of the project financing. Ivanhoe has indicated that its objective is to sign loan documentation in Q3 2012. AMC therefore considered it reasonable to conclude that the bankable study test in US SEC Industry Guide 7 has been met.
They certainly sound like they have a lot of financial partners and are well organized for this project. Moving along, looking for problems from the word "cost" led me to more technical data.
Page 290, regarding the open pit mining, Rio Tinto Technology and Innovation [T&I]:
concluded that the optimization work showed a small variance in tonnage in comparison with the previous optimization work in 2007 and that the result maintains the total mineable quantity close to the quantities reported in IDP10. The variance was attributed to updated metal prices (higher), pit slope angles, and cost estimates.
Page 334, regarding undercut height:
The higher the undercut, the greater the chance that the caved rock mass fragmentation will improve due to the influence of the secondary breakage (cave attrition). The benefit is; however, offset by the slower rates of undercutting and higher cost of increased drilling and blasting. It is recommended that height of undercutting should not be less than 5 m.
Page 336, on undercut/extraction level distance:
This distance is driven by several factors such as stability (greater distance, better stability), fragmentation (high percentage of oversize: shorter distance is better for hang-up blasting), development cost (shorter, cheaper). The recommended distance is 17 m.
That was only the 104th of 265 uses of the word "cost." Let's skim ahead and look for something more troubling. How about page 372?
OT LLC is actively considering changing the ore pass location to the centre of the panel drift. This would reduce the average tram length to some 150 m, presenting a significant savings in operating cost and increasing in production efficiency.
Savings? There was no mention of savings in any news reports so that wasn't it. Finally, there is some problematic pay-dirt on pages 382 and 383 where in ventilation for the underground mine is noted to be more complex than previously anticipated.
Vertical Development and Ventilation Infrastructure

The design of the underground incorporates 4 shafts and 5 raises to ventilate the mine. The intended method of construction for the 5 ventilation raises is by raise boring. There has proven difficult and has suffered delays, the primary reason for schedule slippage has been due to poor ground conditions. Completion of the ventilation raises is on the critical path to production from the underground mine as the raises are required to meet the ventilation requirements for development and provide alternative means of egress should Shaft 1 be unavailable. In order to mitigate and minimise risk to the project production and to OT LLC is investigating alternative means of establishing the vertical development required to complete the ventilation infrastructure.

Work to determine the impact of this issue is being carried out. The full extent of the additional regulatory requirements study is not yet known, but they will likely contribute to an increase in capital and operating costs. Initial analysis by OT LLC suggests that the underground production could be delayed by around twelve months and that each month's delay could have an NPV value of $50 M. These investigations are planned to be incorporated into DIDOP and will allow OT LLC to quantify potential costs and changes required to meet the Project schedule.
One could wonder if this contradicts Ivanhoe Mines announcement on February 27, 2012:
Ivanhoe Mines founder and Chief Executive Officer Robert Friedland said today that construction of the first phase of the Oyu Tolgoi mining complex in southern Mongolia has surpassed an estimated 73% completion and is on track to meet the mine's targeted start of initial production in the third quarter of this year.
The answer is no. As the current company video presentation discusses, the start of the project will commence this year with open-pit mining, not underground. Next year, full commercial production is supposed to commence, and this may be delayed. Maybe.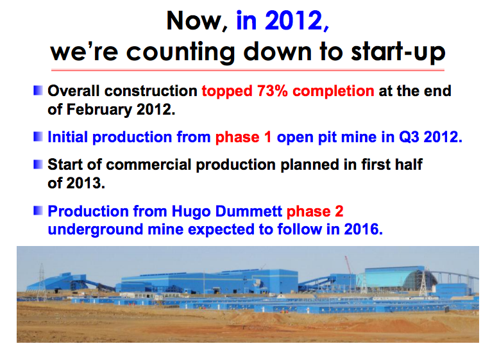 Click to enlarge
Source: Ivanhoe Mines March 2012 corporate presentation.
Returning to the technical report, pages 451 to 452, regarding open pit capital costs including heavy mining equipment [HME]:
As a result of the update on HME productivity assumptions, additional equipment units were allowed for in IDOP. Final contract prices were agreed for the equipment and the equipment purchase price assumptions were updated, showing a decrease in drilling and loading and a slight increase in hauling price compared to the previous analysis completed in early 2010.
Page 453 (incident 177 of the word "cost" in the report and also not a problem):
21.2.1.3 Project Capital Costs

The Phase 1 construction of the Phase 1 plant and infrastructure is substantially complete.
Page 455 is included so no one is negatively surprised as the mine develops over the next 60 years:
As the pits deepen, haulage costs increase with greater haulage distance. Labour costs reduce over time as it is assumed that expatriate labour is reduced and more roles are carried out by Mongolian nationals.
For those interested, go to page 463 to start getting into the nitty gritty of the costs, operating expenses, and variations of expenses and returns depending on commodity prices. There are many charts and I am only including the one below as it makes clear the impact of the commodity prices of copper and gold on Oyu Tolgoi's bottom line.
After tax sensitivity of Oyu Tolgoi to the prices of copper prices (in the lefthand column) and gold prices (along the top row). Source: page 468, Oyu Tolgoi technical report.
Page 480 brings us to the 260th used of the word "cost" on the important ancillary issue of developing energy resources for the Oyu Tolgoi copper-gold mine. This is particularly important because Ivanhoe Mines moved up the date of the construction of the power plant timeline which has added pre-2017 costs to this technical report that were not in prior reports:
Although construction of a power plant is expected as part of the Project's future development, there is no provision for a plant in the current capital cost estimates for 2012, and the additional financing that would be required for such a plant is not contemplated as part of the Company's current financing plan. The HOA provides that if construction of a 50 megawatt, or greater, power plant was started before 1 January, 2015, the construction would be funded by loans from Rio Tinto, with 40% of the outstanding balance to be repaid in 2015 and the remainder in 2016.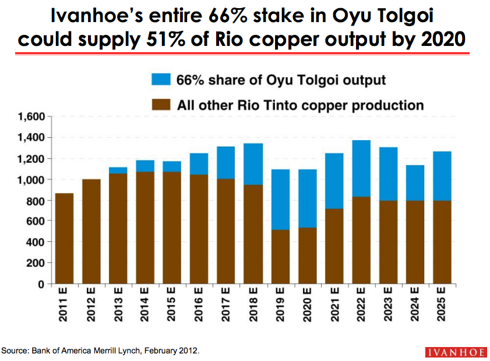 Click to enlarge
Source: Ivanhoe Mines March 2012 corporate presentation.
Control-F The Word "Grades" In The Technical Report,
Select Quotes (italics added by author)
The word "grades" appears 148 times in the report (relevant deposits in parentheses).
Page 14 (re: Hugo North):
Calculation of the underground Mineral Reserve by OT LLC resulted in a rounding up of the Hugo North Lift 1 tonnage on the Oyu Tolgoi licence by 1 Mt to 411 Mt and, on the EJV Shivee Tolgoi licence, the same tonnage but increased grades.
Page 15 (re: Hugo North):
To ensure that Inferred Resources do not become included in the reserve estimate, copper and gold grades on Inferred Resources within the block cave shell were set to zero and such material was assumed to be dilution.
Page 86 (re: Hugo South):
Several phases of intrusive rocks occur in the Hugo South deposit. The oldest recognized intrusions are quartz monzodiorite bodies, which underlie the entire deposit area and contain low copper grades.
Page 92 (re: Hugo North):
The main intrusive body, which typically has lower vein density and lower copper and gold grades.
Page 98 (re: Hugo North):
Lower Fault occurs at an abrupt down hole discontinuity in copper and/or gold grades, indicating that latest movement displaced mineralized zones. Cross-sections through the Hugo North gold zone show apparent thrust offsets of around 300 to 400 m, based on displaced high gold grades.
Page 107 (re: South Oyu):
High-sulfidation mineralization consists of pyrite, chalcopyrite, bornite, enargite, covellite, and primary chalcocite in advanced argillically altered host rocks. Higher grades of copper (>0.8% Cu) occur in a shallowly east-dipping zone in the upper hundred metres of basaltic tuff/breccia unit. Gold is absent, except locally in drillholes adjacent to the South Fault. Mineralization is open down dip and to the north.
Page 108 (re: South Oyu):
Higher grades are associated with zones of intensely contorted quartz stockwork veins, where the gold (ppm) to copper (%) ratios reach 2:1. Peripheral, lower-grade mineralization has gold to copper ratios of less than 1:1.
Page 109 (re: Hugo South):
Copper grades gradually decrease upwards from the stockwork zone through the upper part of the massive augite basalt and the basaltic tuff, and a broader zone of lower grades occurs below and to the west in basalt and quartz monzodiorite... Sulfides are zoned (Figure 7.9) with bornite ± chalcopyrite, chalcocite, and tennantite comprising highest grades (>2.5% Cu), grading outwards to chalcopyrite (1 to 2% Cu).
Page 113 (re: Hugo North) (bold added as this theme recurs for the junior miners):
Bornite is dominant in highest-grade parts of the deposit (3-5% Cu) and is zoned outward to chalcopyrite (2%). At grades of <1% Cu, pyrite-chalcopyrite ± enargite, tennantite, bornite, chalcocite, and rarely covellite occur, hosted mainly by advanced argillically-altered basaltic tuff.
Page 119 (re: Hergua):
Gold may correlate with strong biotite alteration at the deeper levels of the deposit. Au to Cu ratios (ppm:%) are generally less than one throughout the upper Mo-rich part of the deposit, i.e. within the >100 ppm Mo shell. Below this, the gold to copper ratios reflect an inverse relationship between Au and Cu. The Au to Cu ratio increases rapidly with depth from one to greater than 10, reflecting decreasing copper grades and increasing gold grades.
Page 130-131 (re: Hugo Dummett):
The Hugo Dummett deposits have several features unusual to porphyry copper systems, including the following:

Anomalously high copper and gold grades, particularly in the northern part.

An unusual, weakly altered, pre-mineral sedimentary cover sequence that lies just above the porphyry system.

Quartz + sulfide vein contents always exceeding 15%, and commonly over 90%, in the high-grade portion of the deposit.

A highly-elongate, gently-plunging, tabular shaped, high-grade stockwork system.
Page 154 (re: Heruga):
Eighty percent of the mineralization is hosted by augite basalt wall rock, and the highest grades, and highest Au(g/t) to Cu(%) ratios (up to 3) occur with the most intense biotite alteration. Whereas Southwest Oyu is an eroded porphyry system, Heruga appears to be intact (Figure 9.10)
Page 201 (re: Hugo North):
Hugo North dips away and has very high copper grades at a depth of 1,000 m or more. Gold appears to increase with depth, with some coarse, visible particles observed in the drill core. Copper mineralization consists of chalcopyrite, bornite, and chalcocite.
Page 232 (re: Southern Oyu):
To reduce the impact of locally inaccurate block grades due to conditional bias at the grade shell boundaries, all blocks straddling those contacts were estimated twice with each of the composite sets on either side of the contact. The final block grade was calculated with a volume-weighted average of the two domain grades in that block. The effect is to slightly smooth the grades at the hard grade shell boundary so that the distribution of block grades more closely approximates the shape of the composite distribution.
Page 233 (re: Southern Oyu and Hugo North):
Final resource grade values were adjusted to reflect likely occurrences of internal dilution from the unmineralized post-mineral dykes. The estimated mined for Southern Oyu deposits were tabulated and reported using these adjusted or diluted grade values. The planned mining method for Hugo North, underground block caving, allows for virtually no segregation of diluting material. Therefore at Hugo North, model blocks that contained less than 85% and greater than 15% mineralized material or feed by volume had final block grades recalculated with volume-weighted averaging of the interpolated grade and dyke grade (taken as zero) to 100% ore. Blocks containing more than 85% feed were allowed to use the existing interpolated grades. For block with less than 15% feed by volume, the blocks were reset to 100% but at zero grade values....

The Southern Oyu deposits will be mined by open-pit methods. This allows for potential segregation of unmineralized dyke material. However, contact dilution and feed loss will be inevitable during mining. For this reason, contact block grades and feed percent values were also adjusted. Model-blocks containing greater than 85% mineralized material or feed by volume, were reset to 100% ore, but the interpolated grades were adjusted by a volume-weighted averaging of the interpolated grade and dyke grade (taken as zero).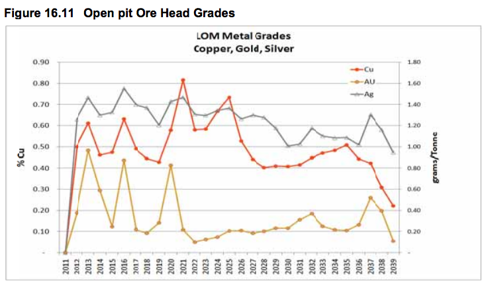 Click to enlarge
This is not any of the underground mining; only the open pit. Source: page 308,Oyu Tolgoi technical report.
Page 260 (general):
Data analysis showed no discernible difference between the two main host lithologies; augite basalt and quart-monzodiorite. For estimation purposes, therefore, these two lithologies were grouped into a single lithological domain. It should be noted that the lack of demonstrated lithological control on grade distribution at this early stage in the development of the Project is not unexpected. Similar relationships were observed at Oyu Tolgoi, where the controls on mineralization became apparent only once detailed infill drilling was completed. However, there does appear to be a spatial association of higher copper and gold grades with the Qmd intrusion.
Page 277 (general):
The Mineral Reserves were estimated by AMC. Key assumptions are summarized below; other assumptions are documented in the IDOP Technical Report:

Metal prices used for calculating the Southern Oyu open pit NSR and the Hugo North Underground NSR are copper $1.80/lb, gold $750/oz, and silver $12.00/oz based on long term metal price forecasts at the beginning of the Mineral Reserve work. Analysis indicates that the Mineral Reserve is still valid at these metal prices.
Page 350 (general):
Producing tonnes that contain less than $8.97 NSR value is uneconomic. The best HOD calculation produces grades, tonnes, and total dollar value for each drawpoint inside the mining footprint.
Page 411 (re: Heruga):
The molybdenum head grades for Heruga are substantial, and the economic viability of its separation from the other valuable minerals should be investigated
From page 481, there is the section on interpretations and conclusions about mineral resources. It is noted that I did not look at all 503 instances of the word "grade" and only focused on the plural form of the word.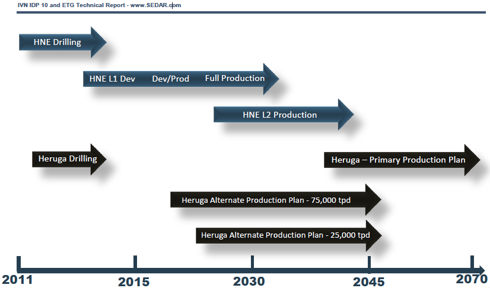 Click to enlarge
The life of the Oyu Tolgoi mining system will be long. Source: Entree Gold November 2011 presentation. HNE = Hugo North Extension.
Ivanhoe Conclusions In Story Form, Circa Last Week
We are talking about a mine that will be in operation for 60 years or more.
Let us consider that we have a young friend named Ivan. Ivan is supposed to graduate from college this year and enter the work force. However, Ivan has decided that he does not want to merely graduate with a degree in geology, but would like to finish a double major in geology and economics. Ivan's parents are upset (and trash his share price?). Ivan perseveres and commits to start working (open-pit mining?) while still going to school. He will graduate one year later with a better degree (underground mine) which will start his career trajectory off on the right path. Meanwhile, his (ore) grades suffered a bit as part of developing his economic skill set. Ivan though, is not worried, because he knows he has a long career ahead of him (60 to 100 years) with many new discoveries and developments ahead in his career (and in the mine).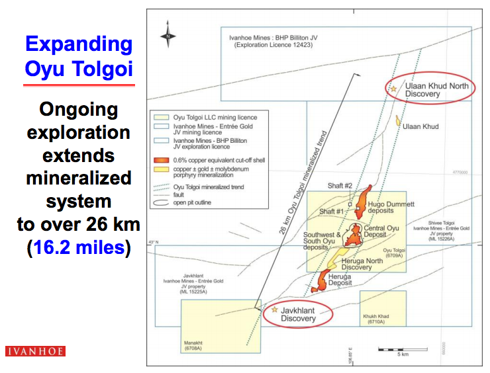 Click to enlarge
Source: Ivanhoe Mines March 2012 corporate presentation.
Ivanhoe Conclusions Wondering Aloud, Circa Last Week
If Ivanhoe Mines share price follows its prior trajectory and history since September 2011, we're a few weeks away from long options becoming breaking news on Options Monster [This is a guess based on observations since September; I do not trade options normally; and I am not intending to at this time in this case]. Ivanhoe Mines' share price feels like it has gone up and down more times than an endless roller coaster.
Source: Wisdom Quarterly.
In the end, in the long run: (1) the Oyu Tolgoi mine will have a long and healthy life, and (2) in my opinion, Rio Tinto is going to buy out Ivanhoe. I believe those who own shares of Ivanhoe Mines today will eventually be Rio Tinto shareholders if they hold their stock. At what price Rio Tinto is able to acquire that stock is up to the markets, politics (see below), and the mainstream media coverage of the politics and the markets.
PART 3
Why This Is Circa Last Week
Former Prime Minister (2000 - 2004) and President (2005 - 2009) of Mongolia Enkhbayar was arrested on Friday by an estimated 300 police force.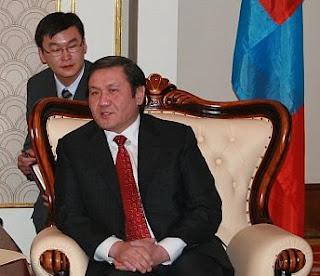 The former Prime Minister and President Enkhbayar. Souce: Sodon.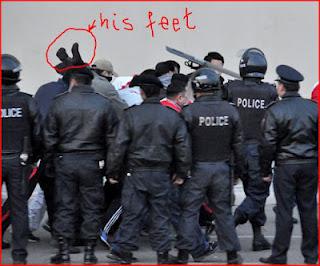 The former Prime Minister and President Enkhbayar's feet as he carried out by police. Souce: Sodon; verified by multiple sources.
National elections are coming up in June 2012. Mr. Enkhbayar was contending in these elections. This situation will sort itself, however there will likely be questions about why this happened a few short months before the election. Investors often don't like questions, thus until the dust settles on this issue, there may be further turbulence for all Mongolia-related stocks. Rather than dwell on this story where there is more unknown than known at this point, I have set up a separate blog to track this story.
Rounding Out Ivanhoe Mines Issues
There has also been some contentious reactions in the Mongolian government regarding Ivanhoe Mines' recent agreement to sell SouthGobi Resources to Chalco for an estimated $926 million.
The UB Post rounded up a few reactions to this deal.
The reaction to the news has been swift with harsh criticisms coming from both Government officials and citizens alike.

G. Bayarsaikhan, Member of the State Great Khural [parliament]: "Selling SouthGobi [Resources] shares to CHALCO might cause a serious loss to national interest. Foreign countries are stealing Mongolian natural resources behind our backs, while Mongolians are making it a political issue among ourselves. CHALCO will own 57.6% of a coal mine that has reserves of over 500 tons of coal. China is becoming both the coal supplier and buyer for Mongolia."

D. Jargalsaikhan, economist: "This contract should be terminated immediately.... If someone doesn't disrupt the SouthGobi [Resources] deal it will become Chinese property. 29 days are left for the Mongolian Parliament and Government to intercept the purchase of SouthGobi [Resources].

Ts. Sedvanchig, Member of the State Great Khural: "The CEO of Ivanhoe Mines, Robert Friedland sold SouthGobi [Resources]. He is overstepping the borders and underestimating the Mongolian people and the Government. The draft law on the rules of foreign investment in areas of strategic importance to provide the national security must be approved urgently. Mongolia's national property is about to become the property of Chinese government.
Political statements such as these are going to be amplified not only this week, but through the Mongolia's national elections in June 2012.
Nothing truly changes for the long-term outlook for Ivanhoe Mines, but the near-term (i.e. this week) looks challenging, and perhaps opportune for those looking for a low entry point (my guess would be, sometime between late this week and the election the lows will be seen; it depends on news cycle turns that cannot be predicted). Although the company seems to already be trading below fair value, there are some sources I have spoken with who believe the stock price could be driven down to single digits. There is a strong argument to buy Ivanhoe Mines right now as a value play, but those considering a purchase need to be aware that news-driven events could result in further irrational pricing of the shares.
PART 4
What's Really Interesting: The Other Copper-Gold Miners
There are seven other stocks to think about with copper-gold in the Gobi region of Mongolia. Stocks to watch might be the junior copper-gold companies in the surrounding area getting walloped on this news and creating possible value: Kincora Copper (OTC:BZDLF), Voyager Resources (OTC:VOYRF), Entrée Gold (EGI), Erdene Resource Development (OTCPK:ERDCF), and possibly Xanadu Mines of Australia which recently shifted its focus to coking coal and copper-gold (and has acquire copper-gold properties in Mongolia's Gobi Desert). Also, Altan Rio & Undur Tolgoi are two separate Canadian listed companies that are both very thinly traded and have copper-gold in the Gobi.
The last three of these companies are beyond the scope of Seeking Alpha coverage at this time. I covered Kincora and Voyager previously in November 2011 and Entree Gold and Erdene Resource Development previously in December 2011.
Who Has Been Hurt Most As of Last Week?
A February 2012 copper industry article suggested junior copper-gold miners were making gains based on Oyu Tolgoi news driven events. This being the case, certainly the opposite possibility of bad Oyu Tolgoi news driving share prices down could be true as well. Since my last article about these stocks in December 2011:
Ivanhoe Mines share price hit a high of $19.84 before its April 10, 2012 close of $13.26. A 33% decline.
Market Vectors Gold Miners ETF (GDX) share price hit a high of $57.47 before its April 10, 2012 close of $47.04. A 18% decline.
Global X Copper Miners ETF (COPX) share price hit a high of $15.78 before its April 10, 2012 close of $13.93. A 12% decline.
Voyager Resources share price hit a high of $.08 before its April 10, 2012 close at $.07. A 12.5% decline (negligible).
Entree Gold share price hit a high of $1.40 before its April 10, 2012 close at $1.09. A 22% decline.
Erdene Resource Development share price hit a high of $.55 before its April 10, 2012 close at $.41. A 25% decline.
Kincora Copper share price hit a high of $.35 before its April 10, 2012 close at $.21 A 40% decline.
Entree Gold's current presentation plus my section on them in my December 2011 article cover them fairly well. Entree Gold has property in Nevada and Peru in addition to Mongolia. However, Entree Gold's property and interests in Mongolia are part of Oyu Tolgoi's later development stages, plus they have sole rights to an adjoining property (Shivee West).

Click to enlarge
One month chart, March 12, 2012 to April 11, 2012. Ivanhoe Mines and Entree Gold share price comparison. Ivanhoe is -27.80% compared to Entree Gold's -18.17%. Source: Google Finance.
Erdene Resource Development made a short and long presentation at the Mines and Money conference in Hong Kong this past March, each with different data. The longer presentation goes into broader details about Mongolia and the Gobi, and is worth a look for all Mongolia investors. The most interesting development with Erdene since I last wrote about them in my December 2011 article is the company is considering spinning off its Mongolian assets into a separate company.
Entree Gold and Erdene Resource Development will get broader coverage from me at a later date. The next section goes into greater detail on Kincora Copper and Voyager Resources.
PART 5
Kincora Copper
(market cap April 11, 2012, $33 million)
As I wrote in my November 2011 article about Kincora, their major asset is the Bronze Fox copper-gold deposit that was formerly property of Ivanhoe Mines. As part of Ivanhoe Mines Oyu Tolgoi negotiations, they relinquished rights to Bronze Fox. Thus, it seems reasonable to wonder if Kincora Copper's share price has gone down for the last month in sympathy with Ivanhoe Mines' share price. Below is a one month chart of the two companies.

Click to enlarge
One month chart, March 12, 2012 to April 11, 2012. Ivanhoe Mines and Kincora Copper share prices are down an identical 27.8%. Source: Google finance.
Kincora is a penny stock and has been volatile recently. If you purchased the stock on March 1 and sold it on March 15, you would have over a 45% gain. This was the result of a positive reaction to its March 5 announcement of exploration results and drilling plans for 2012. Since then, the stock gave up those gains and dipped below its March 1 price despite the initial positive reception.
Since that time, Kincora acquired a 100% interest in an adjoining property on March 15, 2012. They acquired the property from the Temujiin division of Aberdeen International (OTCPK:AABVF) which resulted in Aberdeen acquiring a 12.6% stake in Kincora as part of the deal.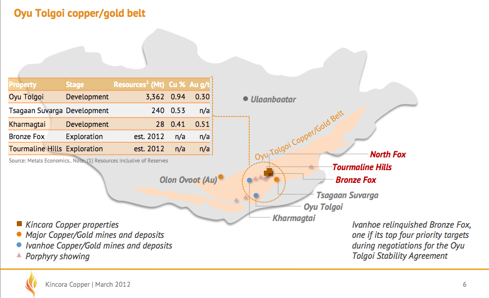 Click to enlarge
Source: Kincora Copper March 2012 corporate presentation.
The 12.6% stake may or may not be the last shares issued to Aberdeen. The acquisition of the new property accretively improves the holdings of Kincora, however the deal seems to have been otherwise dilutive:
Temujin, a portfolio company of Aberdeen International Inc., an investment corporation and a member of the Forbes & Manhattan Group of Companies will be issued 20 million shares in Kincora, which represents a 12.6% equity stake in the combined entity on completion of the transaction. Upon the discovery within 4 years of closing of the transaction of a minimum of 1 million ounces of inferred gold resources (or gold equivalent, being the value of other metals expressed as gold ounces based on the 3 year trailing average prices of gold and such other metals) within the Properties acquired, Kincora shall issue a further 15 million shares to Temujin. Kincora plans to spend $2 million on the exploration of the Properties over the next 2 years. It is contemplated that the Kincora shares issued to Temujin on closing of the transaction will be dividended out by Temujin to its shareholders concurrent with such closing.
For new investors, the dilution of Aberdeen's shares are priced in unless 1 million ounces of inferred gold resources is discovered within the next 4 years (and that seems like it would be well worth the discovery). While it is likely there will be other capital raises in the future for exploration and development as this project moves forward, Kincora has improved their resource profile with this recent acquisition.
Kincora Copper CEO Igor Kovarsky recently gave an in-depth interview that provided insight into his plans and expectations for the company. Mr. Kovarsky's career included 16 years from 1992 to 2008 working in Canada, the Kyrgyz Republic and Mongolia for the Cameco (CCJ) subsidiary that became Centerra Gold (OTCPK:CAGDF). In the interview he said, "for potential investors, I can say that if they want to be with us they should do it now because later in the year a few good drill holes may change the entire picture completely." However, the interview also noted that the company has "around $3 million right now in our possession" but "Our expected cost for 2012 drilling program is between $5.2 and $5.5 million and we always are looking into other opportunities."
Mr. Kovarsky reiterated via e-mail:
We now hold two of Ivanhoe's former high priority target properties in Mongolia, the Bronze Fox and Tourmaline Hills and Kincora now has one of the largest land holdings along the highly prospective copper belt hosting Oyu Tolgoi. Tourmaline Hills is a mid-stage exploration license with a number of significant gold targets. This places Kincora in a strong position to identify [both] a significant copper-gold and gold deposit this year.
Voyager Resources
(market cap April 11, 2012, $72 million)
Voyager Resources price has held up well compared to the other stocks in the region. This is one of many companies in Mongolia backed by Jason Peterson at CPS Securities of Australia and Garrison Capital. The Chairman of Voyager Resources is Matthew Wood of Garrison Capital. Mr. Wood is, amongst others, also the Chairman of:
Mr. Wood has also previously been a director of Bellamel Mining (taken over by Norton Gold Fields), Black Range (OTC:BLKMF), Elk Petroleum (OTCPK:EKPTF), Iberian Resources, Kasbah Resources (OTC:KASBF), Laguna Resources - since acquired by Kingsgate Consolidated (OTCPK:KSKGF), Overland Resources and Signature Metals (taken over by Lion Gold). Hunnu Coal's sale to Banpu is the biggest success of Garrison Capital to date.
In February, I met with Voyager Resources Managing Director Kell Nielsen and Joe Burke, Voyager Resources general manager of marketing, (who also helped lay the early groundwork for the sale of Hunnu to Banpu) in their offices in Mongolia. At the time there was a lot of optimism about their properties, particularly the KM property.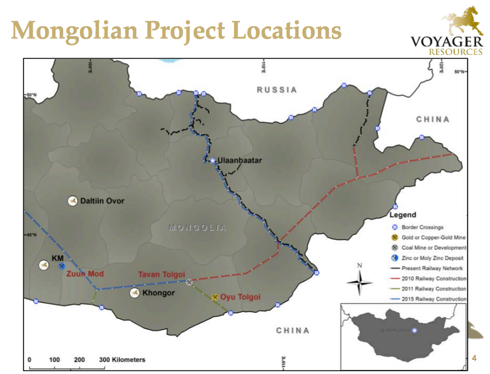 Click to enlarge
KM is near Zuun Mod, an Erdene Resource Development property. Khongor sits between Zuun Mod and Oyu Tolgoi. Source: Voyager Resources February 2012 corporate presentation.
They anticipate they will have JORC Resources by June or July. Foster Stockbroking issued a research report on Voyager Resources in February 2012. Foster wrote in February regarding Voyager's flagship KM property, "Based on work completed to date management have released a target resource of 50Mt - 150Mt at 0.8% - 1.0% Cu across the breccia pipes only (i.e. excluding the potential porphyry stocks) with a maiden resource due mid 2012."
Ocean Equities released a recent report on Voyager Resources on March 9, 2012.
Voyager has stated an exploration target of 50-150Mt @ 0.8-1.5% Cu for the hydrothermal breccia targets (excluding the larger porphyry target). We expect a maiden resource in the order of 20-40Mt @ 0.80-1.20% Cu (mid range of ~300,000t contained copper) to be announced in Jun/Jul'12. The definition of a number of near surface hydrothermal breccia resources offers the potential for an attractive initial development project with a Pre-Feasibility Study ('PFS') and mine permitting expected to commence shortly...

Not many juniors complete this level of drilling within 10 months on an initial discovery. To help put Voyager's exploration efforts and initial resource target into perspective we highlight.... Voyager's first phase 50,000 metre drill programme testing only five prospects of the 29 hydrothermal breccia pipes identified to date, and its exploration target of 50-150Mt @ 0.8-1.5% Cu (contained copper of 400,000-2,250,00t), certainly places it in a comparable league in terms of initial exploration activities and contained resource/metal targets as Sandfire and Rex, two of the most successful ASX listed copper juniors of recent times.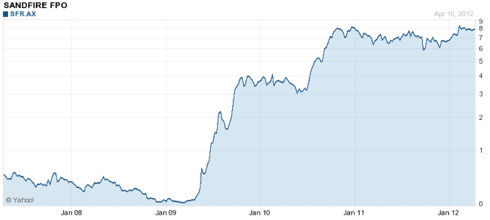 Click to enlarge
Sandfire (OTC:SFRRF) 5 year chart from its Australian listing (5 year chart not available for American listing). Source: Yahoo! Finance.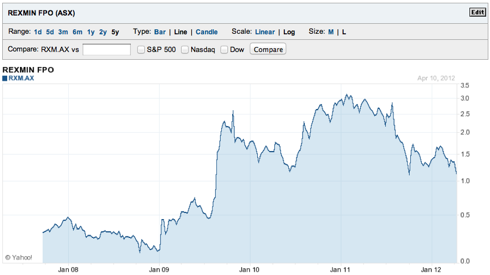 Click to enlarge
Rex Minerals (OTC:RXRLF) 5 year chart from its Australian listing (5 year chart not available for American listing). Source: Yahoo! Finance.
From my meeting with Messrs. Burke and Nielsen, one thing that was clear is that the first goal is to prove up their breccia JORC resources -with their first goal being to attain 100Mt - but what they are speculating they will find porphyry copper-gold deposits, particularly targeting the Gaans section of the KM deposit. They discussed that "pipes don't form on their own"; that the "pipes are coming at an angle" which raises the "question if they are being fed and pushed out"; and that they have found bornite which is "usually found near porphyry." (on a related note, page 113 of the Oyu Tolgoi technical report reads: "Bornite is dominant in highest-grade parts of the deposit (3-5% Cu)")
At the time when we met in February, they stated they have a "little over $5 million in the bank." Their task of raising good numbers with JORC Resources to be able to raise more cash if and when needed, and/or market the resources to a buyer is pressing. As Mr. Burke said, their group's "specialty is getting stocks to go from 10 cents to $2, not from $2 to $3."
However, they believe deposits near the surface may in the future provide the cash flow to support porphyry development later. They think they could have 100 meters near the surface with "broad concentric bodies" and "no oxide in it"; "great mid-size money." Two company announcements of results since our meeting, on February 24 and March 21, 2012, continue to create a body of data to back up these statements.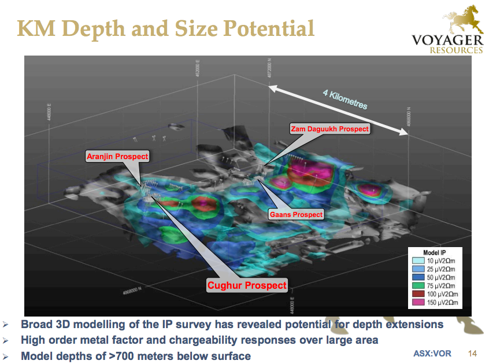 Click to enlarge
Source: Voyager Resources February 2012 corporate presentation.
The total area they're drilling in the KM deposit is 5 1/2 km x 8 km within which they're focused on about 15 square km. Mr. Nielsen complained that they were faced with too many resources and "can't triangulate the source of the porphyry" (they suspect is there) as it is like being "stuck in a plume of smoke trying to find fire." Mr. Nielsen, calling upon his experience, compares the formations he sees in KM's potential as closer to what he has seen in central Chile than at Oyu Tolgoi which would mean "more copper-silver with some gold."
The company's project at Khongor, and test results from there, have been put on hold to prioritize KM testing and drilling. The two gentlemen kept searching for more adjectives to describe KM, a "fantastic project from a geologist's perspective, a rare system."
Ocean Equities Is Focused On Kincora Copper And Voyager Resources Too
On page 9 of an Ocean Equities report dated April 11, 2012, "Mongolia Exploration Update", they note (italics added):
Mongolia's shift towards a market economy, the fast and efficient progress of its mining sector, the sustained rapid growth of its neighbour China as the largest global consumer of commodities, and the emergence of a number of world class projects with the majority of the country relatively under explored has captured the market's attention. These trends, and supportive government policy promoting foreign and infrastructure investment, has resulted in the development of a sub-sector of junior exploration/development plays, significant investment by the diversified majors and commodity traders, and a surge in M&A. Mongolia is emerging as a premier resource investment destination and one of the world's rapidly emerging new mining frontiers....

In a three part series of company specific focus notes we analyse Voyager Resources, Haranga Resources and Kincora Copper. We believe these are three advanced and aggressive exploration companies with flagship assets located in relatively favourable locations for project development. All are expected to have completed at least +30,000 metres of drilling by the end of the 2012 field season (Voyager has already completed +40,000 metres in the last nine months at its KM project) and make the transition from being at the pre/maiden-resource stage to the development stage. Each company has a proven track record and extensive experience in-country with strong management teams in place to support commercialisation of their respective projects. We believe the transition from exploration to development and achievement of major identifiable de-risking milestones supports a significant potential re-rating in share price in the next 12-18 months.
PART 6
Final Words
This article does not touch on copper demand or the status of all these companies' proximity to Mongolia's border with China, the world's leading consumer of copper. There is much debate about the ongoing support for the prices of copper and gold at current levels.
There are also questions about the sustainability of China's growth and commodity demand. Indeed, the World Bank in an April report cut China's annual growth outlook this year from 8.4% to 8.2%. Despite sensational headlines that this is negative for China, the growth rate is still above 8% which is quite healthy.
This article is premised first on the fact that Ivanhoe Mines' share price is below the fair value of the company for the third time since September 2011. Second, it is believed that some of the junior copper-gold miners in the same region as Ivanhoe Mines have wrongly had, or may have, their share price discounted in sympathy with Ivanhoe Mines share price action. Finally, it is believed that there is far more value to be unlocked beneath Mongolia's desert that is as yet unproven for these mining companies.
Note: Ivanhoe Mines, Kincora Copper, and Voyager Resources were provided the opportunity to review relevant excerpts of this article prior to publication. Some responded with additional information and clarifications, and some did not.
Step-by-step instructions on how to access Ivanhoe Mines SEDAR fillings and rights agreement: To read the rights agreement for yourself, there is no direct link I can post, but I can give directions. Go to SEDAR. Then, click "search database" tab at the top. Then click "public company." Then type "Ivanhoe Mines" into the company name section and put April 7, 2010, into the "date from" field and April 23, 2010, in the "date to" field. Click on the report titled, "Management information circular - English" dated April 7. Go to page 31 where you will find the section titled "Shareholder rights plan." Data is on pages 31 to 35, text of the motion that passed is one page in Schedule D at the end of the document and a further four pages of the legal wording of the rights plan is in Schedule E at the end of the document, pages E1 to E4 (schedule D is the equivalent of page 88, and schedule E begins on page 89). When done there, then you can go back to the search page and click on "Material document(s)" dated April 23, 2010, which has the full legal text of the rights plan as amended April 21, 2010 (54 pages). IF I understand correctly: 1) "the Board of Directors can (i) waive the application of the Shareholder rights plan" (p. E4); 2) there are "Permitted Bids" under the rights agreement (p. E3); 3) the germane "right" shareholders have is that, under certain condition, when a takeover bid is made, shareholders will have the right to purchase 2 shares of the company for an amount equivalent to how much the takeover bidder is offering to pay for each 1 [ONE] share of the company (pgs. 33 - 35, p. E3).
Disclosure: I am long IVN.
Additional disclosure: I may initiate new positions in Kincora Copper and/or Voyager Resources one week after the publication of this article.This is a "no front-running zone." No trades were or will be placed for one week before or after publication of this article in any security mentioned in this article. I am long Origo Partners (OPP.L). Origo Partners is a shareholder of Kincora Copper. I met with Voyager Resources management in February 2012. I have an account with CPS Securities via CPS International. CPS Securities directors and employees are known to me as shareholders of the following companies mentioned in this article that operate in Mongolia: Voyager Resources, Haranga Resources, Hunnu Coal, and Wolf Petroleum.