Gold stock ETF products finished last week in the green despite a Friday swoon on concerns about Chinese gold demand. The largest gold stock ETF, GDX, finished the week with a gain of 2.8%. GDX placed second behind GGGG for the week however. The Global X Pure Gold Miners ETF finished with a 3.2% gain to lead the group. GGGG is the smallest gold stock ETF with just under $5 million in AUM and very light volume, so this could be an aberration however. Nevertheless, here's the weekly gold stock ETF performance grid from GoldETFs.biz.

On A Slide
As the chart above illustrates, gold stock ETFs have been on a slide over the last four weeks. This slide really began at the end of February. It was then that Federal Reserve comments took the air out of gold prices and gold stocks. The plunge was immediate and the downward trend has continued. Here's the chart of the two largest gold stock ETFs, GDX and GDXJ, since February 28th from stockcharts.com.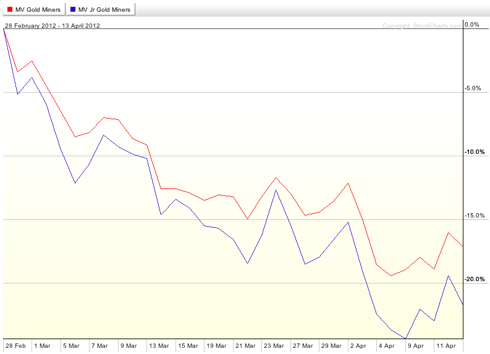 Negative Year To Date
All gold stock ETFs are in negative territory for the year despite physical gold ETFs like GLD and IAU gaining around 6% year to date. Here's the GoldETFs.biz performance grid showing year to date gold stock returns.

Concerns Mount
Going forward it appears that despite the recent bounce off year to date lows, gold stock ETFs are in store for more pain. Concerns about gold demand from leading gold consumers India (strikes and taxes) and China (a slowing economy) are weighing on gold prices. In addition the latest EU debt circus is flaring up in Spain. This is bad for gold, and thus gold miners, as it will fuel "risk off" allocations into the U.S. Dollar. Remember, a stronger U.S. Dollar means lower gold prices as gold is primarily denominated in the greenback.
Dollar Woes
Here's a chart showing GDX versus the U.S. Dollar from early November through the end of December of 2011 as the Greek drama boiled over. Not a pretty site for gold stock investors.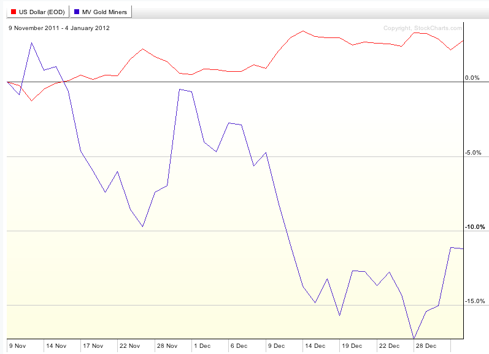 Meaningful Correction Ahead?
Interestingly enough, Barron's published an article this weekend entitled "A Golden Opportunity," which was bullish towards gold and especially gold stocks. The nuance in this statement however is the time period. Both experts highlighted gold and gold miners as opportunities but only over the longer term and after a "meaningful correction." While Friday's GDP number out of China and this week's Spanish drama could provide some of that consolidation, it seems as though there is even more to come.
Disclosure: I have no positions in any stocks mentioned, and no plans to initiate any positions within the next 72 hours.
Additional disclosure: Christian Magoon publishes GoldETFs.biz.