If anyone thought that Dendreon Corporation (DNDN) under the leadership of its new president, John Johnson, would continue to be the Wall Street's football that it had been under Dr. Mitch Gold, they have another think coming.
Johnson is an experienced Big Pharma veteran who previously has held such high-level management positions as the chief executive officer of Savient Pharmaceuticals (OTC:SVNT) and president of Eli Lilly & Company's (LLY) Oncology Unit following the company's 2008 acquisition of Imclone Systems. Prior to joining Imclone, he served as the Company Group Chairman of Biopharmaceuticals within Johnson & Johnson (JNJ), where he was responsible for the Johnson & Johnson Biotechnology, Immunology and Oncology commercial businesses.
With a background such as this, it should surprise no one that when Huber et al. published their Commentary on 'immunodepletion' as it pertains to Provenge (here and here) in the Journal of the National Cancer Institute, or JNCI - a journal that has no relationship whatsoever with the US National Cancer Institute - it would be just a matter of time before the corporation responded.
Reuters' publication of an article titled Insight: New doubts about prostate-cancer vaccine Provenge added fuel to the fire. In it, author Sharon Begley asserted that Huber et al. raised questions about the pivotal Phase 3 trials that Dendreon conducted as part of its effort to obtain FDA approval for company's lead product Provenge (here and here), an immunotherapeutic treatment for asymptomatic or minimally symptomatic metastatic castrate resistant (hormone refractory) prostate cancer.
Now, the company and others have come out swinging. Round One was just published in an article in the April 13, 2012 issue of Medscape Today (sign-in required). The personnel quoted did not mince words, as seen below:
'A prominent sipuleucel-T researcher castigated the [Huber et al.] essay.
'"Many were surprised that this commentary was published since it has no scientific basis," Philip Kantoff, MD, told Medscape Medical News in an email. Dr. Kantoff was a principal investigator of the pivotal trial - the Immunotherapy for Prostate Adenocarcinoma Treatment (IMPACT) study - and is chief clinical research officer at the Dana-Farber Cancer Institute in Boston, Massachusetts.
'The main arguments in the essay were "dismissed 2 years ago" by the US Food and Drug Administration (FDA) and the Center Medicare and Medicaid Services (CMS (transcript here)), he said.' [Readers can find additional details here.]
The Medscape Today article also referred to the fact that sipuleucel-T (Provenge) had undergone a rigorous review process, something Dendreon Corporation had asserted in e-mails to a number of publications in the wake of the Reuters' article, to wit:
The FDA approval was based on a significant improvement in overall survival shown in three well-designed, randomized, double-blind, controlled clinical trials - including the pivotal IMPACT trial - with remarkably consistent results shown across the trials as well as in numerous patient subgroups.

The Provenge clinical data have undergone a rigorous scientific review process that included [an] FDA review process, a Center for Medicare and Medicaid Services national coverage determination, a Technology Assessment and the peer review of multiple publications. As evidenced by the FDA approval, CMS national coverage decision, and NCCN treatment guidelines, the PROVENGE data clearly demonstrated a significant patient survival benefit and support its use as a clinically meaningful treatment option for certain types of advanced prostate cancer.
Most importantly, the Medscape Today article had this to say: Dr. [Mark] Frohlich, Dr. Kantoff, and other investigators are currently working on an official response to the [Huber] essay. It is anticipated that it and other rebuttals will be published in the May issue of the [Journal of the National Cancer Institute].
According to Medscape Medical News, Dr. Frohlich also had this to say about the Huber Commentary: "Over time, I think this will be recognized as a spurious argument. … It would be unfortunate if patients were dissuaded from using the product by not-valid arguments."
For example, Dr. Frohlich objected to the claim that sipuleucel-T does not work in younger patients. Quoting from the Medscape Today article: 'The published IMPACT data demonstrate that sipuleucel-T works in both older and younger patients,' he said.
'The results "indicate a positive treatment effect for [sipuleucel-T] for patients above and below the median age of 71," he said.
'Age 71 - not age 65 - was chosen by the IMPACT investigators as the point of analysis because it was the median age of the study participants, Dr. Frohlich pointed out.'
Whether Huber et al. are backing away from their theory is not known. But there is the hint at the end of the Medscape Today article that Huber is having second thoughts about her activities as an activist. '"I am quite an introvert. This is out of my comfort zone," she said.'
Technical Analysis
The daily chart, courtesy StockChart.com, is below. The stock fell with the general market on Friday to close at $8.85. Relative Strength is approaching oversold territory, and the MACD is neutral. The stock sells for something on the order of 4 times trailing 4Q11 revenues, based, no doubt, on what is known about early 1Q12 revenues and the Street's exceedingly low expectations for growth.
Clearly, any indication that revenues picked up in March and were strong in April and heading into May (something into which the company will already have good visibility for reasons related to patient scheduling) should have a positive effect on the stock's price. Additionally, signs that the cost of goods sold (COGS) is dropping will be welcomed by the Street.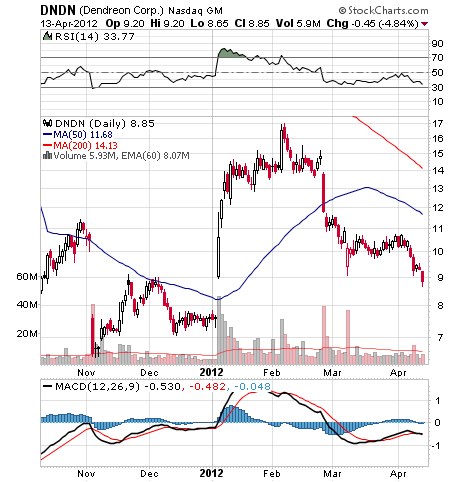 The weekly chart tells much the same story. The drop on Friday appears to have been stopped at the lower boundary of a rising channel defined by the price action dating back to early last August. As with the daily data, the relative strength is approaching oversold territory and the MACD is neutral.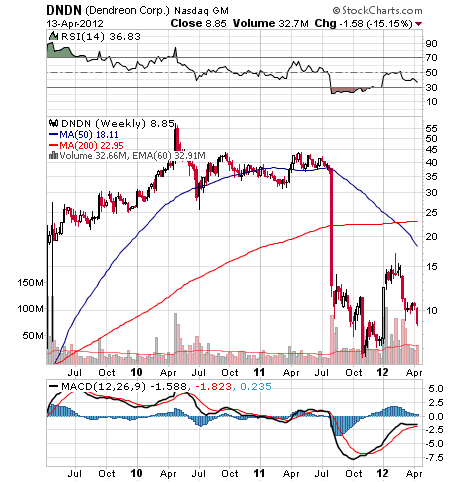 Disclosure: I am long DNDN.