Titan Machinery (TITN) is a $740.61 million small-cap North Dakota based supplier of agricultural and construction equipment in the United States and Europe. The company operates 106 full service equipment stores located in nine U.S. states and in Bulgaria and Romania. Titan dealerships represent CNH (CNH) brands which include Case, New Holland, and Kobelco. Titan sells and rents tractors, backhoes, and other equipment to farmers and builders.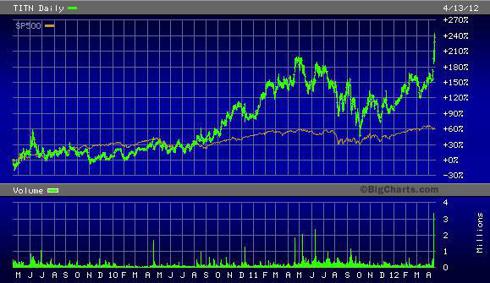 Some favorable conditions exist for Titan's agricultural division. First, there have been very favorable spring planting conditions in the states that the company serves. The USDA is predicting larger corn acreage in Titan's territory than the entire U.S. forecast for 2012. The USDA also estimates that net farm income will be $92 billion for calendar year 2012 as compared to the ten year average of $72 billion.
The construction division also has some positive conditions. Mild weather has allowed for increased construction activity. The energy industry such as North Dakota's oil production is driving demand. North Dakota now ranks third in U.S. oil production. There has been a continued increase in demand for Titan's rental equipment.
The company recently had a positive earnings report for Q4 2012. Net revenue increased 64.9% to $607 million over the same period last year. Net income increased 70% over the same period last year from $10.3 million in Q4 2011 to $17.6 million for Q4 2012.
Titan Machinery is currently undervalued. This is evident by a forward P/E ratio of 11.22, and PEG of 0.77, a price to sales ratio of 0.44, and a price to book ratio of only 2.19.
The company has five upward earnings revisions for FY2013 and one upward earnings revision for FY2014. It has grown earnings annually at 34.65% for the past five years and is expected to grow earnings annually at 20% for the next five years. The future growth should take the current stock price of $36 up to about $90 in five years for a 150% gain.
Titan is pursuing expansion in Europe and North America through acquisitions. It recently acquired Rimex, an agricultural equipment company with seven dealerships in Bulgaria. Other recent acquisitions include: Adobe Truck and Equipment with 3 locations in Colorado; Haberer's Implement in South Dakota; East Helena Rental in Montana; and one new agricultural location in Romania.
Overall, Titan Machinery looks like a good growth investment for the long-term. Its undervaluation makes now a good time to start a position in the stock. The company's earnings growth should allow the stock to almost double the performance of the S&P 500 over the next five years.
Disclosure: I have no positions in any stocks mentioned, and no plans to initiate any positions within the next 72 hours.