Gentex Corporation (GNTX) is the leading supplier of automatic-dimming (auto-dimming) rear view mirrors and camera-based lighting-assist features to the global automotive industry. Shares recently declined after a disappointing quarter and news that a U.S. law requiring rear camera visibility for vehicles was being delayed.
Coming Catalyst
Rules requiring the presence of a rear camera view for all vehicles will continue to drive sales growth for Gentex, which is already the undisputed market leader for dimmable interior and exterior vehicle mirror technology.
From the most recent 10-K:
In February of 2008, the President signed into law the "Cameron Gulbransen Kids Transportation Safety Act of 2007". The National Highway Traffic Safety Administration (NHTSA) had one year to initiate rulemaking to revise the federal standard to expand the field of view so that drivers can detect objects directly behind vehicles.

NHTSA's Notice of Proposed Rulemaking (NPRM) for the law became available on December 3, 2010, and was formally posted in the Federal Register on December 7, 2010. NHTSA indicated in the NPRM that all new vehicles under 10,000 lbs. in the United States will be required to have backup camera-based systems by September 2014 (the phase-in schedule at that time indicated by NHTSA at that time was that 10% of all cars and 33% of trucks sold in the U.S. must meet the standard by September 2012; 40% of all cars and 67% of trucks by September 2013 and 100% by September 2014)
Impressive Performance Profile
Gentex is a growth company. Annual revenues increased to over $1 billion for the first time in 2011, and for 2012, analysts estimate GNTX will grow revenues 15.22% to $1.2B. Analysts expect GNTX will earn $1.27 per share in 2012, an increase of 11.56% over the prior year's results. The company also pays investors a reasonable dividend of 2.20% at the current stock price. Revenue has increased more than 100% from 2009 levels of roughly $500 million.
From the most recent quarterly earnings release:
Total auto-dimming mirror unit shipments increased by 26 percent in calendar year 2011 compared with calendar year 2010. Automotive net sales also increased by 26 percent from $797.1 million in calendar year 2010 to $1.0 billion in calendar year 2011.
From the company's website:
ESTIMATED AUTO-DIMMING MIRROR
GLOBAL MARKET SHARE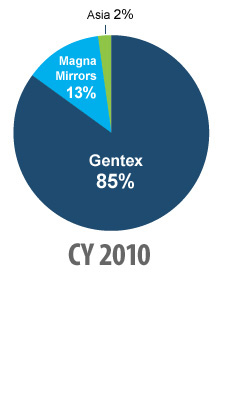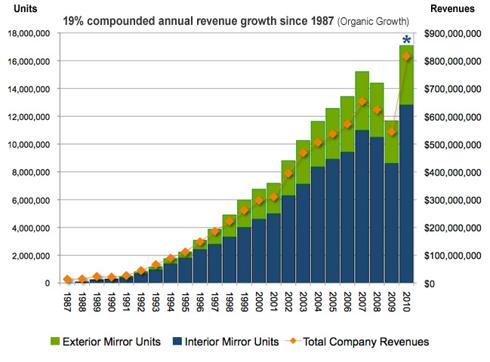 Click to enlarge
More Growth on Tap
While the stock has declined because of short term concerns, the company continues to execute and introduce new and innovative products to drive growth. The company's SmartBeam® DFL (Dynamic Forward Lighting) is another rapidly growing technology for vehicles that enhances driver safety.
Consumer demand has made SmartBeam one of Gentex's most popular features. The Company has shipped nearly 3.0 million units since 2004. Last year alone the Company saw shipments reach the 1.0 million mark, and Gentex currently expects SmartBeam unit shipments to increase by approximately 40-45 percent in calendar year 2012.
It was recently announced that Ford (F) would be including this technology on its new Taurus. Gentex counts almost every major automaker as a customer, including two of the world's largest-- Toyota (TM) and General Motors (GM).
The company also applies its technology to dimmable window products for aircraft, where Boeing (NYSE:BA) is a customer for its 787 aircraft.
Conclusions
The recent decline in the stock offers investors a tremendous opportunity to acquire shares of a truly innovative high growth company at discounted prices. The setback caused by the delayed legislation mandating rear camera visibility in all vehicles is just that, a delay. When the legislation is finalized, with almost 90% of the market for dimmable rear view mirrors, Gentex is certain to benefit. When this is combined with existing growth products, the stock should resume its trajectory to new highs.
Disclosure: I am long GNTX.