On Thursday, April 12, popular hedge fund blog MarketFolly.com reported that Eddie Lampert, the chairman of Sears Holdings (SHLD) and hedge fund manager of ESL Investments, had liquidated a large portion of his holdings in AutoZone (AZO) over the open market. He additionally sold numerous covered calls. In this rather atypical bearish positioning by the former director of AutoZone (from July 1999 to October 2006), the move comes after AutoZone's stock has increased over 130% in a steady incline since the start of 2010. As of April 15, 2012, the company traded at $380.97/share with a market capitalization of $14.85 billion.
Found here in the filed Schedule 13D with the SEC, Lampert's new position in the do-it-yourself auto part retailer totaled roughly 2.4 million shares. Just a few months prior, Lampert had owned nearly 5 million shares in January. Compounding the share sales was the fact that Lampert protected himself further from downside potential by not only selling covered calls, but selling most of them "in-the-money" - at strike prices below the current price. As of April 11, the total number of contracts sold were 5440, equating to effective coverage of 544,000 shares of AutoZone. This can be seen in the following graphic.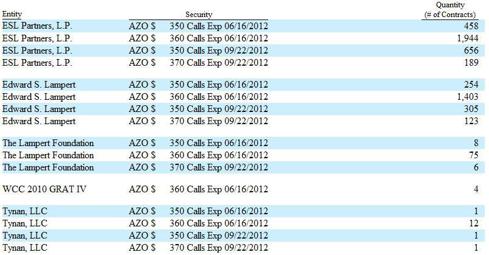 Perhaps investors should not be surprised to see such a strong bearish position being taken by one of the company's longest supporters. Despite the impressive performance by the auto part retailer sector since the start of the Great Recession, AutoZone has been for years building weakness into its own balance sheet under the illusory share buybacks at ever higher prices. Such buybacks have been increasingly beneficial to the insiders who have used the rising value as an opportunity to slowly liquidate their own positions. Back in December 2011, I expressed concern about this very issue in my article located here.
One additional raise of the eyebrow comes about from the fact that Lampert had just granted an interview to CNBC on April 4 in a conversation that dealt with the changing world for retailers in light of the new Internet reality that was undermining the competition. Here Lampert compared AutoZone and AutoNation (AN) to other retailer chains, and had asserted that these companies were "much different businesses, much more stable, much less impacted by the Internet and what's going on." Yet according to the aforementioned Schedule 13D, we see that ironically he was in the middle of selling off his position in AutoZone that very day.
But perhaps, this flight away from the auto part retailer shouldn't surprise us either. The world has changed over time, and the need for an on-demand auto parts store on every corner isn't nearly as pressing as it once was. Redirect yourself to an online auto part retailer such as RockAuto or AutoAnything and the case is clear that convenience and cost are clearly on the side of the Internet-based companies. Concerned about shipping? Amazon (AMZN) sells a wide range of auto parts and accessories. With Amazon Prime, free two-day shipping is difficult to beat.
Even traditional discount retailers are beginning to nudge off the aging AutoZone when it comes to competing on the cost front. Oil fluids, tools, and batteries are all sold for much less at your neighborhood Walmart (WMT) or Target (TGT). Though not a specific parts retailer, their move into the accessories field only spells less profits for stores that specialize only in vehicle parts and accessories.
Above all, AutoZone fundamentally still faces stiff competition from within through its industry peers. Pep Boys (PBY), O'Reilly Automotive (ORLY), and Advance Auto Parts (AAP) all serve as worthy foes in the field of retailing specific auto parts. Considering the heavy debt load AutoZone now carries around after years of wasteful spending on share buybacks at ever higher share prices, the company is undoubtedly losing its edge when it comes to having flexibility compared to its peers.
In the end, time will tell what will happen to AutoZone whose leveraged rise is surely largely in part due to the ongoing share buybacks. For the company with a $14.85 billion market capitalization, the negative shareholder equity of $1.3 billion does far little to express future value at this point in the game. As the economy recovers and do-it-yourself auto part retailers see their product demand normalize, one begins to wonder how AutoZone will perform. When it comes to the latest move by Eddie Lampert, it's hard to imagine it'll be a very bullish outcome.
Disclosure: I am short AZO.