By Brendan Gilmartin
Overview
Goldman Sachs (GS) is scheduled to report 1Q 2012 earnings before the opening bell on Tuesday, April 17. The firm indicated it would provide a press release at 8:00 a.m. EST and host a conference call at 9:30 a.m. Please note that, in past reporting periods, Goldman Sachs reported earnings approximately 15 minutes ahead of the scheduled release time. Goldman's results also have the potential to impact the financial sector as well as the broader market gauges, particularly the index futures, given the investment bank's influence.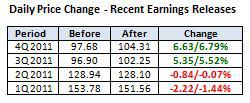 Outliers & Strategy
Key Measures:
Earnings Per Share ((NYSEARCA:EPS)): The current Street estimate is $3.55 (Range: $3.05 to $4.00) (Source: Yahoo! Finance).
Revenues are seen coming in at $9.45 bln, down 20.6% y/y, but a significant q/q improvement.
Goldman Sachs shares are now trading at a mere 8.55x forward profits, versus the S&P multiple of 12.1x and a 0.8x book.
At a recent $115.09, Goldman Sachs is now trading at a slight discount to tangible book value ($119.72), well below book value ($130.31).
Keep an eye on the following as sympathy plays: Morgan Stanley (MS) (reports earnings on Thursday, 4/19), Jefferies (JEF), Lazard (LAZ), and Barclay's (BCS).
JP Morgan Chase (JPM) reported on April 13 that investment banking income was $1.682 billion, thanks to improved market conditions, well above the $726 million in the previous quarter, a good sign for Goldman Sachs ahead of its 1Q numbers.
Recent News
04/13: JP Morgan Chase's stronger than expected earnings release on April 13, led by investment banking revenues, is "unbelievably positive" for the likes of Goldman Sachs and Morgan Stanley, according to Rochdale Securities Analyst Richard Bove.
03/29: According to a report on Barron's, Citigroup analyst Keith Horowitz is guiding for EPS 15% above the consensus on Goldman Sachs, thanks to a pickup this past quarter in fixed income and commodity trading (FICC).
03/28: Rochdale Securities Analyst Richard Bove told CNBC he remains upbeat on Goldman Sachs and expects strong 1Q earnings.
03/16: Deutsche bank lowered its price target on Goldman Sachs to $145, according to a post on Barron's.
Technical Review
Goldman Sachs shares are up 27.7% YTD, pricing in a solid quarter. More recently, however, the shares have retreated toward the $115/$116 area - a key support going back to late January. Should earnings fail to meet the high end of analyst estimates (Goldman Sachs' numbers tend to handily surpass the consensus), look for support down near the 200-Day SMA at $110, with further downside risk to $105. Should earnings exceed the Street's already elevated expectations, loot for resistance near the recent highs around the $127.50-level. (Chart courtesy of StockCharts.com)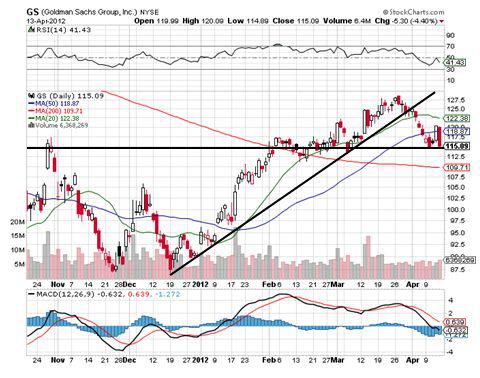 Summary
Goldman Sachs shares recently broke out to the highest level since last August, driven by a pickup in investment banking activity, fixed income and commodity trading, as well as upbeat results from JP Morgan Chase and Wells Fargo. Despite the positive backdrop, much of the good news may be priced in with the stock up more than 27% YTD. To push the stock back toward the recent highs, Goldman Sachs may have to report a bottom-line figure toward the high end of analyst estimates (>$3.90), while flat or in-line results could prove to be disappointing.
Disclosure: I have no positions in any stocks mentioned, and no plans to initiate any positions within the next 72 hours.
DISCLAIMER: By using this report, you acknowledge that Selerity, Inc. is in no way liable for losses or gains arising out of commentary, analysis, and or data in this report. Your investment decisions and recommendations are made entirely at your discretion. Selerity does not own securities in companies that they write about, is not an investment adviser, and the content contained herein is not an endorsement to buy or sell any securities. No content published as part of this report constitutes a recommendation that any particular investment, security, portfolio of securities, transaction or investment strategy is suitable for any specific person.