Pitney Bowes (PBI) is a leader in supplying postal products and services. Common thinking about the stock is that the company will die shortly because it is viewed as a buggy whip company. I don't agree. I remember the early days of television when many thought that baseball attendance would dwindle over time because fans could watch games for free on TV. Attendance at games is going strong. This is a better metaphor for PBI.
The main attraction for PBI is a 9% yield, the highest yielding Dividend Aristocrat (each has increased annual dividends for at least the last 25 years) and one of the highest yields on the NYSE. A high yield comes with high risk, which is especially true for PBI. However the dividend was increased a few weeks ago, marking the 30th consecutive year of higher dividends and the streak is likely to continue for some time at a minimum.
Pitney Bowes dividends 1982-2011
(Click to enlarge)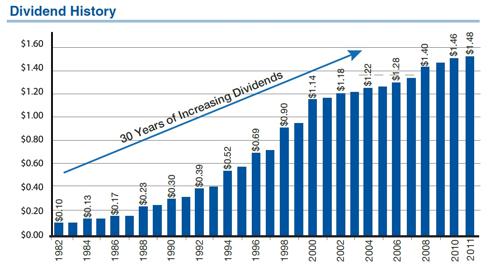 Click to enlarge
PBI is a global provider of mail processing equipment, software, hardware and integrated mail solutions, which supplies ammunition for the naysayers who are ready to bury the company. What they miss is that PBI has been a leading provider of 21st-century customer communication technologies by reducing costs and streamlining the business over the last 2½ years. That helped the company remain profitable, despite the lingering effects of a deep, global recession. The bigger picture of mail services is communications. PBI has been adding products and services that help businesses cater to the communication of, which demonstrates a commitment to leading the revolution in customer communications.
Digital communications are exploding and organizations are struggling to make sense of the torrent of digital information along with growing concerns about privacy and compliance. New products have been introduced to meet the challenges of growing communications needs and PBI has become one of the world's leading software providers for businesses.
EngageOne Communication Suite helps businesses adopt a more integrated approach, which allows multiple departments to use the same platform for communications.
Portrait Uplift software allows businesses to identify crucial customers who might leave, but could be persuaded to stay. By delivering exactly the right offer, companies can improve ROI for marketing efforts.
pbSmartPostage lets users print shipping labels and postage for letters from any networked computer, eliminating the need for software downloads.
Volly is a free digital delivery service, providing businesses with a flexible communication channel to strengthen customer relationships by giving a single, secure online location to receive, manage and store bills, statements and investment information (that once arrived in the mail). PBI continues to expand the amount of mail that can be delivered through Volly and will make the service available to consumers in the second half of 2012.
This week, PBI launched Portrait Explorer, software that brings powerful data analytics into the hands of today's business users. The solution makes understanding complex "big customer data" as easy as using a digital photo album. IDC, a technology research firm, said the big data market is expected to grow from $3.2 billion in 2010 to $16.9 billion in 2015.
PBI is significantly different from buggy whip companies in the 19th century. Yes, much of its revenue comes from traditional mail business. But PBI is aggressively expanding into new technologies in the U.S. and around the world to deliver and safeguard communications.
Revenue has been flattish in recent years, above $5 billion, and EPS has been above $2.00, which allowed the company to continue increasing the dividend to $1.50 in 2012. Free cash flow last year grew to more than $1 billion, which easily covers $300 billion in dividends. 32% of last year's revenue came from outside the U.S. where there is a greater demand for more traditional and new communications services.
Small & Medium Business Solutions, about half the business and 75% of the earnings, sells and services traditional mail needs for businesses. Enterprise Business Solutions, the remaining half, includes high-speed, production mail system, intelligence software, management services and secure mail services and global revenue from presort mail services. Technology related businesses power both segments.
The future is uncertain for PBI as it is for all other companies. It faces challenging times for the traditional businesses, but they will not evaporate. PBI started a Strategic Transformation Program in 2009 for growth, to manage its way through a difficult recession that lasted longer than expected and streamlined the company. Investments made have achieved net benefits for 2011 in excess of $135 million and additional benefits will continue in 2012.
The yield is incredibly high at a time when low yields are common. PBI kept raising dividends in the last decade when many companies with better known brands names failed to do so. High yields carry a high degree of risk and PBI is not for those who are faint of heart. The short interest is 25% of the float, placing it near the top of that list. Those investors have already buried the company. For brave investors who are willing to accept risk, a 9% yield (with qualified dividends taxed at lower rates in taxable accounts) will make the waiting time for an improving business environment go quicker.
Disclosure: I am long PBI.