In a monthly series of articles dating back to December, this article reported Dog dividend methodology applied to one of eight major market sectors: basic materials, consumer goods, financial, healthcare, industrial goods, services, technology, or utilities. In this case the services sector was featured.
A ninth sector, conglomerates, according to Yahoo Finance, contained just eight firms, five of which paid dividends. Thus the reporter declined to apply dog metrics to such a small group.
Dogs of the Index Metrics Selected 10 Top Services Stocks by Yield
Two key metrics determined the yields that ranked these sector dog stocks: (1) stock price; (2) annual dividend. Dividing the annual dividend by the price of the stock declared the percentage yield by which each dog stock was ranked. Investors selected portfolios of five or 10 stocks in any one index or sector by yield to trade. They awaited the results from their investments in the lowest priced, highest yielding stocks selected and prayed that the price of every stock they now owned climbed higher (having locked in a high yield percentage at purchase).
This Dogs of the Index strategy, popularized by Michael B. O'Higgins in the book "Beating The Dow" (HarperCollins, 1991), revealed how high-yielding stocks whose prices increased (and whose dividend yields therefore decreased) could be sold off once a year to sweep gains and reinvest the seed money into higher-yielding stocks in the same index.
Comparative Methods Used
First, the entire list of services sector companies was sorted by yield as of April 5 using Ycharts.com to reveal the top 30. Market performance of these 30 selections was then reviewed using four months of historic projected annual dividend history from Yahoo Finance along with annual divided projections adjusted for market realities.
Thereafter, this article assessed the relative strengths of the sector top 10 dividend dogs as of April 5 vs. the Dogs of the Dow March 13 stock list. Annual dividends from $1000 invested in the 10 highest-yielding stocks in the sector and index were compared with the aggregate single share prices of the top 10 stocks in each.
Services Dividend Dogs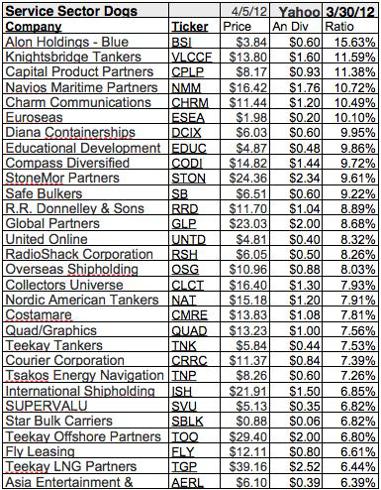 The top 10 services sector stocks showing the biggest dividend yields in March represented five industries. Top services sector stock, Alon Holdings - Blue (BSI) was the only grocery store firm in the top 10. The shipping industry was represented by five firms: Knightsbridge (VLCCF); Capital Product Partners (CPLP); Navios Maritime Partners (NMM); Euroseas (ESEA); and Diana Containerships (DCIX). The remaining four industries included: wholesale, other represented by publisher of children books, Educational Development Corporation (EDUC); staffing & outsourcing services was posted by Compass Diversified Holdings (CODI); personal services contributed StoneMor Partners (STON); advertising agencies touted Charm Communications Inc. (CHRM).
Adjusting estimated annual dividends for market realities has somewhat quelled the pattern of speculative and unsubstantiated dividend payers showing up to claim the yellow tint as top dog in this services sector. On that note Alon Holdings - Blue was credited with a $.95 projected annual dividend by Yahoo Financial/Morningstar in March. Based on the most recent $.32 dividend proffered by the firm in December 2011, this article adjusted the estimate to $.60.
Color code shows: (Yellow) firms listed in first position at least once between December 2011 and March 2012; (Cyan Blue) firms listed in 10th position at least once between December 2011 and March 2012; (Magenta) firms listed in 20th position at least once between December 2011 and March 2012; (Green) firms listed in 30th position at least once between December 2011 and March 2012. Duplicates were depicted in the color for highest ranking attained.
Bullish vertical price moves among the top 10 since February 24 included neither of the top two stocks by yield. However Capital Product Partners share price increased 9.15% but it eared third place by virtue of an estimated divided hike of 36.76%; Navios Maritime Partners bubbled up 2.05%. Charm Communications entered the list based on a one-time $.32 dividend paid in March derived from 2011 annual performance. Based on history future dividends could be doubtful. Teekay Tankers (TNK) had a 29.49% price spike to drop it off the top of the service dog list. Globus Maritime (GLBS) price popped 2.63% but its estimated annual dividend swooned 67% to carry it off the top 30 list.
Bearish moves for the same period were experienced by more numerous firms of the top 10: StonMor Partners stayed in the top 10 services sector dog list by yield after posting a 2.29% price decline; Educational Development share price decreased .612%; DHT Holdings (DHT) showed a 33.87% price drop combined with a 67% downgrade in annual projected divided to exit the top 30; Compass Diversified had a .8695% price loss; Knightsbridge Tankers showed a 7.32% decrease; Christopher & Banks (CBK) dropped 28.57% in price and was credite with no projected annual dividend to exit the top 30.
Dividend vs. Price Results for Services vs. Dow Dogs
The graph below shows relative strengths of the top 10 services sector dividend stocks by yield as of April 5, 2012, compared with those of the Dow index. Using four months of historic projected annual dividend history from $1000 invested in the 10 highest-yielding stocks each month and the total single share prices of those 10 stocks created the data points for each month shown in green for price and blue for dividends.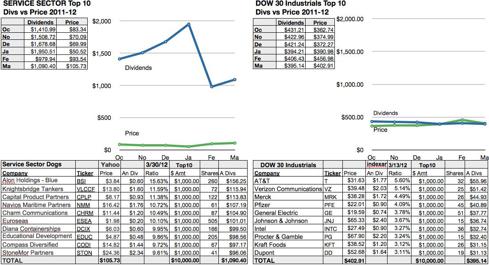 Conclusion: Services Sector Dogs Were Sent Swimming
The services collection of 10 top dividend payers showed a 26.86% increase in aggregate single share prices over the six monthly points surveyed. Dividends from $1k invested in each of the top 10 declined 22.72% for that period. In the month past however dividends climbed 13.03% while single share aggregate price also rose 11.27% based on reshuffling the pack of 10 top dogs.
Meanwhile, the Dow index moved back to near convergence as dividends from $1k invested in the top 10 came to within $8 of their aggregate total single share prices in March. As of April 5 services top 10 dogs showed $965 or 175.95% more dividends (with equally bigger risk) at a $297 or 73.76% lower aggregate share price than those of the Dow.
A monthly summary will soon compare results in yield and price for all eight sectors reported in this series: basic materials, consumer goods, financial, healthcare, industrial goods, services, technology and utilities.
Disclosure: I am long T, VZ, JNJ, INTC.
Disclaimer: This article is for informational and educational purposes only and shall not be construed to constitute investment advice. Nothing contained herein shall constitute a solicitation, recommendation or endorsement to buy or sell any security. Prices and returns on equities in this article are listed without consideration of fees, commissions, taxes, penalties, or interest payable due to purchasing, holding, or selling same.