The Eagle Ford is a complex shale with very different production from one county to the next. This has created great difficulty in estimating production. Without this knowledge, it is hard to know which oil names are good investments. It is widely understood that the condensate window is the best zone from an EUR standpoint.
Click to enlarge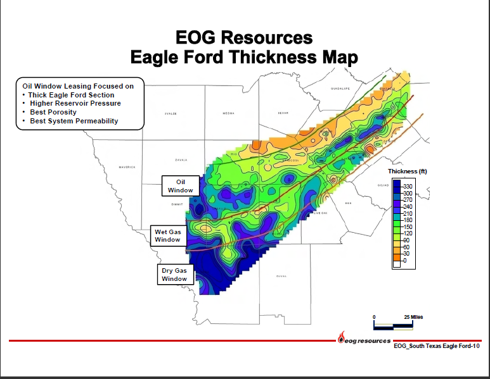 In the map above, it shows Eagle Ford's thickness. Several areas have been in focus. Initially, this play saw significant interest in the Maverick Basin, given the Eagle Ford is consistently shallow and much thicker. Other sweet spots are beginning to pop up, and I hope to show the reasons for this.
Of all the oil producers in the Eagle Ford, EOG Resources (EOG) has probably done the best job of securing a large leasehold at the lowest price. While others were purchasing large positions in Maverick, Webb, Dimmit and Zavala counties, EOG was focused in adding oil production and realized the southeastern aspect of the oil window seemed to be the best area.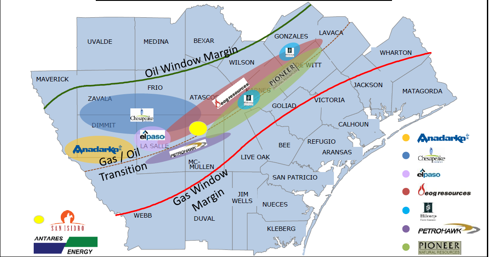 The image above shows where some of the bigger players, but most importantly shows that EOG purchased acreage following the oil window itself. This was a different approach than that of Chesapeake (CHK), which purchased acreage in an area of the Eagle Ford that was more focused on shale thickness. Another reason to be bullish Gonzales County is the San Marcos Arch. This structure intersects Gonzales County and is proof (to some extent) as to why Gonzales County has been a success.
EOG Resources has over 100 producing wells in the area and has recorded IP rates between 900 to 1500 Bo/d plus 350 to 1500 Mcf/d. More recently, EOG has had well results of over 3000 BO/d + dry gas and natural gas liquids. Its Gonzales County King Fehner Unit had IP rates of 1238 to 1487 Bo/d plus 1.2 to 1.6 MMcf/d. Also in Gonzales are its Hill Unit #1H and #3H, and the IP rates were 1628 and 1951 Boe/d. The Kerner Carson Unit had IP rates ranging from 1800 to 2600 Boe/d. The Meyer Unit had initial production of 1900 to 3400 Boe/d. The Mitchell Unit has very significant results of 3300 to 3600 Boe/d.
Gonzales County is currently about three players. The image below shows EOG Resources, Magnum Hunter, and Penn Virginia are working this acreage and getting good results. Keep in mind we are still very early in Gonzales development, and I would guess these numbers will continue to get better as laterals get longer and an increased number of stages are realized.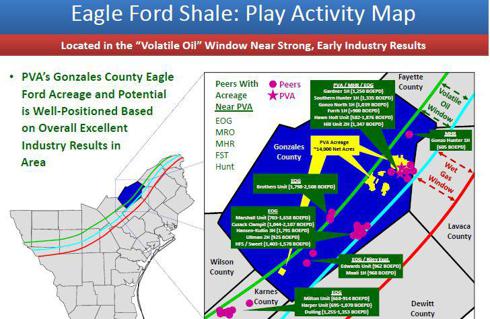 Magnum Hunter's (MHR) acreage located in three separate areas. The largest portion in located in Gonzales and Lavaca counties. This area is one of the best in the Eagle Ford. Magnum has seen a marked improvement in these wells. Wells in Gonzales County and IP rates are:
Gonzo Hunter #1H: 605 Boe/d (4365 foot lateral)
Southern Hunter #1H: 1321 Boe/d (4460 foot lateral)
Gonzo North #1H: 1039 Boe/d (5300 foot lateral)
Gonzo North #2H: 1336 Boe/d (6120 foot lateral)
Magnum has steadily increased the length of laterals in its Eagle Ford wells and it also has increased stages. Since its first well in Gonzales County, Magnum has more than doubled this. Magnum's JV with Hunt in Gonzales County has had lower results than expected:
Cinco Ranch 1H: 290 Boe/d (5370 foot lateral and 10 stages)
Cinco Ranch 2H: 396 Boe/d (5540 foot lateral and 16 stages)
JP Ranch 1H: 738 Boe/d (5804 foot lateral with 16 stages)
Magnum Hunter estimates its Gonzales County wells will fall between this range:
$8 to $8.8 million in well costs
IP rates from 1040 to 1750 Boe/d
EURs of 400 to 470 MBoe
Penn Virginia's (PVA) acreage is located in Gonzales and Lavaca counties. It has operated acreage in Gonzales County and an AMI in Lavaca. All of its acreage is in the volatile oil window. I have had a range of 675 to 1025 Boe/d with respect to its 30-day IP rates. Its production is 94% liquids, with 89% being oil. It expects EURs of 400 MBoe and an average well cost of $8 million. It currently uses a 4000 foot lateral and 15 or 16 stages. Penn Virginia has had some very good IP rates in Gonzales County:
Gardner 1H: 1247 Boe/d
Hawn Holt 9H: 1877 Boe/d
Hawn Holt 10H: 1188 Boe/d
Hawn Holt 11H: 1190 Boe/d
Hawn Holt 12H: 1495 Boe/d
Hawn Holt 13H: 1399 Boe/d
Hawn Holt 15H: 1298 Boe/d
Munson Ranch 1H: 1921 Boe/d
Munson Ranch 3H: 1538 Boe/d
Munson Ranch 4H: 1426 Boe/d
Munson Ranch 6H: 1808 Boe/d
Rock Creek Ranch 1H: 1257 Boe/d
Schaefer 3H: 1129 Boe/d
Munson Ranch 5H: 1164 Boe/d
D. Foreman 1H: 1202 Boe/d
Forest Oil (FST) has acreage in Gonzales County. Well performance in Gonzales improves to the north and east. Four wells have been completed in southern Gonzales County had an average IP rate of 841 Bo/d+813 Mcf/d. Central Gonzales County has two results that average to 1945 Bo/d+1931 Mcf/d. Also in central Gonzales (to the northeast of the two prior wells), a four well average IP rate calculates to 1219 Bo/d+1297 Mcf/d. Forest completed one well at the northeast border of Gonzales County, which produced an IP rate of 605 Boe/d.
Sanchez Energy (SN) has acreage in Gonzales County. It states EURs are 450 MBoe to 750 MBoe. Wells costs are $7.5 to $8.5 million. IP rates are from 871 to 1388 Boe/d. Well spacing is currently 120 acres, but Sanchez is testing downspacing to 80 acres. This is the best acreage in its Eagle Ford acreage.
ZaZa Energy (ZAZA) has 12000 gross acres in Gonzales, Fayette, and Lavaca counties. It completed Crab Ranch A 1H for a 30-day IP rate in northeast Gonzales County of 371 Boe/d.
Talisman's (TLM) acreage is mostly in the condensate window. A good portion of this acreage is located in Gonzales, McMullen and La Salle counties. It has EURs of 660 MBoe and an average 30-day IP rate of 1200 Boe/d.
GeoResources (GEOI) has Eagle Ford acreage in Gonzales County. It is to the northeast of Magnum, EOG and Penn Virginia's leaseholds. Here are the results from this area:
Flatonia East 1H and 2H: 30-day average rate of 428 Boe/d
Newtonville 1H: 30-day IP rate of 566 Boe/d
Its Gonzales leasehold covers the northern part of the county, with the majority in Fayette. Early results back the assertion this acreage is as good in Fayette as it is in Gonzales, but of lesser quality than EOG Resources' acreage. GeoResources states it expects EURs from 325 to 500 MBoe. Wells will have 150 acre spacing.
Rosetta (ROSE) has acreage in southern Gonzales County. A recent test well provided a result of 3033 Boe/d. This 24-hour production broke down into:
2450 Bpd of Oil
250 Bpd Natural Gas Liquids
2000 Mcfpd
A very specific part of Gonzales County seems to have the most upside. The southeastern border of the county has the thickest shale, and has produced some very good wells. IP rates have exceeded 3000 Bo/d plus natural gas liquids and dry gas. Given the thickness of shale, it is probable we will see further well downspacing. Many of the producers have maintained EURs of 400 MBoe, while EOG just raised this number to 450 MBoe. Sanchez believes the best wells in Gonzales could produce as much as 750 MBoe. Given EOG's most recent results, the best wells could be closer to 900 MBoe, and that is with a 4000 foot lateral and $5.5 million well cost.
Disclosure: I am long SN.
Additional disclosure: This is not a buy recommendation.