It wasn't too long ago when I was making hospital rounds and a prostate resection surgery diagnosis would warrant at least a four-day stay in the hospital -- and at times up to a week, depending on the post-op course. If anyone has looked at the price tag of a one-day hospital stay these days, it's no surprise why robotic surgeries are becoming more mainstream in our hospitals. With healthcare costs breaking the bank for patients, employers, and the government, any method of reducing hospitalization days (while maintaining quality of care) is like spraying water on a raging fire. Hospitalization days eat up a big chunk of total healthcare expenditures. Developing robotic surgeries over the last few years play a role in solving this problem.
For these reasons, Intuitive Surgical's (ISRG) Da Vinci robots have become a Goliath in the robotic surgery arena. For all practical purposes, Intuitive Surgical has captured the bulk of this robotic surgery market: its net income has almost doubled in the last two years (it was close to $500 million in 2011), it has five-year sales growth average of 35%, and the company has practically no debt.
Even with this aggressive growth rate, Da Vinci robots have barely dented the global market potential; most hospitals have not adopted robotic surgeries for the majority of their surgery cases. Hospitals that do use robotic surgeries are using them as marketing tools to draw patients.
Click to enlarge all images.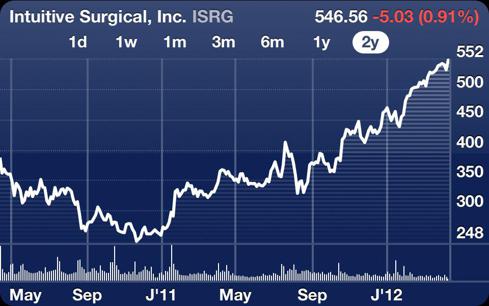 MAKO Surgical (MAKO) is not Intuitive Surgical, but it's not considered a David in the David vs. Goliath robotic arena, either. With a slew of non-robotic hospitals out there, MAKO Surgical sold 18 robotic systems in Q4 2011 vs. 33 for all of 2010. The company's revenue rose approximately 120% for the fourth quarter. MAKO Surgical is known for it's robotic knee procedures, focusing on partial knee replacements with a less invasive technique. MAKO Surgical is also moving into the hip replacement field with it's MAKOplasty technique, claiming faster healing time.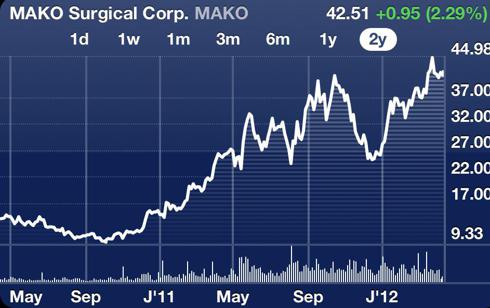 What about the "baby bots" -- the Davids vs. Intuitive Surgical's Goliath? Do any future contenders stand a chance to compete?
There is a "small bot" brewing in Canada called Titan Medical (OTCQX:TITXF). Titan Medical is currently developing the Amadeus Composer, a surgical robotic system that has a uniquely designed external robot and flexible instruments. The company claims its niche in the field would be to allow surgeons to overcome constraints of surgical procedures in small to medium sized spaces. With approximately 75% of the 360,000 robotic surgeries done annually being hysterectomies and prostatectomies, Titan hopes to target ENT, Thoracic, and General Surgeries. The company also is developing the Amadeus Maestro, which is a four-armed robot with advanced communication and training. It utilizes the Titan True Touch Technology and is targeted to surgical procedures in large spaces.
Titan differentiates its robots with the following particular elements:
Improved Robotic Arm Flexibility
Snakelike arms enable obstacle avoidance in the body, give multiple approach paths to a surgical target, and free the arms from fulcrum constraints at the body port site. As a result, more surgical procedures can be addressed safely and less invasively.
Communications
Designed to operate on an Internet protocol, connecting surgeons and patients over distance, and accelerating treatment and access to experts.
Superior Vision System
1080p 3D HD vision will allow surgeons to see anatomy with better resolution than ever before. Key blood vessels or other vital structures will be easily identified, thereby increasing safety.
Force Feedback (Haptics)
Allows surgeons to feel how hard they are pulling on tissues, sutures, or other structures. Helps to minimize tissue damage and patient recovery time.
Simulation
Will ensure quicker and efficient procedure training.
Titan has three issued U.S. patents and ownership or exclusive rights to 14 patent applications.

Titan has a published a series of news releases as it increases its partnerships with medical institutions willing to study and develop its robots.
Here are some recent operating highlights (obtained from Titan Medical's April 2012 Fact Sheet):
Signed a non-binding memorandum of understanding with Switzerland Based Clinique Generale-Beaulieu for testing and evaluating Amadeus.
Entered into an exclusive license agreement with Columbia University for a novel single-port robotic surgery system, the Insertable Robotic Effector Platform (OTCPK:IREP).
Signed a non-binding memorandum of understanding with Apollo Hospitals Enterprise Limited, a major hospital chain based in Chennai, India.
Completed prototypes of the pre-production Surgeon Console and Video Tower, and Beta Patient Cart of its Amadeus Composer platform.
Signed a non-binding memorandum of understanding with Children's Hospital Boston for testing and evaluating Amadeus.
Signed a non-binding MOU with The Ohio State University for testing and evaluating Amadeus Next Generation Surgical
Here's a look at Titan's Developmental Plan:
2011: Completion of Amadeus Composer Gamma Console, Gamma Video Tower, Beta Patient Cart
2012: Amadeus System Ready for Tissue and Animal Feasibility Studies
2013: Initiation of Human Clinical Trials
2014: FDA 510(k) Submission
2015: Market Launch
So, is there room for the "little bots"?