"I don't look to jump over seven-foot bars: I look around for one-foot bars that I can step over."
- Warren Buffett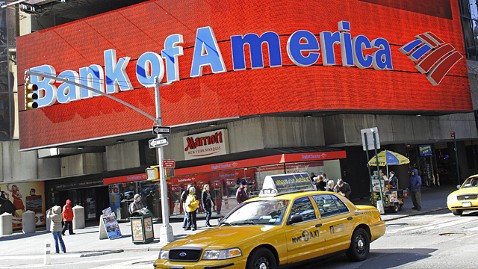 The quote above from Mr. Buffett is one that is very basic and is one that can yet resonate with even a fifth grader. I appreciate the significance in that message because there is also a litany of ways to interpret the idea. As human beings we sometimes go out of our way to make things harder on ourselves than they need to be. Sometimes we think too much with our hearts and not enough with our wallets. If that sounds "cold," I apologize, because it really shouldn't. In the investment world, hearts get broken quite a bit. However, good earnings tend to fix a lot of broken relationships.
Speaking of "thinking with my wallet," Bank of America (BAC) was one investment that has made for me quite a bit of money. At one point I made the amateurish mistake of not appreciating the value that it presented because I allowed myself to get too consumed with all of the noise dictated by public opinion - something that I continue to realize that I should ignore. What I have realized is that the more that I focus on my own research, the better off that I have become as an investor. At the beginning of the year, I took an interest in Bank of America as one of several stocks that I had placed under examination. Sirius XM (SIRI) as well as Microsoft (MSFT) were the others - and we will get to them in a minute.
For Bank of America, it started the year at $5.55 and after extensive review I immediately arrived at what I thought to be a fair market value of $10. As Mr. Buffett suggests, (to me) making that call was a one-foot bar that I could have stepped over and one where I was fortunate enough to be proven right. As the chart below shows, it seems that the market agreed on three separate occasions with my $10 target and since then has not allowed the stock to trade higher.

Click to enlarge
$10.00 on three separate occasions presented an excellent exit opportunity for me, but I just could not pull the trigger on the sell order. As it stands, Bank of America now trades at $8.86 or just 13% under that $10.00 mark. What I have come to realize after some recent re-calibration is that the stock has a great shot at hitting $15 before the end of the year. The company will report earnings next Thursday after market close and I will be looking to add a few more shares ahead of the announcement.
In its previous quarter the bank reported profits of $2 billion after having posted a loss of $1.2 billion during the same period last year. Its full year earnings arrived at $1.45 billion compared to a prior loss of $2.24 billion in 2010. During the quarter, revenue rose 11% to $25.1 billion with earnings coming in-line with analyst estimates at $0.15 per share. I took Bank of America's report as a signal that the economy was rebounding pretty well. And subsequent reports from its rivals such as Wells Fargo (NYSE:WFC), JPMorgan (JPM) as well as Goldman Sachs (NYSE:GS) proved that this year was going to be the year of the financials - so far that's exactly how it has played out.
The market will wait on pins and needles to see if the company can it build on this momentum or will it revert back to last year's performance? As great as its Q4 numbers were, the market was not quick to proclaim by any stretch that Bank of America was back. I think the report today will certainly go a long way in announcing not only the bank's financial health, but it can serve to renovate the bank's standing among the top tier operations not only on the market, but also in the court of public opinion.
As noted above, I compare Bank of America's performance closely to a couple of my other holdings and in particular Sirius XM and Microsoft. Just as I arrived at a fair market value of $10 and now $15 for Bank of America as a result of the analysis, I also arrived at target of $32 for one of my best performers - Microsoft. For Microsoft it started the year at $25 and on January 1, I outlined in this article why it would trade at $32 - following the same metrics that I used to gauge Bank of America. The stock first hit the target on Feb. 29 and remarkably stayed at $32 for the entire month of March before falling back to $30.
As with Bank of America, it stands to reason that the market agreed that $32 was the fair value for Microsoft. But since then I have re-assessed the company's fundamentals and now expect it to reach $40 at some point this year. It is yet another stock that I continue to accumulate. For similar reasons, $2.50 continues to be the target for Sirius XM. However, unlike Microsoft and Bank of America, there are also dynamics involved with Sirius that causes me to believe that $2.50 is as high as it will ever go. And of course I can be completely wrong on this, but I doubt it. The stock has touched the $2.40 level a couple of times and has even reached $2.41, but it always reverts back to the low $2.20s which only supports my $2.50 cap.
Sirius has a lot of fans and a lot of support, unfortunately some of the fundamentals to inspire growth in the stock are just not there. Subscriber growth and increasing free cash flow and car sales are just not enough of the so called "catalysts" to those that remain unimpressed and really understand the business and the market dynamics. The stock will hover between $2.00 and $2.50 until it becomes more clear about what Liberty Media (LMCA) plans to do with its 40% ownership stake. I don't see a scenario where Liberty would be willing to pay more than what the market already presumes to be a fair premium above where Sirius trades. Speaking of trading, that is exactly how money is being made on the stock at the moment in what I call "the 15 cent pivot pattern."
Summary
All of this outlines how important due diligence is in the investment process. In all three examples, I followed Mr. Buffett's idea of not making things harder than they need to be. Investors sometime do this by coming up with outrageous forecasts of two to three years down the road when the information is always right in front of their eyes. Instead, I have decided to assess my investments on a quarter by quarter basis and then adjust as needed - hence a one-foot bar that can be seen and not tripped over.