China's housing affordability is one of the worst in the world, as measured in terms of home price to disposable income. The potential for social instability and the growing fears of a property bubble have resulted in waves of tightening policies in recent years. In this report we focus our attention on housing affordability; we examine the home price to income ratios, highlight the most relevant real estate policies, present a snap-shot of the resulting market impact, and explore a number of indicators which we may use to gauge future market direction.
Among the key findings are:
Home price to disposable income ratios in major cities have been on the rise since 2006. Nevertheless, the ratios in 2011 fell slightly, suggesting that the market is responding to the last round of tightening policies.
As a result of the tightening policies, transaction volume has declined sharply, and housing prices in China's tier-one and tier-two cities have either stabilized or declined since 2011.
There is excess supply in the residential property market, and based on the current demand conditions, this is unlikely to change in 2012.
A two-year low growth in sources of funds for the real estate sector reflects the tight credit conditions faced by the developers. When considering the cash flows of some developers we see that medium-sized developers are particularly likely to lower their prices quickly to boost sales and liquidity.
Major shifts in policy direction prior to the leadership transition in the fall are unlikely. We believe the government will maintain its favorable policies for first-time home buyers, while continuing to rein in speculative demand. A combination of stable housing prices and steady income growth over the coming years will be the preferred way of gradually improving housing affordability while avoiding a hard landing.
Housing Affordability Revisited
China's home price to disposable income (HPDI) ratios, measured in this report as the 12-month weighted average residential commodity housing price to annual disposable income of urban households, have been steadily increasing in major cities since 2006. The rapidly increasing housing prices are the dominant factor in the rising ratio; modest growth of urban household income contribute only marginally to the improvement of housing affordability. The decreasing housing affordability is a growing source of social discontent, and the HPDI ratios are therefore closely watched by government and citizenry alike.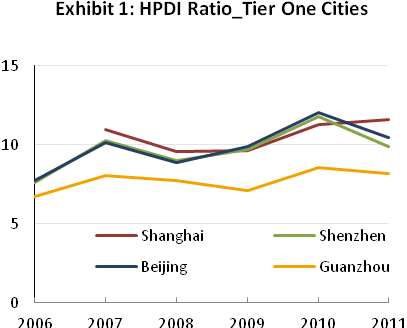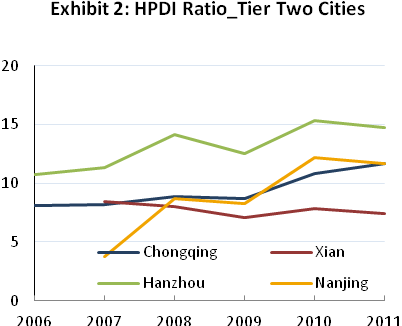 When examining HPDI ratios for China's four tier-one cities and four tier-two cities, we find that all cities, with the exception of Shanghai and Chongqing, experienced declines in their HPDI ratios in 2011. The lower ratios can, in our opinion, be explained by two factors. Firstly, while disposable income continues to increase at an annual rate of approximately 13%, the growth of housing prices slowed down in the latter part of 2011 as a result of regulations. If these two trends are sustained for a sufficiently long period, HPDI levels can be brought back down to acceptable levels without risking a collapse in housing prices and consequently a hard landing of the economy.
A second explanation for the lower ratios in 2011, is that China's cities are rapidly expanding outwards, hence the average housing prices are pulled down by the increasing share of lower priced properties on the outskirts of cities. As China does not have a same-property price index, we illustrate this point by looking at the three month weighted average prices and transaction volumes, divided according to the ring-roads in Beijing; prices in the city center shows no sign of declining; prices in 2-3 ring road area started declining in 2012; while prices in the rest of the areas were stable in 2010, and declined in 2011 and in the first months of 2012. The transaction volume data shows that the share of inner rings' transactions are becoming smaller, especially from the latter part of 2010 onwards, supporting our hypothesis that lower ratios are partially due to the greater share of outskirt lower-price housing.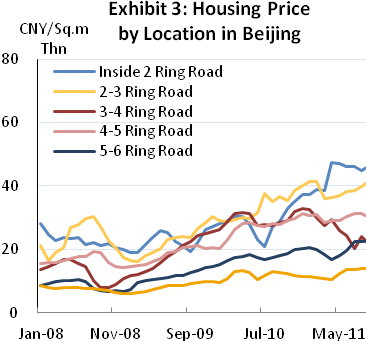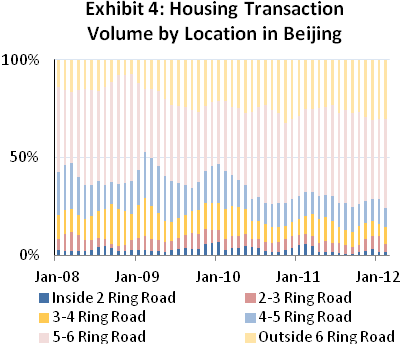 A Summary of the Most Important Tightening Policies
Housing policies have been reiterated and augmented since the latest round of regulations were introduced in early 2010. Most recently, the central government has reversed policy adjustments made by the local government of Shanghai, thereby showing that controlling the housing market remains of highest priority to the government, but also that the housing control comes at a considerable price to the local governments. Aside from curbing price rises and controlling speculative purchases, recent policies also aim to help those with a genuine demand for housing by offering first-time home buyers discounted mortgage rates.
Exhibit 5: Key Policies in the Latest Round of Housing Market Regulations
When

Who

What

Which Means

Jan. 10,

2010

State Council

General Guideline

Launch of housing market control.

Mar. 10,

2010

Ministry of Land and Resources

General Guideline

Strengthening of land supply planning, start of land law violation inspections.

April 13,

2010

Ministry of Housing and Urban-rural Development

Supply Management

Acceleration of low-cost housing construction

April 15,

2010

State Council

Financial Regulation

Down payment for 2nd home raised to 50%, and mortgage rates to 1.1x guideline mortgage rate

April 17,

2010

State Council

Financial Regulation

Suspension of mortgages for 3rd homes (local) and for 1st homes (non-local residents) in several regions.

Sept. 29,

2010

State Council

Financial Regulation

Admin Measures

Raising of down payment ratio on 1st house purchase from 20% to 30% or above

Dec. 2,

2010

Ministry of Housing and Urban-rural Development

Supply Management

Setting of goal to construct 10 million government-sponsored affordable houses and public rental houses in 2011.

Jan. 26,

2011

State Council

Financial Regulation

Tax

Down-payment on second home raised to 60%, mortgage rate premiums of 1.1x guideline mortgage rate.

Capital gain tax turned into sales tax for homes sold within 5 years of purchase.

Jan. 27,

2011

Municipal Government of Chongqing and Shanghai

Tax

Levying of property tax (0.5% to 1.2%) on high-end residential housing in Chongqing, and of property tax (0.4% to 0.6%) on newly purchased homes exceeding 60 sq.m/head in Shanghai.

Mid-Feb.,

2011

Municipal Governments of 19 Cities

Administrative Measures

Imposition of 2 or 3 home purchase limit (local residents) and 1 home purchase limit (non-local residents)

Feb. 6,

2012

NDRC

Supply Management

2012 Affordable housing goal announced: 7 million units to be commenced and 5 million units to be completed.

Mid-Feb.,

2012

Shanghai Residential Authority

Local Policy Guideline

Non-local residents who have lived in Shanghai for more than three years can purchase more than one home.

Mar. 2, 2012

MOHURD

Policy Guideline

Reiteration of policy stance that local governments cannot make adjustments to central government regulations, implying reversal of the above mentioned Shanghai policy.

Mar. 14,

2012

State Council

Policy Guideline

Premier Wen reiterates that housing prices are far from reasonable level and that regulations will not be relaxed.

Mar. 19, 2012

Beijing Municipal Housing Construction Committee

Demand Management

Rent subsidies of 10-95% available to public rental applicants with monthly salary of less than CNY 2,400

March, 2012

Banking regulators and major banks

Mortgage Policies

Mortgage rate for first home buyers cut to 85% of guideline mortgage rate.
Market Impact and Outlook
Cooling Prices and Lower Transaction
The steep decline in transaction volume growth and stabilized or declining housing prices show that tightening policies are beginning to have their intended effect, although lower prices may be due to a greater proportion of housing sales being in lower priced areas, as discussed above. Residential commodity housing prices, measured as three-month weighted averages, have shown clear downward trends in Beijing, Hangzhou and Shenzhen over 2011 H2, with prices in Shanghai and Guangzhou stabilizing. Transaction volumes dropped steeply; 15.97% year-on-year during the January to February 2012 period.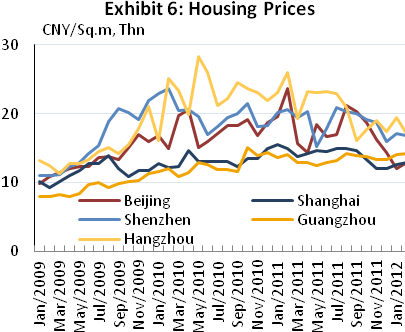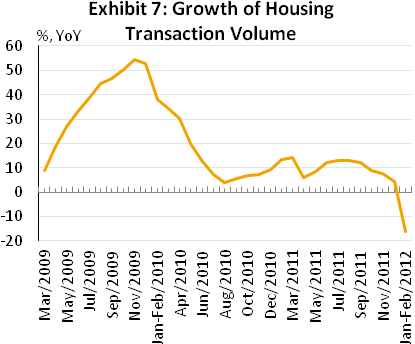 Accumulating Excess Supply
The downbeat outlook and lower turnover have resulted in excess supply within the residential property market. In exhibit 9, the supply-demand mismatch is illustrated by considering newly started construction with a one-year time lag; this is the approximate time needed before a newly started building can be presold. We see that from 2005 to 2010, the numbers of lag-adjusted newly constructed building were the same as the numbers of houses sold, implying that demand had met supply. The 2008 policy tightening provides an exception; the sales volume dip in 2008 was followed by a supply decrease in 2009, further corroborating our assumption that sales and newly started construction are correlated with a one-year time lag.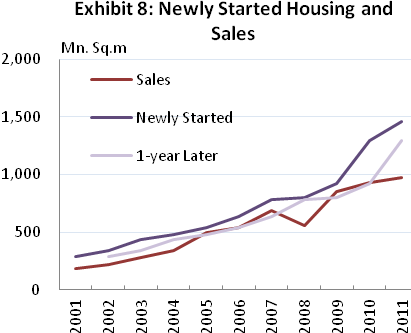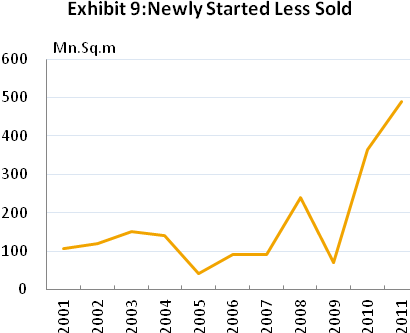 This graph therefore illustrates both the current excess supply and is also indicative of future market conditions. We see that the 2009 supply was fully absorbed by the market in 2010, but that the supply in 2010 eclipsed demand in 2011. If equilibrium is to be restored in the market the demand in 2012 must not only reach 1.46 billion square-meters to absorb the 2011 supply, but also exceed this number to fully consume the left-over stock from 2010. Based on current demand trends, this is unlikely to happen. In addition, the growth rate of newly started construction must slow down rapidly in order to prevent aggravating over-supply in the future.
Tighter Credit Conditions
The lackluster residential property market outlook is reflected in tighter credit conditions with growth in sources of funds reaching a two-year low of merely 14.1% in December 2011. The total amount of funds for the real estate sector was CNY 8.3 trillion in 2011.
The real estate sector primarily relies on a combination of sales funding, self financing and domestic loans. Sales funding is generated from advanced receipts and deposits, i.e. the sale of forward delivery contracts, and constitutes the most important source of industry funding, reaching CNY 2.16 trillion in 2011.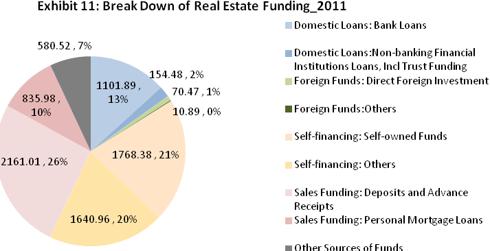 Tighter real estate policies are reflected in the changing composition of fund sources. Growth in bank loans to developers has been rapidly decreasing since the beginning of 2010, and was negative through most of 2011. Likewise, mortgage loan growth became negative in 2011, reflecting stricter mortgage rate premium policies. The effects of lower forward delivery demand are seen in the declining growth of deposits and advanced receipts, and the fact that developers must increasingly rely on retained earnings and parent company support to meet their liquidity needs is manifest in the slight rebound in self-financing in 2011.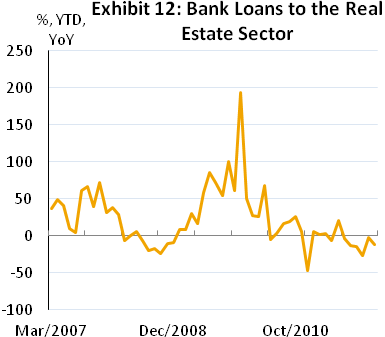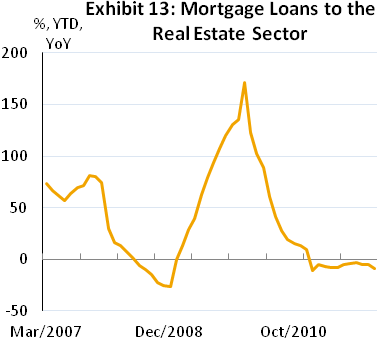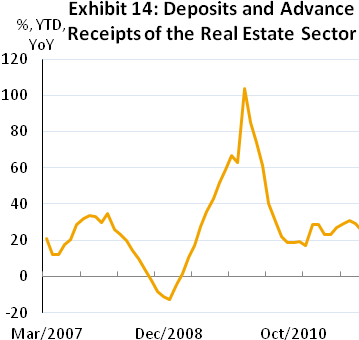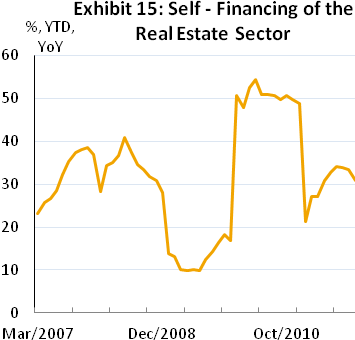 Downbeat market sentiment is also reflected in the value of trust funds allocated to the real estate sector. Trust funds are an important source of short-term financing for the developers, but are more sensitive to changes in market climate. The current cool-down can then clearly be seen from slower growth in trust funding in the last part of 2011; trust funding in Q4 going to the real estate sector was CNY 688 billion, only marginally up from the CNY 680 billion in Q3.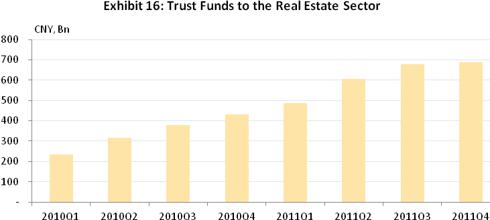 Company Resilience
To illustrate the cash deficiency of developers brought on by the downturn in the market we have extracted their incoming and outgoing cash flows. We have selected five big sized companies: Vanke (000002.SZ), Poly (600048.SH), Merchant (000024.SZ), Gemdale (600383.SH), and COFCO (000031.SZ) and five medium sized companies: Oceanwide (000046.SZ), Vanton (600246.SH), Huafa (600325.SH), BJ Capital (600376.SH), and China Enterprise (600675.SH). Poly, Gemdale and Oceanwide have not yet disclosed their Q42011 numbers, and so we have estimated their cash flows at 4/3 of their Q3 numbers.
From the retrieved data, we see that 2011 cash outflow exceeded inflow for both large and medium sized developers although medium sized developers were most severely affected. When considering historical data, we see that large developers have previously been able to endure prolonged periods of negative cash-flow, but that medium-sized developers have had no choice but to keep their cash-balance positive, implying that the current down-turn might be pose a significant threat to them.
Based on this, we believe that price adjustment will initially take place on the city outskirts, as this is where there is excess supply and where medium sized developers have focused their operations. Publicly available net margins of developers average around 20%. However, we believe that in many cases they are significantly higher, and that it therefore is realistic to expect real estate companies to be able to withstand a price drop of up to 20%.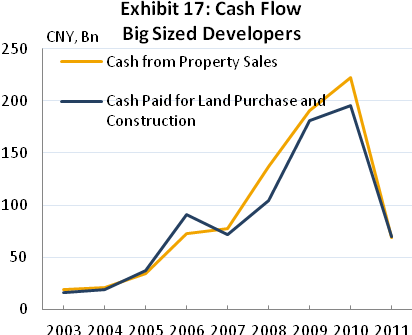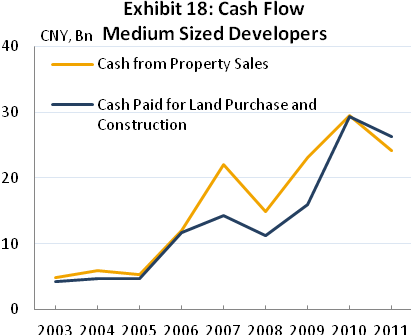 The Road Ahead
Based on the findings in this report, we believe that prices and transaction volumes in 2012 will continue to decline. How quickly the prices fall will depend on developer liquidity conditions, which remains considerably good for big developers, though less so for small and medium-sized developers.
We believe the government will tolerate an aggregate price drop of 15-20% before the end of next year and wait for income growth to further improve the affordability ratio in the coming years. While real estate is an important source of demand for related industries such as steel, cement and downstream industries, and therefore a key driver of domestic growth, we think that growth in infrastructure projects and social housing will offset the sluggish demand of the commodity housing sector. Thus, the real estate sector cool down does not necessarily imply a hard landing.
The risk of social instability and the prospects of a bursting property bubble should be major concerns that will dissuade any premature policy relaxation, and so we believe that, at least until the leadership transition in the fall, the property market will experience a calm, albeit downbeat, episode.
This report was written by the Research Team at ChinaScope Financial.
Disclosure: I have no positions in any stocks mentioned, and no plans to initiate any positions within the next 72 hours.