Personally, I thought the bounce of house prices in U.K. starting April 2009 was an illusion. Three years later, they still did not go down so I started to think I obviously got that wrong, although there is still a nagging doubt in the back of my head.
Quite recently The Economist put out a piece saying house prices in U.K. and in some other parts of Europe, were still too high. That's significant because although they have been wrong on a lot of things, for example the "intelligence" of invading Iraq, which they championed vociferously, they were right on house prices before the crash.
Back then they had an issue with a brick on it warning of what might happen, although in retrospect they were partially wrong, what happened was much worse than they had imagined. But this time around, did Gordon Brown save the world banks, and can we all live happily ever after, or not?
This is a chart of the progression of U.K. house prices compared to U.S. prices: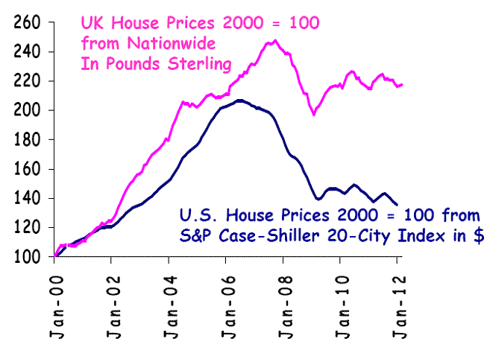 Click to enlarge
(Click to enlarge)
I'm not talking rocket science here, just eyeballing. But even if I close one eye and squint, either U.S. House prices got unfairly hammered or perhaps something unpleasant is coming to U.K. house prices that the fairy-godmother-of-last-resort managed to forestall, only temporarily.
Or perhaps I'm being alarmist, it happens.
After all, there are big differences between U.K. and USA which is where the same model on which I based the article on U.K. house prices worked perfectly.
First of all, in USA they build houses, or they used to, in U.K. they haven't built any since Harold Wilson was caught taking kickbacks from real estate developers. Which is why dollar for dollar you can buy a five-bedroom mansion in Orlando complete with pool and a hot line to Dominoes Pizza (OTC:DPUKF) for what it will cost you to buy a damp, energy inefficient shoebox in Neasden.
Another thing the Brits didn't do sub-prime, OK they had Northern Rock, but the mortgages are recourse, not like USA where you can just jingle-mail.
Plus most mortgages in U.K. are adjustable whereas in USA they are fixed; so if Fairy-Godmother pushes down interest rates, every homeowner in U.K. gets a break whereas in USA you got to re-finance to tap into that gravy-train, and you can't because your LTV got blown to smithereens and the mortgage providers are belatedly trying to impose rational lending standards … after the horse bolted.
And another thing … it's a long list; most mortgages in USA were part of a pool put into a residential mortgage backed security, and they got servicers who have to follow the rules of the thing they are administering, plus the servicers personally make more money foreclosing (even if the pool doesn't). In U.K. the big mortgage companies have flexibility so they don't have to kick you out on the street if it doesn't suit them, and well, if they can hold the loan on their books at par by re-negotiating the re-payment part to 120-years, so long as you promise to pay your installments, that's what they will do.
On top of all that U.K. is a lot more hospitable to foreigners than the Americans are; for example to Russians and people whose names set off alarms at Kennedy Airport; particularly those who have suitcases full of oil-money, and other sorts of money too, all lined up so they can slap a one-time-payment on a little pad just off the Edgware Road. In America they call people like that "Aliens" … in U.K. they call them …"Customers."
So OK, perhaps thanks to the skillful management by the U.K. fairy-godmother plus of course, don't forget the steady hand on the tiller deftly steering our blessed little island through the choppy patch created by those socialist spendthrifts; and on that note Three-Cheers for the jolly-good-chaps in the yuppie crowd who all went to Eton, which proves that nothing can beat a private (public school) education.
But … I don't know; there is something in there that just doesn't feel right. I can't put my finger on it; of course that could be coz I didn't get to go to Eton or Oxford neither, so perhaps I got a chip on my shoulder?
Be that as it may, my theory which I put out first in September-2008, was that for house prices the "fundamental" or what International Valuation Standards calls the other than market value, was a function of nominal GDP per house, which could equally be disposable income but the important thing is I used per house because apart from anything else that's dimensionally correct.
Divide that number by a function of the trend-line long-term risk-free-rate and you get to what the price "ought" to be.
The next thing was I had this other brainwave about how when you throw a pebble in a pond, there is an up wave, then there is a down wave, but net-net you don't change the equilibrium level of the pond.
Like it's zero-sum, I figured that's perhaps how it works with financial bubbles and busts, as in water is incompressible, so is money, and so for everyone who sold at a price more than the "fundamental" … they were the "winners," there had to be someone who paid too much, they were the losers, net-net that whole process is zero sum, on average, no one wins and no one loses, just like after the ripples flow out on a pond you throw a pebble in, the level of the pond does not go up.
And don't say, "Oh but the bankers were winners." Sure they were, but some losers had to empty their pockets to pay the bankers their index-linked mammoth retirement settlements, net-net, no one made any money, all that happened is money got re-arranged, like the molecules in the pond did. That's the thing, for economies to flourish both sides of the transactions have to win.
So the Big Idea was that the amount of disequilibrium in the bubble, like it's `140% has, at some point to get 'paid-back," so that means the bust will be 1/140% of the "fundamental."
So anyway, I got this model that said U.K. prices "ought" to have gone down by 40% before they turned, in fact they only went down 20% and then they bounced, real sweet.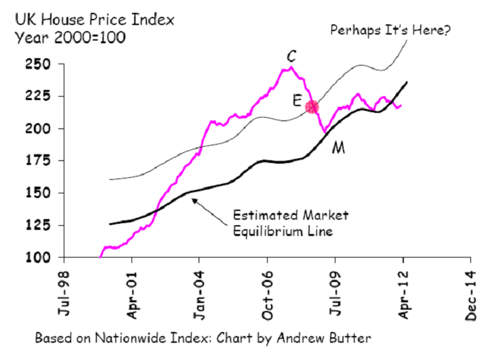 Click to enlarge
(Click to enlarge)
So that could mean … the model was wrong?
That's absolutely possible. It wouldn't be the first time with my models, particularly where waves are concerned; I remember once I built a model for pipeline surges for a nine kilometer long 1000 mm main line working at 6-bar; which worked great until the day a Black Swan blew a four ton pump two meters off it's mounting, which was quite exciting.
So my model says the Equilibrium line still didn't get breached, but there again perhaps that was in the wrong place and from E2 = MC you get the pink-dot, in which case house prices are set to surge back to the equilibrium.
That's plausible, but a few things made me think that perhaps it wasn't my model that was wrong…for a change?
First, like I said, the model was pretty accurate for the U.S. housing market although it's bit difficult to be 100% sure because predictions depend on where nominal GDP plus the long-term interest rates goes and that's not all that predictable these days, plus in 2008 I wasn't really thinking and I thought yields would go up a bit. I just looked up what the economists were saying on the internet, which in retrospect was pretty silly given that the people who made those forecasts also said the US housing bubble was a bit of froth
Second, since I started messing around with the model in early 2009, it made spectacularly accurate predictions where the U.S. stock market would go, and oil, and when I thought about it, U.S. Treasuries. So the model does seem to work sometimes, and even though the U.K. model is not as good as the US one for explaining the past, and even with my spotty track record, I find it hard to believe I could have got it THAT wrong!
The third thing, which I took some time to get my head around, is that it looks like sometimes fairy godmother does indeed have the power to turn back the tide, temporarily, like King Canute tried to do and failed.
But, and this is the big thing, perhaps all that does is forestall the inevitable; that's what got me confused the first time I used the model to predict the bottom of the S&P 500 in early 2009, that was eerily correct at 675, but the timing was completely out the window … in my defense I did come to my senses a month later.
The reason, I think, which it took me a while to twig, was that before 9/11 Alan Greenspan was going to start raising the base rate to cool things down after he had done with his damage control after the dot.com. What that would have done is make sure that the "curing" got fully expressed, as in the S&P 500 would have gone down to the place where what Ludwig von Mises called the mal-investments, got washed-clean.
But then … and I'm not making this up, it's all in his book … then there was 9/11, and Greenspan figured he should do his bit for Mission Accomplished; which is why (according to him) he kept rates down for so long so as to save America from terrorists, which had the effect of forestalling the clearing of the U.S. stock markets until 2008 after the cancer had spread everywhere.
See how there was like a pause; this is from an article I put out last August saying the S&P 500 was heading up from 1,100 or so towards 1,400.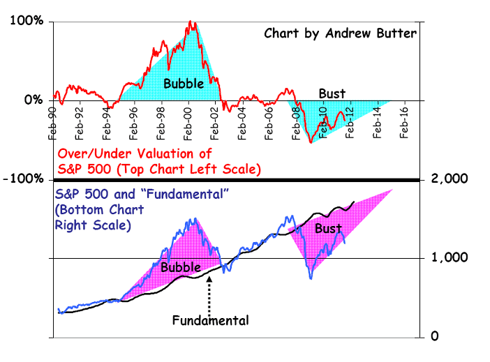 Click to enlarge
(Click to enlarge)
The same thing happened after the 1929 crash.
So if that's what's happening to U.K. housing, then this is how the model says it will go down, assuming, for the sake of argument 10-year-yields start to creep upwards towards 5% and nominal GDP growth averages 4.5%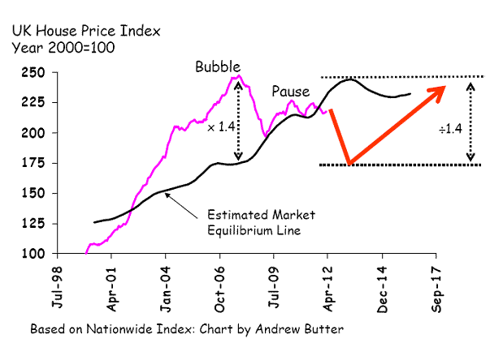 Click to enlarge
(Click to enlarge)
Mmm … that looks pretty scary; actually I was quite surprised when the model spat that one out. Thing is it looks like perhaps the low interest rates helped contain the pain, but one day what went around, comes around. That's a Law of Nature I think, like what happens when you try and mess with nature by throwing a pebble in a pond, sometimes something nasty slithers out and bites you.
Let's see, perhaps the model is wrong this time, which wouldn't be the first time … but all the same I think I'll keep my depressingly small wad of petrodollars in my back pocket, along with a fag packet (there is room) … before I buy my dream-shoebox in Neasden. At least until I get a better idea which way the wind's blowing.
On that score, it is of course possible for the fairy-godmother-of-last resort to inflate away all pain.
But that only works so long as there is anyone left who will pay the inflated prices, its one thing to have a big price on the sticker, it's another to do a transaction. There appears to be increasing evidence that no matter how much credit you thrust down peoples' throats, they still won't spend.
Disclosure: I have no positions in any stocks mentioned, and no plans to initiate any positions within the next 72 hours.