The Consumer Goods sector and the Textile - Apparel Footwear and Accessories industry both rely heavily on consumer behavior, which in turn is sensitive to the macro-economic outlook. While some industries within the sector are comprised of necessities, the Textile - Apparel Footwear and Accessories category tends to be more sensitive to long-term economic cycles and short-term fluctuations as well.
As such, small cap organizations within this space tend to be relatively volatile within the short term, and medium-term gains sometimes evaporate quickly. Combined with a sensitive economic view, the footwear, apparel and accessories industry is also very hyper-competitive. New products and clever marketing determine sales growth and relying on a single innovation for too long is often treacherous.
Recent examples of "leadership by innovation" are supplied by Reebok, a brand which has seen its revival under Adidas during the past three years. The Easytone line of running shoes, Crossfit active lifestyle wear coupled with new apparel designs and effective marketing have resulted in a steady increase in sales since 2009.
SKX Overview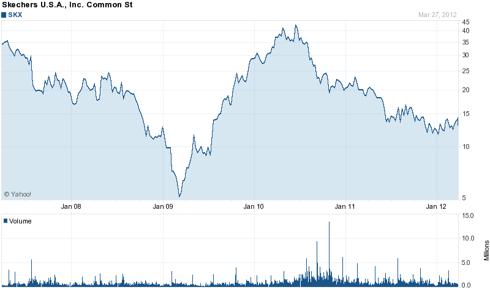 | | |
| --- | --- |
| Key Information | |
| Market Cap | 651M |
| Shares Outstanding | 50M |
| Revenue (TTM) | 1.6B |
| Beta | 1.61 |
| | |
| --- | --- |
| Per Share Data | |
| EPS | -1.39 |
| Current Price | 12.78 |
| BVPS | 17.58 |
| 3-Mo Return | 1.35% |
| 1-Yr Return | -58.46% |
Profitability (trend)

2006

2007

2008

2009

2010

2011

Gross Profit Margin

43.42%

43.03%

41.30%

43.23%

45.44%

39%

Operating Profit Margin

9.34%

8.10%

4.02%

4.89%

9.74%

-8.33%

Management Performance

2006

2007

2008

2009

2010

2011

ROA

15.27%

13.63%

6.60%

7.05%

14.98%

-10.43%

ROE

15.80%

12.07%

8.28%

7.29%

14.39%

-7.56%
Business Description (from Reuters)
Skechers, Inc. design and market Skechers-branded contemporary footwear for men, women and children under several lines. In addition to Skechers-branded lines, the company also offers several designer, fashion and street-focused footwear lines for men, women and children. These lines are branded and marketed separately from Skechers and appeal to specific audiences. The brands are sold through department stores, specialty stores, athletic retailers, and boutiques as well as catalog and Internet retailers. Along with wholesale distribution, its footwear is available at its e-commerce website and its own retail stores. Skechers, Inc. operates 90 concept stores, 92 factory outlet stores and 37 warehouse outlet stores in the U.S., and 22 concept stores and five factory outlets internationally. The company operates in four reportable segments: domestic wholesale sales, international wholesale sales, retail sales, and e-commerce sales.
Briefing
Taking a snapshot view of Skechers, Inc. and SKX may lead one to look for inherent value in a name that was recently synonymous with innovative design and clever marketing. A closer financial statement analysis, however, illustrates a different picture as noted in the above table.
After reviewing annual filings dating back to 2006 and quarterly filings back to 2010, there is only one overarching theme; Skechers, Inc. enjoyed a wave of success through 2009 and into 2010 on an innovation which was an industry first. Their toning footwear from the aforementioned time period not only became extremely popular, but carried a higher Average Selling Price (ASP) and launched the brand from obscurity into the mainstream.
Most recent 10-Q filings coupled with transcript call reports (Q3 and Q4) also seem to highlight international expansion, growth of the new GO line of footwear, opening of new stores, and better inventory management. All aspects were noted in detail but the questions at the end revolved around the most recent (2011) net loss, and failure of the GO line to deliver expected results. The new footwear line commands a lower ASP and has not sold as well as the toning line from 2009 and 2010. Other efforts were noted as well, but it is critical to remember that investors are eager to consider factors which drive stock price (i.e. innovation and marketing).
FY 2011 much Worse than it Appears on Financial Statements at first glance
In addition to lower sales, there are also concerns on the Balance Sheet (FY 2011 10-K) in the Cash and Cash Equivalent line item. The 2010 current ratio was at 3.17, whereas in 2011 it declined to 2.87. This negative momentum is actually more worrisome as the 2.87 is artificially propped up due to non-recurring events. The first such event was the gain on sale of PPE in the amount of $9,632,000 (Income Statement line item: Gain on disposal of assets), whereas the second was due to short-term borrowing increase of nearly 50% (Cash Flow Statement line item: Increase in short-term borrowing). While these operations may be considered vital to an ongoing concern, it is difficult to turn away from them in light of weaker sales, lower ASP and an uncertain outlook with regards to new innovation and marketing.
It is, therefore, not irrational to be concerned over liquidity measures in 2011 and going forward as well. The aforementioned current ratio for 2011 is then reduced to below 1.0 from a high of 3.17 in 2010. While the 2.87 figure is not inaccurate, it is the quality of inputs within the calculation which need to be given consideration. Skechers, Inc. may be showing very early signs of concern if the sales picture does not turn around within the remaining three quarters of 2012.
Relative Performance and Growth
Inventory Management (relative trend)

Inventory Turnover

2008

2009

2010

2011

4-yr average

Skechers USA, Inc. (SKX)

3.63

3.36

3.51

3.14

3.41

Brown Shoe Co. Inc. (BWS)

3.09

2.9

3.05

2.92

2.99

Crocs, Inc. (CROX)

2.4

2.8

3.4

3.7

3.07
| | | | | | |
| --- | --- | --- | --- | --- | --- |
| Sales Growth (relative trend) | 2008 | 2009 | 2010 | 2011 | 4-yr average |
| Skechers USA, Inc. | 3.40% | -0.29% | 40% | -19.97% | 23.14% |
| Brown Shoe Co. Inc. | -3.54% | -1.51% | 11.69% | 3.14% | 2.44% |
| Crocs, Inc. | -14.84% | -10.50% | 22.28% | 26.74% | 23.68% |
A quick glance at the above data can lead to a misguided belief of deep value relative to competitors. However, the 40% sales growth for Skechers, Inc from 2009 and 2010, is once again distorting the outlook. This one-time event in the company's recent history, unfortunately, is not pointing towards a similar trend. Most recent quarters have disappointed (due to the GO line as already mentioned) and it remains to be seen whether current sales will exhibit a turnaround. So far there hasn't been any indication of a new product line (i.e. lack of innovation) and Q1 & Q2 2012 results are not available at the time of this writing. As such, the Conclusion on page six is in accordance with current consensus.
Inventory Management as illustrated on the first table at the top of the page is also misleading. This improving aspect was highlighted during conference calls from Q3 and Q4 2011, but there is more behind the trend. Although the numbers confirm Mr. David Weinberg's (Chief Operating Officer) claim, further research showed that Skechers, Inc. actually flooded the market with their toning footwear in 2010 and leading into 2011 as well. This also brought down ASP and artificially inflated the turnover figure.
Insider Trading Activity
The tables below illustrate open-market insider selling and buying on a yearly and quarterly basis.
| | | | | | |
| --- | --- | --- | --- | --- | --- |
| Seasonal Sells - Y & Q | | | | | |
| Year | Q1 | Q2 | Q3 | Q4 | Yr Total |
| 2012 | 0.1M | ~ | ~ | ~ | 0.1M |
| 2011 | 0.82M | 0 | 0 | 0.14M | 0.96M |
| 2010 | 20.3M | 13.5M | 3.88M | 0.61M | 38.2M |
| 2009 | 0.06M | 0.16M | 0 | 11.9M | 12.1M |
| | | | | | |
| --- | --- | --- | --- | --- | --- |
| Seasonal Buys - Y & Q | | | | | |
| Year | Q1 | Q2 | Q3 | Q4 | Yr Total |
| 2012 | 0 | ~ | ~ | ~ | 0 |
| 2011 | 0 | 0 | 0 | 0 | 0 |
| 2010 | 0 | 0 | 0 | 0 | 0 |
| 2009 | 0 | 0 | 0 | 0 | 0 |
A Takeover Target?
By the early 2000's Reebok was quickly becoming an irrelevant brand which no longer held the status it once did as a cutting-edge and innovative athletic apparel company. Reebok's decline was unfortunate, but also perfectly in line with how the apparel and footwear industry treats complacency. Lack of innovation and ineffective marketing caused faithful consumers to move on, as much of Reebok's image was associated with the 90's and not with the new millennium. More recently, however, Reebok has enjoyed steady year-over-year growth in sales and it is no surprise. Reebok marketing has been quite effective as their Easytone and Crossfit lines have virtually become household names.
The reason for the recent surge is quite simple; Reebok was purchased by Adidas in January 2006 and the revival, although a little slow, did provide returns. It is therefore not unusual to assume a similar story might unfold at Skechers, Inc. as well. In fact, the toning category was an original innovation of the Skechers brand, not Adidas or Reebok. High ASP's and an overall exponential increase in profits was something that a giant like Adidas could not ignore so revival of the Reebok brand took center stage under a new toning category (i.e. a direct copy of the Skechers innovation).
This creates an interesting conundrum. It is well established that Skechers, Inc. has survived in such a competitive space only due to their drive for innovation. However, how long will they be able to continue with past momentum and protect their new product from industry giants such as Adidas and Nike? Perhaps Skechers, Inc. may deliver another shakeup in the apparel and footwear industry but recent momentum suggests otherwise; their GO line of footwear and apparel has been in the market for two quarters (Q3 2011, Q4 2012) and sales have been disappointing. The GO line is also not a "game changer" so to speak - other manufacturers offer similar designs as well. Their previous toning category, on the other hand, was an entirely new entry in footwear and did things for the brand that were quite unprecedented. Net sales between 2009 and 2010 (peak of toning product sales) increased almost 40% as opposed to an annual loss of 0.29% from 2008 to 2009, and a 3.3% gain from 2007 to 2008.
Skechers, Inc. is at a crossroads at the moment. A purchase of SKX would be an emotional one based on high hopes that either the GO line will pick up or a new innovation will once again turn things around. As discussed above, what would be the longevity of such an innovation before the industry leaders copy it once again? Furthermore, the recent weakness in sales and concerns over certain balance sheet items begs the question as to how deeply Skechers, Inc. can afford to finance a new innovation. For example, the most recent year-over-year decline in the company's current ratio shows negative momentum (2010: 3.17, 2011: 2.87) which, when coupled with a volatile industry and declining ASP, should be of concern.
In a volatile industry the arrival at a "crossroads" is quite unique as the window-of-opportunity will not last long. At this stage the brand can either quickly become irrelevant or experience very sluggish growth over the medium to long-term. In light of all these factors a merger with or a takeover from a larger brand may not be unrealistic.
Conclusion
A very limited upside is likely in light of current BVPS (over a medium to long term holding period) as noted on the valuation table. Simply glancing over past performance and assuming Skechers, Inc. will replicate returns may be misguided as current evidence (most recent 10-Q's from Q3/4 2011) suggests the opposite (losses and lagging sales). After consideration of future uncertainty as mentioned above, a "hold" rating is in line with consensus. Q1 to Q3 2012 results will establish if a positive outlook for SKX is due for 2013.
Disclosure: I have no positions in any stocks mentioned, and no plans to initiate any positions within the next 72 hours.