MACRO AND HOUSING
Full Recovery from Credit Crisis May Take Time - Bernanke
Speaking Monday night to the New York Economic Club, Fed Chairman Ben Bernanke gave little indication on whether the FOMC is inclined to cut rates again at its next policy meeting in two weeks. "Conditions in financial markets have shown improvement since the worst of the storm in mid-August, but a full recovery of market functioning is likely to take time, and we may well see some setbacks," Bernanke said, expressing satisfaction at the apparent success of the Fed's strategy. However, he said, "One must also take seriously the possibility that policy actions that have the effect of reducing stress in financial markets may also promote excessive risk-taking and thus increase the probability of future crises." Bernanke said the housing sector will likely deteriorate further, and may become a "significant drag" on the U.S. economy through early 2008, but stopped short of trying to guess to what extent: "It remains too early to assess the extent to which household and business spending will be affected by the weakness in housing and by the tightness in credit conditions." Over the potential that lower interest rates may stoke inflationary concerns, Bernanke repeated an earlier stance, saying the Fed was "prepared to reverse the policy easing if inflation pressures proved stronger than expected." In response to a question about the effect of a falling dollar on inflation, Bernanke said: "One cannot deny that, all else equal, when the dollar depreciates, that there is some inflationary effect that comes through the cost of imports," but added, "Our experience over the recent decade has been that those effects are relatively small." He said the Fed's principle task is to preserve purchasing power with regard to domestic products, for which a flexible exchange rate is the best tool.

WSB Sponsor
TECHNOLOGY
Ericsson Warning Tanks Shares
Little more than a week before it was set to report Q3 earnings, Swedish mobile handset maker Telefonaktiebolaget LM Ericsson warned its earnings would fall well short of expectations, and that the "current [poor] conditions will prevail" through 2008.

Shares reacted harshly, plunging 26% in Stockholm in midday trading Tuesday, while tumbling 27.7% in pre-market trading on the Nasdaq (as of 5:00 a.m. ET). The warning from Ericsson, which is the world's largest builder of global networks, had a ripple affect, sending shares of mobile network competitor Alcatel-Lucent lower by 5.2% in European trading, and handset maker Nokia down by more than 2%. Ericsson warned its operating earnings fell 36% to 5.6 billion Swedish crowns ($876 million), from year-earlier earnings of 8.8 billion crowns, "below the company's own as well as current market expectations and primarily a result of an unexpected shift in the business mix." The company's CEO, Carl-Henric Svanberg, further blamed "a shortfall in sales in mobile network upgrades and expansions which resulted in an unfavorable business mix that also negatively affected Group margins." On average, analysts were expecting slight growth in operating income to 8.9 billion crowns. One Stockholm-based analyst believes the company's warning suggests 2008 earnings estimates may need to be lowered by 15%. Ericsson reports earnings on October 25.

INTERNET
AOL to Scrap 20% of Work Force
Some 2,000 AOL employees, or 20% of its global work force, will be handed pink slips starting Tuesday as Time Warner's Internet unit continues a realignment it says is allowing it to increase its investment in "high-growth areas" while scaling back in areas "with less growth potential or those that aren't core to our business." One analyst estimated the cuts could save AOL $120M-$150M annually. Despite the cutbacks, AOL CEO Randy Falco, who disclosed the move in a memo to employees, said the company would launch in seven new countries and operate in 30 by the end of next year. Falco has been reorganizing the company since his arrival last year, including making a number of acquisitions to boost advertising operations. The company, according to Falco, is now focused mainly on Platform A, a new division formed last month that encompasses all its ad divisions; the AOL publishing business; and on-line access services. Some 5,000 jobs were cut just before Falco arrived at the company. About 1,200 layoffs were to be announced Tuesday in the U.S., with the remainder in Europe and India, though additional U.S. cuts were expected to be announced later.

MEDIA
Napster Relaunches with Web-Based Platform
Napster Inc. is relaunching its monthly music service as a Web-based platform that will be playable from any web browser, without the need to download additional software.

Currently, Napster operates through a downloadable platform that launches from a computer's desktop. Napster hopes the move will attract more customers to its monthly pay subscription service, by granting access to any web-enabled device. Napster's 700,000 subscribers currently pay $10-$15 a month for access to the company's five million song library. According to COO Christopher Allen, "this new-platform Napster can easily be integrated into consumer electronics devices or integrated into other Web sites such as social networking sites."

TRANSPORT AND AEROSPACE
Eaton Beats Q3 Estimates, But Lowers Outlook
Diversified industrial manufacturer Eaton Corporation reported higher profits Monday, but lowered its full-year outlook. Net income for the third-quarter was $258 million ($1.71/share), up 4% from $248 million ($1.62/share) last year. Revenues were up 7% to $3.3 billion from $3.08 billion last year. Analysts surveyed by Thomson estimated earnings of $1.67/share and revenues of $3.24 billion. The company said it got a boost from its electrical unit, where operating profits jumped to $156 million from $116 million during the same time last year. However, was offset by its truck division, where operating profits dropped to $95 million from $122 million a year ago. The trucking industry has been

slowed down by new clean-air laws that began January 1, 2007. Concerning future guidance, CEO Alexander Cutler said because of "economic uncertainties triggered by the late summer turmoil in global credit markets... the fourth quarter will not improve as we had earlier anticipated," (see earnings call transcript). He said fourth quarter earnings will be $1.60-$1.70/share, and revenues would be about the same as the third-quarter. He lowered the company's full-year earnings outlook down to $6.50-$6.60/share from $6.50 to $6.70/share. Eaton's stock traded down 3.5% to $93.04 Monday.

ENERGY AND MATERIALS
Russia Blocks Pipeline Expansion, Hurting Chevron's Plans - WSJ
In a dispute that highlights Russia's growing belligerence towards the West over energy projects in its former subject states, Chevron is facing Russian opposition in its attempts to double capacity in an oil pipeline from its Tengiz oil field in Kazakhstan to the Black Sea, the Wall Street Journal reports.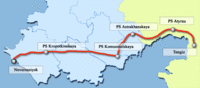 The pipeline (pictured), called the Caspian Pipeline Consortium [CPC], travels through Russian territory to bring oil to world markets, and is 24% owned by Russian state oil monopoly OAO Transneft. Chevron has spearheaded a $6 billion project to nearly double Tengiz's capacity from its current 300,000 barrels a day to 550,000 barrels a day by the end of 2008. The CPC, which is 933 miles in length, currently has capacity for 620,000 barrels a day. Chevron would like the CPC to up that to 1.35 million barrels a day by the end of 2008 to enable it to pump its added capacity at Tengiz. Russia continues to block expansion of the pipeline, of which Chevron is a 15% owner, arguing it deserves more revenue from the CPC. According to Russia expert Martha Brill Olcott, "I think there is a broad consensus among the Russian elite that the government should control the pipeline." While Chevron and the Kazak government hope they can resolve their disputes with the Russians, they have jointly spent more than $500 million building and expanding the railway system so that more Tengiz oil can be exported by railcar, an imperfect solution as rail fees are much higher than pipeline tariffs.

FINANCIAL
Sallie Mae Deal 'Not Going to Get Done'
The investor group led by J.C. Flowers & Co. is seeking court approval to scrap its $25B deal to purchase SLM Corp. Sources close to the group, which also includes Bank of America and JPMorgan Chase, said "We are assuming that this deal is not going to get done. There is certainly a mindset change since last week. This is now a fight over $900 million, let's not pretend there's still a deal on the table." The buyers claim a materially adverse effect has occurred at the student loan provider, better known as Sallie Mae, and that their $60/share cash bid and now even a revised cash and warrant offer are unacceptable given weaker economic conditions and recently signed student loan legislation. Last week, Sallie Mae sued to get the deal done under its original terms or to receive the $900M break-up fee provided for in the merger agreement. Subsequently, Sallie Mae reported earnings that fell short of analysts' expectations, calling the deal distractions "significant" and saying they had cost "earnings momentum." On Friday, Sallie Mae asked the court to expedite the trial saying the company was "in an untenable position" because the buyout group controls its day-to-day operations. The group, in response, said an agreement to end the deal would free Sallie Mae "from the restrictions that it is complaining about."

Blackstone Financing for PHH Deal in Jeopardy -- Reuters
Blackstone Group's planned $1.8B buyout of PHH Corp. is in danger of falling apart as Blackstone still hasn't succeeded in resolving a financing shortfall for the deal. Reuters reported sources close to the deal as saying talks with JPMorgan Chase and Lehman Brothers Holdings are not going well, and that the banks are not willing to budge from their "revised interpretation" of their financing agreement, which has resulted in a $750M shortfall in the financing needed to complete the deal. Under the agreement, PHH would sell its vehicle-leasing business to General Electric Capital Corp., and Blackstone would buy the company's mortgage business. But the GE portion is likely to fall through as well if Blackstone doesn't buy the mortgage operations. The sources said Blackstone was unlikely to make up for the shortfall, and that other options were dwindling. Blackstone is to let PHH know by the end of the month whether it can complete the deal. The transaction is one of many that financing issues have placed in jeopardy as a result of the credit crisis.

China's Citic Eyes Stake in Bear Stearns
Jiang Dingzhi, vice-chairman of the China Banking Regulatory Commission, said Tuesday the nation's Citic Bank Corp. is bidding for a stake in U.S. investment bank Bear Stearns. "The foreign M&A of our banks is entering a new era and the pace of internationalization is accelerating," commented Jiang at a congressional meeting.

Citic Group vice-chairman Chang Zhenming confirmed his company's interest in Bear, but said, "There has been no concrete progress," when asked about Mr. Jiang's comments. Talks between Citic and Bear are said to have involved Citic buying convertible bonds possibly worth as much as a 20% equity stake in Bear, according to the Financial Times. Bear CEO James Cayne earlier this month said the company would consider a partner that "brings along geographic, strategic value to us," but the company is not looking for an equity investor. Citic Bank owns 26% of rapidly growing Citic Securities, China's largest brokerage (full story). Billionaire currency trader Joseph Lewis bought a 7% stake of Bear in Sept. for $860.4M. Other parties reportedly interested in Bear include Bank of America, Wachovia, China Construction Bank and billionaire investor Warren Buffett, Reuters . Shares of Bear Stearns lost 2% to $120.69 on Monday.

Activist Investor Increases Pressure on HSBC
Activist HSBC investor Knight Vinke Asset Management stepped up its campaign against the bank's management Tuesday, urging it to consider "radical solutions" such as liquidating the majority of its investment banking unit. In an open letter to shareholders published in UK newspapers, Knight Vinke said, "The Emperor needs to be told that he is not wearing any clothes: there are almost no synergies associated with being the 'world's local bank'," adding it thought the company was obsessed with diversification, and had failed to achieve scale in both retail and investment banking. After calling for HSBC to revamp its strategy on September 6, Knight Vinke said it has since made its case to 40 of the bank's largest shareholders. "The

responses we received were far more supportive than we had been led by HSBC to expect," it said. "Most... agreed that there are real areas of concern to be addressed by the board concerning strategy, execution and/or governance." HSBC said previously its board backs its strategy, and that it is already increasing its focus on Asia and emerging markets. Knight Vinke has a stake of about 0.3% in HSBC. HSBC shares have gained just 3% over the past year.

Volatility Does Not Get in Schwab's Way
Charles Schwab reported strong third-quarter results Monday, helped by its sale of U.S. Trust and solid growth in new client assets. Total net income for the company was $1.53 billion ($1.28/share), compared to $266 million ($0.21/share) last year, but $1.2 billion of its income was from the sale of U.S. Trust to Bank of America. Earnings from continuing operations jumped to $323 million ($0.27/share). Revenue for the quarter were up 21% to $1.29 billion. Analysts were expecting earnings from continuing operations of $0.25/share

on revenue of $1.26 billion. The company saw customers add $37.3 billion to their accounts, up 66% from a year ago, and new accounts increased 35% to 183,000. CEO Charles Schwab said the solid quarter was a result of building "stronger relationships" with clients, even through the volatility of early August. Shares of the financial service company were unchanged at $22.68 in midday trading Monday.

HEALTHCARE/BIOTECH
Genentech Beats, But Street Wanted More
Biotech giant Genentech released earnings late Monday, reporting a 21% increase in profits. The company's net income increased to $685 million ($0.64/share), compared to $568 million ($0.53/year) last year. Excluding certain expenses, earnings were $0.73/share, beating analysts' estimates by a penny. Revenue jumped 22% to $2.91 billion, slightly under the $2.93 billion expected. Sales of Avastin, a cancer drug, were up 37% to $597 million. "This was a solid, but by no means a blowout quarter, and

some people would like to see them blow away the numbers," said Jason Kantor, an analyst with RBC Capital Markets (see earnings call transcript). The company said it continues to see earnings growth fall between 28-32% for the year. Shares of the company gained 0.32% in Monday's session before the earnings announcement. After the release, shares dropped 1.5% to $76.37 in extended trading.

Genzyme Jumps on Positive Test Results, Takeover Rumors
Shares of Genzyme surged Monday to a 52-week high because of positive results for its multiple sclerosis drug and rumors it could be a takeover target. Genzyme reported Sunday that based on three years of data from a Phase II clinical trial, its MS drug candidate, alemtuzumab, was just as effective as Merck's MS drug Rebif. Genzyme was also the focus of a lot of takeover speculation after its rival, Biogen, put itself up for sale last

week (full story). "I think the share gain reflects both these things," said Christopher Raymond, an analyst at Robert W. Baird & Co. "There's a lot of speculation that Genzyme might be next, and I think they've got better growth prospects than Biogen Idec." Genzyme has a market cap of about $18.8 billion. Its shares closed up 4.3% to $74.77 Monday.

MUST-READS ON SEEKING ALPHA TODAY
Have Wall Street Breakfast emailed to you every morning before the market opens.