On January 13th, I argued that it was time to buy the dips in homebuilders in preparation for a bottom sometime in 2013. I targeted KB Home (KBH) in particular. KBH's stock proceeded to run up 41% in just one month. This move completely took me by surprise given I did not think there was a near-term catalyst for such a move. In one more month, KBH made a new marginal high for the year. And in one more month, KBH has now returned all the way to fresh three-month lows as it lingers around its 200-day moving average (DMA).
(Click to enlarge)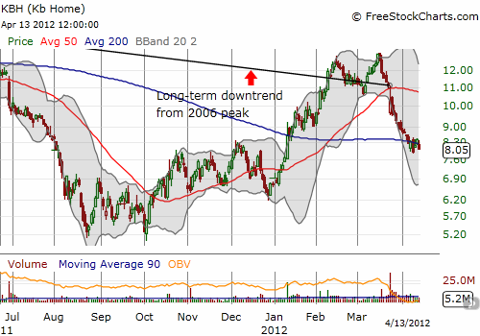 A quick roundtrip for KB Home.
Source: FreeStockCharts.com.
The selling in KBH turned especially intense after it reported earnings last month. The stock dropped directly from its long-term downtrend and its 50 DMA.
KBH's turn in fortunes has transformed it from the second-best performing homebuilder in my universe for 2012 to a middling performer. Of course, 20% year-to-date is still enviable.
(Click to enlarge)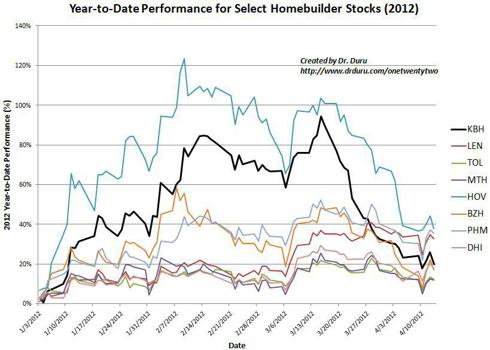 KB Home drops to the middle of the pack among homebuilders.
The ranked year-to-date performances from these homebuilders are now:
Hovnanian Enterprises Inc. (HOV): 38%
PulteGroup, Inc. (PHM): 35%
Lennar Corp. (LEN): 33%
KB Home : 20%
DR Horton Inc. (DHI): 18%
Beazer Homes USA Inc. (BZH): 17%
Toll Brothers Inc. (TOL): 12%
Meritage Homes Corporation (MTH): 12%
Shorts have also increased the pressure on KBH. Shares short increased 21% from the end of January to the end of March. Shorts are now an incredible 62% of KBH's float.
(Click to enlarge)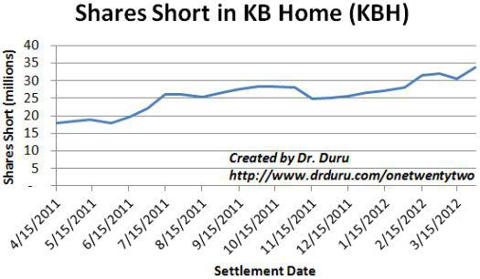 Shorts continue to build on KBH.
Data Source: NASDAQ.com.
Clearly, the market generally disagrees with me although it has yet to deliver the buyable dip I projected at the beginning of the year. I thought that KBH's last earnings report demonstrated the company's improved outlook. Before those earnings, I assumed that KBH would bounce sharply from any post-earnings sell-off. Instead, only relentless selling has greeted KBH before and after earnings.
I thought the downward momentum would build after KBH slashed its dividend on April 12th by 60% in order to "…take advantage of growth opportunities." I would have preferred opportunities fundable by the existing capital structure and balance sheet, but this dividend cut likely confirms to skeptics that KBH has balance sheet issues. While KBH has not moved much since the announcement, I do not expect it to last. The upshot is that the stock may finally deliver a buying dip for those interested in positioning for a 2013 bottom in housing. The first buying target is $7.50. From there, we take things one step at a time.
Be careful out there.
Disclosure: I am long KBH.
Additional disclosure: I also own KBH puts.