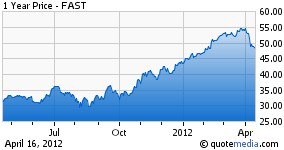 Arguing with the market may be a great way to get rich slowly, but it can also be an excellent way to get poor quickly. Fastenal's (FAST) valuation left the surly bonds of reality a while ago, but shorting the stock would have been quite painful until about the past two weeks. While Fastenal's model seems poised to continue delivering growth highly leveraged to manufacturing sector expansion, valuation makes this more of an economic momentum play than a rationally-valued security.
First Quarter Results - Good, Apart From A Worrisome "But"
For the most part, Fastenal delivered a very solid performance in the first quarter. Relative to other industrial suppliers like Grainger (GWW) and MSC Industrial (MSM), Fastenal continues to be the growth story and revenue jumped 20% this quarter. Just as impressive, same-store revenue rose 18%.
Where the news got more mixed was on the margin lines. Gross margin fell almost a full point. While some of this can be tied to the big jump in lower-margin vending machines, the company is also having difficulties passing on increased prices. Although fasteners aren't really thought of as price-sensitive purchases, and the Fastenal store model lends itself to the less-sensitive "need it now" market, this seems to be something of a growing issue in the MRO industry.
It's also worth speculating as to whether Anixter's (AXE) efforts to grow its fasteners distribution business is impacting Fastenal's pricing power. I don't buy it, given the differences in scale, but it's still a possibility.
To Fastenal's credit, it recouped a lot of this through more efficient operations. Operating income rose 25% and operating margin improved almost a point. That said, the incremental margin fell significantly (down four points sequentially and seven points year-on-year), as it did at MSC Industrial.
Vending - Is The Long-Term Payoff Worth It?
Fastenal signed up nearly 4,600 vending machine contracts this quarter - more than tripling the year-ago level and more than doubling the fourth quarter total. This brings to the total installed base to nearly 10,000 and this comprises 18% of sales.
This is a mixed blessing, though. While Grainger and MSC Industrial are following the vending trend, these machines lower gross margins and usage levels in the near term (apparently making customers aware of employee supply usage lowers that usage). The idea is that companies will recoup this in the long run with "stickier" customers, but that presupposes a high cost to switching over.
All things considered, I'd rather have MSC Industrial's high exposure to online sales, to say nothing of the ex-US growth opportunities at MSC and Grainger as opposed to the vending story at Fastenal.
A Leveraged Play On The Economy
If you trace Fastenal's sales performance back against metrics like GDP or ISM, there's a pretty strong correlation. That's broadly true of Grainger, MSC, and WESCO (WCC) as well, but Fastenal's correlations are a bit tighter. What that basically means, then, is that Fastenal is a play on U.S. economic growth (particularly in the manufacturing sector). As long as the economic expansion continues, then, Fastenal's sales momentum is likely to stay strong and valuation will only matter after those quarterly reports where margins are soft (like this one).
The Bottom Line
Fastenal's model has a lot of operating leverage built into it, and the company has in past cycles seen about one-quarter of its revenue come from non-residential construction. As that sector is just now showing signs of life, there's the hope that Fastenal will be able to pair the relatively healthy manufacturing sector with a construction sector recovery. It also helps that, as Grainger, Fastenal, and MSC Industrial get larger, their fractured and fragmented smaller rivals find it even harder to compete.
Valuation is almost beside the point with this stock. Assuming even more than 20% compound growth in free cash flow over the next decade doesn't come close to today's price. Even if investors want to compare EBITDA growth to the EBITDA multiple (which is a pretty aggressive valuation metric), the stock is not cheap.
So long as the economy expands and Fastenal can leverage that into above-market growth, momentum traders may not care. There aren't a lot of cheap stocks in this sector any more, but I'd rather own MSC Industrial at these prices (and I do).
Disclosure: I am long MSM.