Retail sales in March came in 0.8% higher than February, which is 6.5% above last year. So, with consumers spending more in March, should investor's embrace retailers like J.C. Penney (JCP), Macy's (M) and Target (TGT) heading into summer?
While March's year-over-year gains show shopper's willingness to open wallets has improved in the past year, investors should heed retail's seasonal nature. After all, the group remains one of the most seasonally affected baskets.
Summer sales slow as foot traffic heads to beaches instead of malls.
The following chart provides additional insight into seasonal shopping trends. Over the past five years, the month-to-month percentage change in retail trends lower through Q3 before rebounding into the holiday shopping season.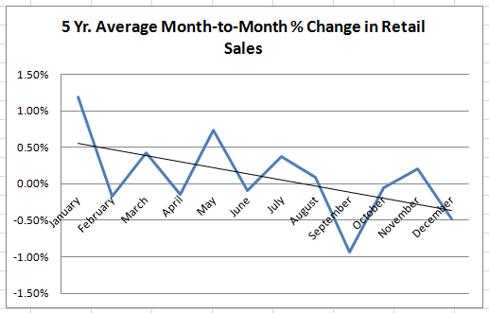 The summer slowdown isn't lost on investors. About 20% of the Consumer Discretionary ETF (XLY) is made up of specialty retailers and its finished the second quarter lower than it starts in six of the past 10 years. Those kind of returns are hardly a ringing endorsement for boosting exposure to retailers heading into warm weather.
It's also telling to look at the 10-year average returns of the XLY by month. The only three months the XLY typically trails the S&P 500 (SPY) are May, June and August.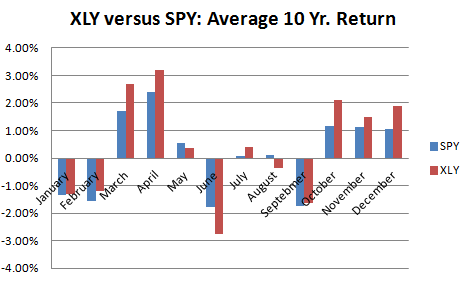 Investors considering retailers should take a cautious approach as we move through the second quarter, suggesting selling strength and using stop losses make sense. Once we get deep into the third quarter, investors should start getting more aggressive in order to take advantage of the typical fourth quarter outperformance.