Shares in Target Corp (NYSE:TGT) spiked in July when Bill Ackman's Pershing Square Capital ("Pershing Square") revealed that it accumulated approximately 10% of TGT shares through various sets of call options. Since that time shares have retraced but TGT investors appear willing to wait to see Pershing Square's strategy with TGT play itself out.
Pershing Square is well regarded for its various activist endeavors, notably with Ceridian (NYSE:CEN), Wendy's (NYSE:WEN), and perhaps most notably McDonalds (NYSE:MCD). Ackman appears to be following his typical modus operandi with TGT with news reports and analysts speculating that he will push for a spin-off of the Company's credit card business or seek to unlock value by addressing the Company's real estate.
Ackman was successful in pushing WEN to spin-off its Canadian-based donut chain Tim Horton's (THI) and he is credited for pushing MCD to spin-off its Mexican dining restaurant Chipotle's (NYSE:CMG), sell off underperforming restaurants, increase its dividend payout, increase its pace of share repurchases, consider spinning off its franchise holdings, and consider leveraging its capital structure.
Pershing Square's main focus appears to generally influence a well-run company to monetize non-core assets, underperforming assets, and "hidden" assets, utilizing the free cash to fund share repurchases and/or increase dividend payouts. These are strategies that other fund managers and investors utilize in their approach and the results from successfully implementing these undertakings can add tangible value. However, irrespective of any asset dispositions and financial engineering techniques, core operating performance appears to be the most significant driver in generating or reducing shareholder value.
MCD shareholders benefited from Pershing Square's endeavors but investors in TGT, hoping to benefit from Ackman's campaign, should realize that MCD value increased mostly from dramatic improvements in its operating performance. It's difficult to gauge how involved Ackman was with MCD management in regards to changes in new product introductions, decisions related to altering and extending operating hours for MCD restaurants, and other "in the weeds" activities, specifically the revamped international activities which proved very successful.
Simply stated, I would argue that the operating performance was what accounted for most of the value creation for MCD and Ackman's involvement was - to some extent - just "marketing" for other institutions to jump aboard. Ackman is a genius but investors should realize that MCD's share appreciation was based on outsized EPS growth but no significant multiple expansion. As EPS goes, so does MCD's share price, a fairly obvious (worthless?) statement to some but when companies are truly undervalued, returns should be driven not only by EPS expansion but also through multiple expansion.
I feel that Pershing Square will pursue the same strategy with TGT and suggest monetizing the Company's real estate holdings and possibly spin-off its credit card business while using any cash from asset monetization to boost dividend payments and fund share repurchases. In addition, Pershing Square will also probably encourage management to consider leveraging the Company's balance sheet to fund additional share repurchases. On paper, this looks like a sound strategy that could be accretive to shareholder value.
However, if I'm a TGT shareholder I would be more concerned with the downturn in operating performance, especially in relation to the Company's current valuation. Irrespective of Pershing Square's discussions with management, even activist investors commanding significant portions of a company's capital base need a margin of safety.
I think at current levels, TGT is fairly priced and current trends in its same store sales and operating performance could make it look expensive in the near future, meaning TGT could face reduced share prices from multiple compression, despite becoming a stronger company in the coming years. This is similar to what has occurred with Walmart (NYSE:WMT) in recent years.
The broadly accepted view on TGT is that it offers a more pleasant shopping experience than Walmart Stores with a higher income customer that is less sensitive to the economy, better operating performance through strong apparel sales, and offers appealing growth prospects through new store expansion. These views, along with a history of impressive and consistent same store sales figures, have generally been impounded into TGT's stock price, meaning that any news that questions these accepted notions could result in an adverse revaluation of TGT's value.
The latest 8-K covering September sales performance seems to suggest even the higher income consumer that shops at TGT is also starting to feel a strain with comp store sales coming in at just 1.2% for the month. These September figures are showing progressive weakness when compared to quarterly comp store sales of 3.5% compared to 4.9% QvQ 2006 and YTD comp store sales of 4.3% against 4.9% in 2006. If these trends persist, operating margins will take a hit due to deleveraging of the Company's store base.
In addition, investors should realize TGT's Credit Operations business has served as a buffer and major contributor for profits in recent years. While TGT is now evaluating a sale of the business, it's unlikely they will sell it. The $7B credit operation business contributes nearly $700 MM in EBT profits to TGT. I'm not sure if selling that business makes much sense considering it's probably very integrated with the core retail operations and disposing of the business might not result in any expense or cost benefits to TGT.
In addition, a lot of moneycenter banks have already purchased significant purchasing credit card operations and the M&A interest may be low, particularly because TGT's Credit Operations business is coming off strong performance in 2006, but now, with the general consumer weakening, any potential buyer like Citigroup (NYSE:C), JP Morgan (NYSE:JPM), or General Electric (NYSE:GE) may hold off and wait to see how the high quality portfolio performs. So while TGT management is reviewing its options for the Credit business, I doubt anything will materialize. That leaves Pershing Square really with focusing on increasing total return to shareholders through dividend payments and accelerated share repurchases. Table I presents a variety of outcomes for TGT's share price based on consensus estimates.
TABLE I: TGT CONSENSUS ESTIMATES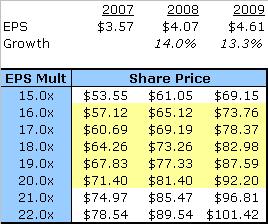 Table I takes consensus EPS estimates and then applies the typical range of EPS multiples against those estimates to produce a range of potential values for TGT over the coming years. Assuming one holds shares in TGT until 2009, as Ackman most likely will, shares could reach $69 to $101 per share, assuming analyst estimates are realized. At current prices and factoring in annual dividend payments of $0.56, the annualized rate of return from current prices would range from 5% to 28%. These returns do not provide a margin of safety and suggest TGT is fairly valued. In addition, the top end of the range assumes TGT experiences multiple expansion which is not something one would want to rely on given that unlike WMT or MCD, TGT is US-centric and therefore more vulnerable to any US-based slowdowns in the consumer sector.
Leveraging TGT's balance sheet is probably what Pershing Square would lobby for most. TGT is on track to generate roughly $7B in EBITDA for 2007 and around $8B in 2008 (internal estimates). Current financing conditions could probably support leverage of $28B-$30B, basically $18B-$20B more than its current debt load. That means that TGT could borrow an additional $20B to fund a massive share repurchase, essentially retiring 34% of its equity base in 2008 which would result in significant EPS growth. Tables II, III, and IV present summary projections based on internal estimates that assumes TGT management levers the Company's balance sheet to fund a massive share buyback in 2008. All estimates are internally generated.


TABLE II: TGT LEVERED BALANCE SHEET (INTERNAL PROJECTIONS)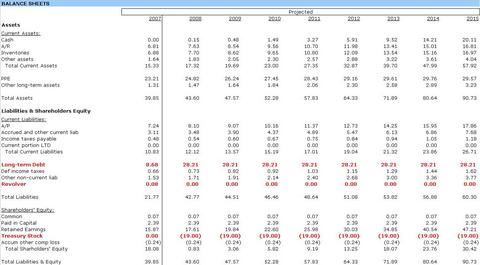 TABLE III: TGT LEVERED INCOME STATEMENT (INTERNAL PROJECTIONS)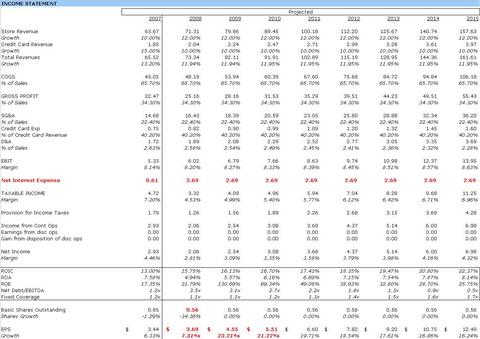 TABLE IV: TGT CASH FLOW STATEMENT (INTERNAL PROJECTIONS)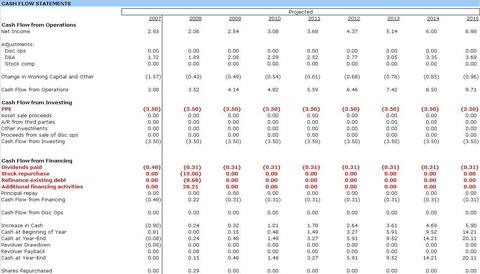 The tables above highlight key financial information related to levering TGT's capital structure in red. Some key figures include the share count and EPS growth rates presented in the income statement. TGT gains a small tax shield by borrowing, which in the scenario above simply assumes 10-year high-yield bonds, which is why interest expense is constant since no prinicpal amortization occurs. In the cash flow statement in Table IV, PPE can also be adjusted to draw on additional cash and dividends are assumes to remain at the $0.56 per share at a lower share count.
If Pershing Square pursues this avenue and TGT management decides to gear its capital structure, shares of TGT may warrant a higher EPS multiple to reflect the accelerated EPS growth rate and return metrics. The geared balance sheet results in EPS growth of 20+% in the coming years compared to the 13% EPS growth rate based on the current capital structure. As a result, the market may place a higher P/E multiple on shares of TGT. If the Company achieves a 20-25x P/E, the new capital structure could result in an annualized return of 25-30% over the next few years, based on current share prices.
In addition, TGT could possibly borrow even more against its cash flow and asset base. The net debt/EBITDA ratio of 3.5x is conservative against typical leveraged finance multiples and TGT's real estate and credit portfolio could offer additional ways to raise financing. The scenario above is simple due to the assumption of high yield bonds but TGT's real estate base could also be securitized for additional cash and at a financing rate that may be more competitive than typical high yield bond financing.
While this capital structure may be sound, investors should keep in mind that the annualized returns are no where near guaranteed. Undertaking these steps will result in significant transaction fees and time away from TGT's main operations. Secondly, while the financial engineering sounds good on paper, if operating performance deteriorates, the market is likely to peg a lower valuation on shares of TGT. Referring back to Table I, consensus estimates call for 2007 EPS of $3.57 followed by 2008 EPS of $4.07. Shares currently trade for roughly 15.7x 2008 EPS but the current sales trend indicates a slowdown could just be starting. It's unlikely, however, that this slowdown has been impounded into 2008 analyst estimates. Therefore, if TGT's sales stagnate, it's possible 2008 EPS is reduced to under $4.00 per share with Company shares falling to reflect both reduced 2008 and future years EPS growth estimates. Consequently, while Ackman is a savvy investor, TGT investors may be better off looking at more compelling bargains as opposed to a company that offers little margin of safety and few true catalysts.
Disclosure: Author has no position in shares of TGT.