Over the past a few years, we have witnessed the death or almost sure death of at least three mobile platforms: Palm's WebOS, Research In Motion's (RIMM) BlackBerry, and Nokia's (NOK) Symbian. When the market identifies a new direction in computing, small fish are either acquired or slaughtered, big sharks are taking over.
(Click to enlarge)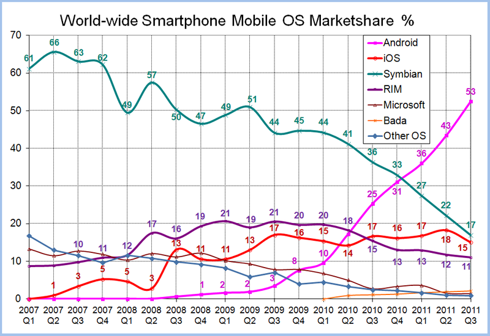 Click to enlarge
Source: Wikipedia "Mobile operating system"
First came Apple (AAPL), whose iOS revolutionized mobile OS. It has become the platform to be copied by its competitors. Next came Google (GOOG), which realized the potential of having its own mobile platform and introduced Android. Finally came Microsoft (MSFT). Just like Motorola's Droid boosted the popularity of Android, Lumia 900 represents the dawn of a new era, the era of three kingdoms of Mobile OS market: Android, iOS and Windows.
Is it too early to predict that Windows will become a successful mobile OS when it currently has less than 5% of the market share, while Android and iOS account for a whopping 80%? No. By closely tying up its mobile graphical interface with PC version Windows 8, it is well prepared for a major market invasion.
Microsoft's strategy is simple: given the global PC market size, Windows 8 will adapt most people to a new tiled interface as all new PCs sold next year will be pre-installed with Windows 8 (89 million new personal computers were sold in the first quarter of this year). It almost guarantees that a large share of the population will be used to the new Windows very soon. That is huge for mobile Windows 8 -- no learning curve for a new mobile OS. It will be quite easy and even natural for people to use the same familiar interface when they buy cellphones. In doing this, Microsoft took some risk by changing Windows 8's interface dramatically. It's perhaps a worthwhile risk: when one looks at Windows 8, it almost feels like Microsoft specifically changed Windows' interface into a design that is also easy to use on a cellphone or a tablet. The old Windows mobile (pre Windows 7) obviously was very awkward to use on a mobile device.
So, Lumia 900 is just a pre-game show. The real curtain has not even opened yet. Following the introduction of Windows 8 in late 2012, 2013 will be huge for Windows 8 mobile. Based on the history of Android, Windows should be able to pick up double-digit market share by the end of this year and likely have at least 15-20% market share by the end of 2013.
Do not forget the tablet market. Given the industry's speed of copying Apple products (It took about three years for the ultrabooks to catch up with Macbook Air), a competent iPad copycat, matching up iPad in hardware setting, should also arrive in 2013. Again, given people's familiarity with the platform, many PC users will find Windows 8 based tablets, likely with better Microsoft Office application integration, extremely easy to use.
The rise of Windows-based mobile platform will hurt which player(s) most? We can safely ignore BlackBerry, which is already at the countdown stage. At the speed its market share is getting eroded, it will be lucky to have 3% market share left by the end of 2013. Most likely, Windows will take some market share from Android while the whole pie grows larger.
Disclosure: I have no positions in any stocks mentioned, and no plans to initiate any positions within the next 72 hours.