These are some bio-pharmas that should be on the move Monday and possibly for the entire week. The common thread between these companies is tied in this week with one company releasing clinical trial data.
Achillion (NASDAQ:ACHN) Achillion will be releasing results of its Phase IIa clinical trials of ACH-1625 on April 18-22, at the International Liver Conference being hosted in Barcelona. ACH-1625 is an Hepatitis C virus (HCV) protease inhibitor.
Achillion's release of this data should also have a price effect on stocks like Bristol-Myers Squibb (NYSE:BMY), which shelled out $2 billion in cash to scoop up Inhibitex, maker of the hepatitis C treatment INX-189 in a transaction that carried a whopping 163% premium, and Gilead Sciences (NASDAQ:GILD), which struck a deal to buy Pharmasset in November 2011 for $11 billion. Gilead paid $137 per share for the company, which seized wide attention for its work on new hepatitis C treatments that may do away with the need for interferon and create a new standard of care for the disease.
Gilead has taken on Pharmasset's PSI-7977, which has two late-stage studies involving genotype 2 and 3 patients. One study is comparing the oral therapy combined with ribavirin against the standard-of-care, pegylated interferon/ribavirin in treatment-naive patients. The second study is comparing PSI-7977 to a placebo in interferon-intolerant or ineligible patients. A third Phase III launches in the second half of 2012.
There is a large reward for the company that successfully gets the most effective Hep-C treatment to market first -- a multi-billion dollar market.
Other bio-pharmas that could be effected by the Achillion report this week are GlaxoSmithKline (NYSE:GSK) with its drug Promacta, and Johnson & Johnson (NYSE:JNJ) with its Hep-C drug TMC435, which just recently entered into clinical phase III trials.
I especially expect Achillion to see a nice run up because of its specific focus and stock price of $9.02, as of the market close on Friday April 13th, down $0.62 cents on obvious profit taking from the first run-up wave.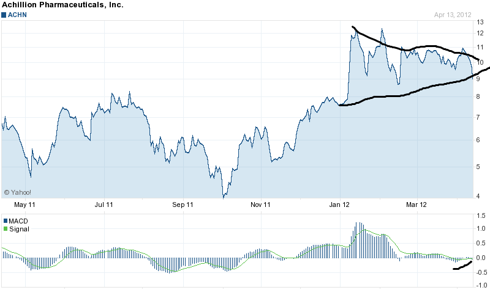 Click to enlarge
As I have marked in black in the chart above, a tight wedge is forming which indicates to me that the stock price is set to break out substantially in the short term. I see the next run-up wave to near $10.00, possibly this week, dependent on overall market conditions being stable.
Chart data sourced from Yahoo Finance.
Disclosure: I have no positions in any stocks mentioned, and no plans to initiate any positions within the next 72 hours.
Additional disclosure: DISCLAIMER: This article is intended for informational and entertainment use only and should not be construed as professional investment advice, but rather my opinions as a writer only. Always do you own complete due diligence before buying and selling any stock.