I receive these types of emails from readers whenever Apple (AAPL) experiences a pullback:
This pullback means that the post earnings rally will be even more lucrative. Oh my.
That's an actual message I received on Twitter. And I was criticized for labeling large factions of AAPL longs emotional. Maybe I read too much into the above-referenced correspondence, but I get a ton of it. While it might be a stretch to call it delusional, the "oh my" at the end represents just one example of how some AAPL longs confound the idea of being a shareholder with sports fandom.
When emotion takes over in sports, if you have money on the game, you cannot change your bet. That's why you see cats crying in beers, nervously puffing on cigarettes and screaming at television monitors inside sports books across Las Vegas. And some, no matter the reality, will always get back on the horse and make the same bet because, you gotta support the team.
The game a company and a stock participates in lasts longer than 60 minutes. You can change your "bet," several times, over the course of this often life-long battle. That said, I am not going to spend this article chiding Apple fan boys and girls. Why would I? I love the company. I use its products. I worship Steve Jobs. I wish Tim Cook was not such a nice guy. I wear my Apple emotions on my sleeve. I do not, however, wear my AAPL emotions on my sleeve. I hope you catch the distinction I make between company and stock.
In this article, I want to address something that tends to happen as emotion and a pullback in AAPL collide: Investors salivate over OTM options.
We have all been there before. A company we love with a stock we want to own starts experiencing weakness after a pretty juicy run. It caught us off-guard so, all of a sudden, we're sitting on profits, but they're not as huge as they were just a few days ago. We want that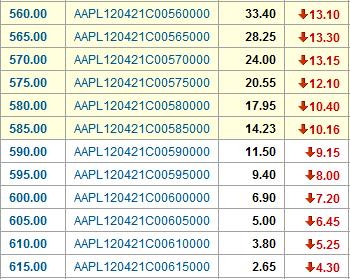 money back and we want our stock to return to doing what it's destined to do - go up. We take a look at options quotes and, suddenly, our significant others look a lot less attractive.
Check out that drop in the price of AAPL April and May calls, courtesy of Yahoo Finance. Nothing is hotter. Major turn-on. Or, as my Dad likes to say, hot diggity dog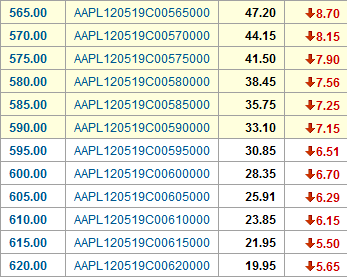 boy! I mean, heck, Apple reports earnings this month, you would be insane not to load up the truck here, right?
Wrong.
Apple saved your butt on at least one count. The company set its report this time around for April 24th, which comes after April options expire. Therefore you likely will not make the misguided move of buying April calls ahead of earnings. Even so, the May calls are also little more than a fool's idea of gold.
When our hearts take over our minds, we make really poor decisions. You'll look at AAPL's numbers and see that it hit an all-time high of $644.00 on the recent run. That becomes the new price target and, while we're at it, why don't we add on another six bucks for good measure. Yes, I will take two beers in souvenir cups, an order of garlic fries, nachos and 3 AAPL May $650 calls for $11.55 each. I really cannot believe the market manipulators knocked them down by over $3.00 each.
I am here with a simple and straightforward message: Do not do that trade. If you must go long AAPL ahead of earnings, go deep, very deep ITM, preferably with long-dated calls. Use nothing that expires before 2013. That might sound conservative, but if AAPL does resume its rally, it might not happen right away, so buy yourself some time and intrinsic value. Long-dated, deep ITM, that's where the actual "bargains" are, particularly if your rabid bullishness turns into reality once again.
In other words, don't throw yourself into a trade where you not only need everything to go off without a hitch, but you need that level of perfect execution to happen now.
Disclosure: I have no positions in any stocks mentioned, and no plans to initiate any positions within the next 72 hours.