By Brendan Gilmartin
Overview
Intel (INTC) is scheduled to report 1Q 2012 earnings after the closing bell on Tuesday, April 17. Results are typically available via press release at 4:15 p.m. EST with a conference call to follow at 5:30. Aside from Intel shares, other tech names are often impacted by the results, including Advanced Micro Devices (AMD) and related ETFs such as the PowerShares (QQQ). Also note that IBM Corp. (IBM) is slated to post its results after the closing bell and could influence the direction of the market around the time Intel delivers its results.

Outliers And Strategy
Key Measures:
Intel is seen posting EPS of $0.50, the midpoint of analyst forecasts ($0.46 to $0.55).
Gross Margins: Intel stated back in December it expects gross margins of 62.0% - 66.0% (Non-GAAP).
Keep an eye on the following guidance measures for the 2Q 2012 period:
Revenues Guidance (Est. $13.43 bln).
Gross Margins Guidance. GMs have been running in the mid-to high 60s. A lower adjustment could be negative.
The options market is pricing in a roughly 4% move in Intel shares following the outcome of the 1Q 2012 earnings release.
Against the current market backdrop, underlying expectations are quite high with sell-side sentiment peaking and the stock at its highest level since July, 2005. With that being said, Intel's results must meaningfully top analyst estimates in order to sustain the move higher. Going back the past eight quarters, earnings have topped estimates by an average margin of 11%. With that being said, non-GAAP EPS of at least $0.56 may be needed to support further gains.
Recent News
04/16: Caris & Co. reiterated a Buy rating and raised the price target on Intel from $32 to $34, according to a post on Barron's, based on solid 1Q PC sales data and a solid inventory position. The firm also sees 2Q revenues and margins topping consensus. The same report showed analysts at Williams Financial and Bernstein Research were also looking for Intel to deliver solid 1Q results, thanks in large part to strong PC demand.
04/11: Gartner reported worldwide PC shipments totaled 89 million units in the 1Q of 2012, a 1.9% increase from the year ago period and well above estimates calling for a modest decline (-1.2%).
04/10: RBC Capital raised its price target on Intel from $30 to $33 in advance of the 1Q 2012 earnings release, according to a post on StreetInsider.com. The firm cited strength in the enterprise and data center segments, along with an upbeat 2Q outlook.
03/22: Intel declared a $0.21 per share ($0.84 on an annual basis) quarterly dividend on the company's common stock.
Technical Review
Intel shares are up more than 16% YTD and at the highest level in close to seven years. With that being said, there is little resistance beyond the 52-week high of $28.55. Should earnings fail to meet lofty expectations, support is at $28.00 (20-Day SMA), $27.50, and $27.00. (Chart courtesy of StockCharts.com).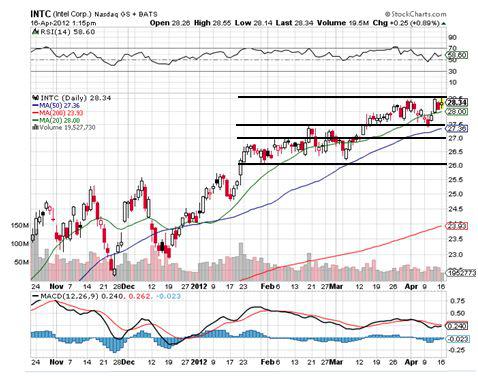 Summary
Intel shares are at the highest level in close to seven years, thanks to a pickup in PC sales, data center expansion, enterprise demand, new products for the mobile segment and robust margins. But with the recent run-up and sell-side expectations at lofty levels, much of the positive news appears priced in, leaving Intel vulnerable to even the slightest disappointment. Much of the focus will therefore center on the outlook for 2Q 2012, particularly gross margin and revenue expectations.
Disclaimer: By using this report, you acknowledge that Selerity, Inc. is in no way liable for losses or gains arising out of commentary, analysis and or data in this report. Your investment decisions and recommendations are made entirely at your discretion. Selerity does not own securities in companies that they write about, is not an investment adviser, and the content contained herein is not an endorsement to buy or sell any securities. No content published as part of this report constitutes a recommendation that any particular investment, security, portfolio of securities, transaction or investment strategy is suitable for any specific person.
Disclosure: I have no positions in any stocks mentioned, and no plans to initiate any positions within the next 72 hours.