Since their introduction in 1997, U.S. Treasury Inflation-Protected Securities (TIPS) have provided an investment vehicle that offers protection against inflation. But to optimally obtain this protection, investors need more than just market exposure to TIPS. This is especially the case in the current environment, where rising interest rates are viewed as a foregone conclusion if the economic expansion gains serious traction.
As Reuters' Tim McLaughlin notes in his article "Inflation-fighting funds see mounting rate risk," a typical feature of many TIPS funds is significant exposure to longer duration fixed income assets. This is particularly common among funds weighted to standard benchmark indices. Thus, these funds pose a risk of market value declines should interest rates rise.
In our view, this highlights why the key to using TIPS funds effectively lies in understanding and controlling their duration exposures.
Focusing on duration enhances an investor's ability to:
1) Tailor inflation-hedging strategies with precision.
2) Manage interest-rate risk.
For example, investors seeking to reduce duration risk typically consider fixed income products with shorter durations. Why? Because the shorter a bond fund's duration, the less its share price will rise or fall with interest-rate changes. Looking at this from a TIPS fund perspective, changes in inflation expectations create much volatility in duration over time (specifically, modified adjusted duration, as in the chart below) which complicates portfolio construction.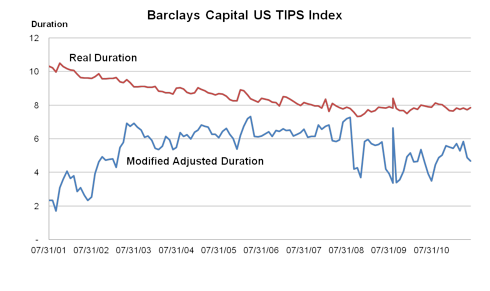 Real duration (red) versus modified adjusted duration (blue) for the Barclays Capital US TIPS Index
One way to address these challenges is with the FlexShares iBoxx 3-Year Target Duration TIPS Index Fund (NYSEARCA:TDTT) or FlexShares iBoxx 5-Year Target Duration TIPS Index Fund (NYSEARCA:TDTF). These FlexShares ETFs are among the first indexed products that strive to remove variability around duration in a TIPS fund, allowing investors to obtain the inflation hedging benefits of TIPS without taking on unintended interest rate risk.
With many market participants anticipating rising interest rates and worsening inflation as the economy strengthens, investors with holdings in market-weighted TIPS products may find this an opportune time to consider shifting into TDTT or TDTF - using them as tools that may help them to better manage their interest-rate risk while maintaining their exposure to TIPS should inflation increase.
Disclaimer
Before investing, carefully consider the FlexShares investment objectives, risks, charges and expenses. This and other information is in the prospectus, a copy of which may be obtained by visiting flexshares.com. Read the prospectus carefully before you invest.
Foreside Fund Services, LLC, distributor.
An investment in either Fund is subject to investment risk, including the possible loss of principal amount invested. The Funds are subject to the following risks: asset class risk; concentration risk; derivatives risk; issuer risk; management risk; market trading risk; non-diversification risk; passive investment risk; and tracking error risk. Please see the prospectus for a complete description of risks.
In addition, the FlexShares iBoxx 3-Year Target Duration TIPS Fund and the FlexShares iBoxx 5-Year Target Duration TIPS Fund may invest in derivative instruments. Changes in the value of the derivative may not correlate with the underlying asset, rate or index and the Funds could lose more than the principal amount invested. The Funds are subject to fluctuation of yield risk, income risk, inflation protected security risk and interest rate/maturity risk. The Funds are non-diversified meaning their performance may depend on the performance of a small number of issuers because the Fund may invest a large percentage of its assets in securities issued by or representing a small number of issuers.
Duration is also a measure of a fixed income security's price sensitivity to a change in market interest rates. Real duration measures the changes in the value of TIPS as a result of changes in real interest rates. However, real yield movements explain only one component of TIPS returns. Changing inflation expectations also affect TIPS returns vis-à-vis other fixed income products. Modified adjusted duration is an estimate of the market duration of a specific TIPS. It provides a way for investors to compare, on an apples-to-apples basis, the interest rate sensitivity of TIPS to other fixed income securities, based on inflation expectations.
The Barclays Capital U.S. TIPS Index includes all publicly issued, U.S. Treasury inflation protected securities that have at least one year remaining to maturity, are rated investment grade, and have $250 million or more of outstanding face value. One cannot invest directly in an index.