On a gloomy Friday the 13th, Herb Greenberg published an interview with CT Capital's Ken Hackel. According to Hackel, Google (GOOG) will beat Apple (AAPL) to $1,000 per share. Hackel's argument is sound, but my focus is not on Google, nor Apple; but rather Priceline.com (PCLN). Priceline not only has a big head start on Google and Apple, but Priceline also has a stable business model that will thrive during economic weakness as well as strength. In further analysis I will detail whether Priceline's competitors can derail the giant and the reasons Priceline will beat Apple and Google to $1,000 per share.
Priceline provides consumers with discounts on vacation packages, cars, hotels and air travel. These discounts give Priceline a continuous market because whether the economy is thriving or waning consumers are always happy to save a few bucks. Therefore as long as Priceline continues to provide consumers with great deals we will see the company's revenue, income and share price move higher.
As with any company that uses the Internet for its business, it is very easy to copy the business model. If, for instance, Priceline's competition has the ability to deter the travel giant then the share price will not continue to appreciate higher. Priceline's biggest competitor is Expedia (EXPE). After Expedia, Priceline's biggest closest competitors are Ctrip.com (CTRP) and Orbitz (NYSE:OWW).
Of the four discount travel firms Priceline has fundamentally performed the best. When analyzing the financial data of these firms it is important to keep in mind seasonality. Seasonality forces us to rely on yearly growth rates. For instance Priceline's highest revenue comes from the summer quarter but yearly revenue, income and operating cash flows have increased yearly over the past four years. Ctrip can also make this claim.
Ctrip has a firm grasp on the Chinese market, but Ctrip's margin growth is a question mark going forward. On the other hand, Expedia and Orbitz have improving net profit margins on a year over year basis. Unfortunately Expedia and Orbitz also have high operating costs that are dwindling shareholder income as well as a diminishing total assets to total liabilities ratio. This indicates that these two firms are spending more money to improve operations. If these costs are fixed then it indicates that Priceline is intimidating the competition, which also indicates that Priceline is viewed as the stronger firm.
| | 2011 | 2010 | 2009 | 2008 |
| --- | --- | --- | --- | --- |
| Net Profit Margin | 13.7% | 13.9% | 10.9% | -85% |
| Total Assets/Total Liabilities | 1.5 | 1.67 | 1.82 | 1.64 |
| | 2011 | 2010 | 2009 | 2008 |
| --- | --- | --- | --- | --- |
| Net Profit Margin | -4.8% | -7.7% | -45.6% | -34.4% |
| Total Assets/Total Liabilities | 1.16 | 1.18 | 1.11 | 1.38 |
Furthermore, it appears Priceline is the king of the discount travel website industry. Having a year round advantage as well as a 24% net profit margin will help power Priceline's shares to $1,000 before Apple and Google.
But what about Apple and Google? Priceline's business is destined to continue growing, but it is important to discuss Apple and Google as well. As Hackel stated in the CNBC article:
"It (Google) continues to grow free cash flow by over 20% ... and that's on top of a low valuation ... Free cash flow for Google should reach over $22.5 billion in three years - or just a 14.4 multiple."
Hackel goes on to say:
"Google actually has lower cost of capital due to its greater historical consistency relative to Apple ... And that Apple, despite being the world's largest public company, strongest credit and having a striking short term outlook, also now carries risk to its valuation, which should become apparent over the coming year. This includes size, sector, stability metrics, reliance on China, as well as political and consumer pressures related to its success."
Hackel's concerns may be overblown regarding Apple, but the truth is Priceline does not have these kinds of possible weaknesses and Apple's business is dependent upon customer loyalty. Apple's products are top of the line, but Samsung produces similar products (remember Samsung is the likely supplier of the iPad 3's retina display) and if consumers were not loyal to Apple they would purchase other products. Priceline's business, on the other hand, will be successful as long as the website can provide consumers with great discounts on vacations and other traveling needs.
With that in mind we can briefly turn to the charts. After Friday's close Priceline stood in the lead at 735, Google in second at 624, and Apple in third at 605. Priceline is down from a 52-week high of 774.96, Google has pulled back from a 670.25 high, and Apple's trailing 12-month high is 644. If we backdate Priceline's one for six reverse split the stock has an all time high of 990. Just to be clear, the reverse split occurred on June 16, 2003, therefore the stock did not actually reach 990 on April 30, 1999. This reverse split is also a key reason why Priceline only has 49.8 million outstanding shares. If we use another hypothetical and give investors back their six shares Priceline would have 298.8 million shares outstanding; which is below Google's 330 million and Apple's 932 million.
(Click to enlarge)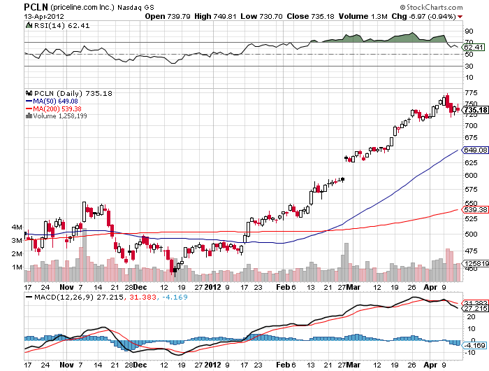 Click to enlarge
(Click to enlarge)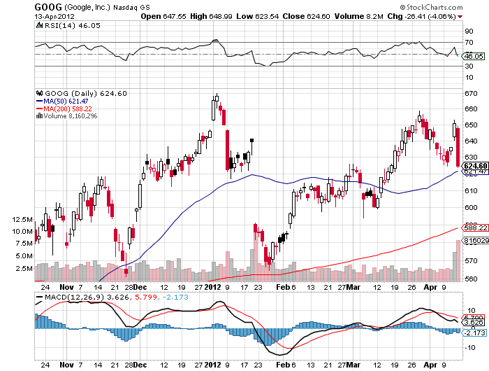 Click to enlarge
(Click to enlarge)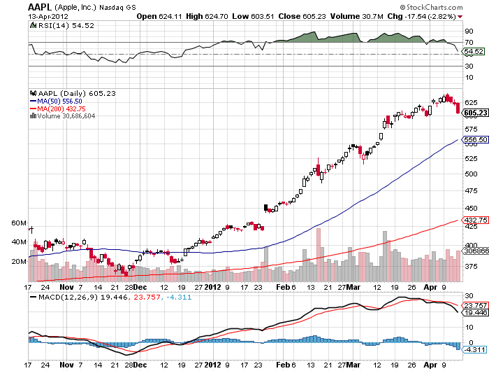 Click to enlarge
In the end, all three stocks are actually strong investment choices. Google's short term outlook is a little hazy after the complicated Class C shares announcement. This concern is more focused on Google's stock price because the business is still running very smoothly and presents a great long term investment opportunity. On the other hand many investors are, for a lack of a better word, speechless at the moment. But this will pass smoothly and Google's second ticker symbol will trade without a hitch.
Nonetheless Apple and Priceline will continue to move higher in tandem. And with Priceline's big summer months approaching the share price will begin to move substantially higher. A lower unemployment rate will fuel Priceline's share price because more working families generally translates into more family traveling and/or business traveling and thus a greater use of Priceline. Apple on the other hand just had its major holiday quarter, but this does not mean the share price is doomed. Even though the holiday season has passed, Apple will continue to release products this year; such as, but not limited to, a mini iPad, a new Apple TV, iPhone 5 and who knows what else is in the Apple wood shed. These are all catalysts for the stock price.
Lastly, it is important to note a few points. First, a company's share price is not all that important. For instance, for all we know Google, Apple and Priceline will declare a two for one split when they reach 900. Secondly, the sole reason Priceline is over 700 is because the company's one for six reverse split. If not for this split the share price would be 122, assuming the stock would have traded at the same rate. The third and likely most important point to make is that Priceline, Apple and Google are 36%, 65% and 60% under $1000, respectively. I am anticipating that these stocks will all make these respective percentage gains. Therefore as I stated before, these three growth stocks are strong long-term investment choices. But Priceline will inevitably win the "race to 1,000."
Disclosure: I have no positions in any stocks mentioned, and no plans to initiate any positions within the next 72 hours.