I know 2011 is over (for now), but I would like to bring up Boomerang by Michael Lewis-- specifically its discussion of Iceland. In Iceland, money was passed back and forth between buyers and sellers, with the price increasing in each transaction. Ultimately this served both buyers and sellers, because the buyers and sellers were the same people: the finance industry. Hidden beneath a layer of complexity of deal structuring was a simple manufacturing of value. Unlike other countries' stories which are still being untangled, this Icelandic buyer-seller loop proved remarkably simple in hindsight.
James Altucher recently identified a similar loop in the patent space:
So the same lawyer is both defending and accusing in the same domain. Someone's going to settle. Everyone will settle. If anyone loses this case then the entire industry is going down in the same lawsuit and the exact same lawyer will be stuck on both sides of the fence.
This was in an article about Vringo (VRNG), which represents a trade to capitalize on the antiquity of intellectual property law as it applies to software. Altucher implies you should buy Vringo because this inbred litigation loop shapes a bubble. And the bubble is reliable, because if it pops, then that would be a disaster in "the entire industry".
But wait, there's more. Altucher isn't the only shark riding this wave:
Billionaire investor Mark Cuban has taken a major stake in a small video-ringtone maker with annual revenue of less than $1 million, a disclosure that comes a day after he made an investment in another applications maker.
No offense Mark, but what happened to the guys who bought Broadcast.com from you (YHOO)? Oh yeah, they're the guys who are desperately suing Facebook (FB) now...for patents. You're too good with numbers, Mark. I don't want to sit on the other side of any table with you, ever. And I don't know whose side you're on in the Vringo trade.
The lawyers are doing more mental wrestling than the engineers. They're manufacturing complexity. The question is, how far can the information technology patent industry push this layer of complexity through the lawyer loop--before it stretches thin and the bubble pops?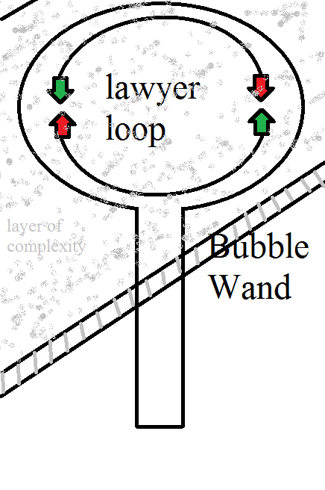 Reiterating a "hold" on Vringo.
Disclosure: I have no positions in any stocks mentioned, and no plans to initiate any positions within the next 72 hours.