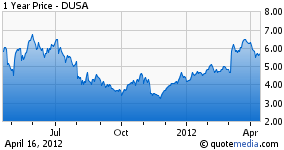 There are certain dusty corners of biopharma where most investors just don't look all that often, and eye care and skin care are high on the list. While the addressable markets are well short of what investors expect from areas like oncology or autoimmune disease, the relative lack of competition can make these profitable niches. As under-followed ISTA Pharmaceuticals (ISTA) recently rode a limited roster of products to a worthwhile takeout price, investors may want to consider DUSA Pharmaceuticals (DUSA) for similar potential.
All About Levulan PDT And AK
DUSA is basically a one-therapy story. The company sells its patented BLU-U light source and a patented form of aminolevulinic acid (ALA) called Levulan, that comes in an applicator called the Kerastick. While the light source has some incremental uses on its own (acne), all of these parts come together for the treatment of a condition called actinic keratosis (AK).
AK is a fairly common precancerous skin lesion caused by sun exposure. It's most common in the elderly (a lifetime of sun damage to the skin...) and generally presents as red blotches. So common is AK that roughly 10% of visits to U.S. dermatologists are for the diagnosis or treatment of AK (5.5 million visits/year). Though not painful in its own right, it can be unsightly and a small percentage of AK lesions will progress into squamous cell carcinoma.
Roughly 50% of people will have some form of AK in their lifetime, with about 20% in the moderate or severe categories. This is an age-related condition and the incidences are significantly higher in those who take drugs that impact the immune systems (including popular drugs like Abbott Labs' (ABT) Humira).
Levulan PDT And The Alternatives
There are a variety of treatment options for AK. The most conservative options are topical creams and treatments. These demand several weeks of patient compliance, can present unpleasant side-effects like pain and raw/peeling skin, and offer clearance rates of less than 50% in the best cases. That said, companies including Valeant (VRX), Allergan (AGN), Medicis (MRX), and Glaxo's (GSK) Stiefel Labs all have significant interests and R&D investments in topical dermatological medication and a better AK therapy would be a worthwhile incremental product.
More common is cryotherapy - either on its own or in conjunction with topical treatments. Cryotherapy uses liquid nitrogen to freeze off the lesions and is the therapy of choice in about three-quarters of cases. While cryotherapy is effective (two-thirds see clearance), about 30% experience long-lasting white spots (hypopigmentation) and the therapy can be uncomfortable for large lesions.
Levulan PDT is a different approach. Patients come in the day before, have the Levulan applied with the Kerastick and then come back the next day for exposure to the light source. Two-thirds of patients see complete clearance and there are minimal long-term side-effects, though patients can experience some unpleasant burning, stinging, or itching between the application and treatment and need to avoid the sun in the meantime.
This treatment carries a $165 ASP for each stick, and docs have to also buy the BLU-U light source (which costs about $7,500). With current reimbursement (largely Medicare), docs can make between $140 and $150 for a treatment - well ahead of the sub-$50 reimbursement for topical prescriptions and higher in most cases than cryotherapy. Admittedly, it does take time to break even on the initial outlay for the light source, but this treatment approach offers good economics for high-volume users (not to mention the benefits of satisfied customers).
Finally Hitting Its Stride?
It's definitely taken a long time for DUSA to make good on this therapy. Originally DUSA had an agreement with Schering to sell the therapy, but initial sales were poor because of reimbursement issues and DUSA ultimately had to take it over for themselves. With the capital limitations of a small, money-losing company, DUSA was not able to really invest in the marketing of Levulan PDT and acceptance has taken many years.
That said, that acceptance has finally started to show up. Levulan PDT has maybe 5-6% of the available market now and DUSA's profitability is allowing for bigger commitments to marketing and sales. It also doesn't hurt that Levulan PDT is quite profitable for DUSA as volumes pick up - the light source is basically a break-even proposition, but gross margin on the Kerastick is about 90%.
Patent coverage is also pretty good. While one of the patents was supposed to expire in 2013, additional claims have extended that through 2019. It's also worth noting that a would-be competitor can't just copy the drug part of the treatment; BLU-U works at a specific wavelength and I believe both aspects of the therapy (drug and light source) have to clear the FDA. Given the current share of the therapy, I'm not sure the immediate addressable market would make that sort of investment worthwhile for most smaller generic companies.
As said before, interest in this therapy seems to be taking off. Seven years of improved reimbursement have made the therapy economically interesting and the company boasts about a 90% close rate on light systems it places with docs on an evaluation basis. With 1,800 units in place, that suggests that market share could triple as usage rates from new doctors accelerate, but there is a risk that some of these units are basically abandoned in the field.
DUSA is also doing its part to stimulate demand. On their own, dermatologists have discovered that they can achieve comparable results with much shorter dwell times. This would almost certainly make the therapy easier for both patient and doctor - improving patient flow and reducing the amount of time exposed to that stinging/burning sensation. DUSA has two studies underway to support using the therapy with shorter dwell times and/or broader application (to treat sub-clinical lesions) and positive results would likely help acceptance.
Is There A Second Act?
While Levulan PDT is interesting in its own right, DUSA would benefit from a clearer path to becoming a multi-product company. The company has identified potential follow-on markets like acne vulgaris, warts, and skin cancer, but these are still in early stages of development. If nothing else, DUSA at least has the advantage that clinical trials for dermatological treatments are usually pretty quick and straightforward.
It's also worth wondering if DUSA will consider future M&A. The company tried this once (Sirius) and it went badly for the company. That said, there are several tiny dermatological biopharmas out there with just one or two products and buying one or two of these could be a win-win as DUSA better leverages its salesforce.
DUSA is also developing a next-gen technology to supplant Levulan PDT and more information could be available on this in 2012. That said, DUSA may not have the market to itself, as its own 10-K mentions potential competitive efforts from the likes of QLT (QLTI) and Pharmacyclics (PCYC), though neither of these companies mentions dermatology as an area of priority or focus.
The Bottom Line
Insiders hold a decent slug of shares here, but the stock is somewhat thin from an institutional perspective and institutional ownership is somewhat below average. All in all, it's an under-followed story even as it has tripled since the start of 2010.
I believe that revenue can double over the next five years, as even this level of revenue would suggest less penetration from the therapy than the installed base of BLU-U light sources would suggest. I also believe that DUSA can now start demonstrating cash flow conversion more on par with profitable dermatology companies, and that should lead to solid growth over the next five years as well.
It all boils down to a fair value of a little over $7 per share on the basis of about 10-12% share penetration for actinic keratosis and no incremental product introductions. With plenty of potential fish in the sea for a small deal, there would be seem to be upside to the revenue number and recent trends are supportive of further uptake. It's a risky story that will take some time to develop, but patient investors may find a worthwhile risk-reward tradeoff here.
Disclosure: I am long ISTA.