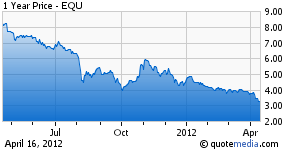 On April 2nd I wrote an article proposing a dividend focused restructuring plan for the Canadian based oil and gas producer Equal Energy (EQU). Today I would like to introduce an alternative course of action that Equal Energy could pursue.
Extremely Low Valuation
Equal energy is currently trading at a valuation closer to a pure dry natural gas producer. Based on the company's current enterprise value, and in light of the cash proceeds received from the Joint venture signed with Atlas Resources (ARP), Equal Energy is trading at $26500 per flowing barrel.
To put this valuation in perspective, the company's peers trade at a valuation between $58000 and $65000 per flowing barrel:
Divesting for growth
In my previous article, I have argued for the divesture of the Canadian oil assets and the transformation of the U.S.-based assets into a mutual fund dividend trust. In this article, I will argue for divesting the company's Hunton dry gas / NGL rich assets in order to allow for the full development of the company's substantial crude oil portfolio.
The Hunton:
Equal Energy produces 8700 barrels per day from its Hunton asset located in Oklahoma. The Hunton production is composed of:
56% Natural Gas
41% NGLs
3% Crude Oil
The company has identified 40 to 60 drilling locations on this acreage.
Source: Equal Energy
It is hard to put an exact value on the Hunton, since there is no other publicly traded company with assets in the Hunton. The closest comparison is the purchase of 110 mcf in production (63% NG, 37% NGLs) in Kansas by Linn Energy (LINE) from BP (NYSE:BP) in February 2012 for $1.2 billion or $65500 per flowing barrel. Linn Energy closed another deal in March further south in Texas for 24 mcf in production (97% natural gas) for $175m or $43750 per flowing barrel.
Considering the high water content in the Hunton production, smaller reserves and generally weaker natural gas and NGL prices since Linn energy closed its deals, and to prove my point about Equal Energy's extreme undervaluation, the valuation I will be using is $29000 per flowing barrel. This is also 50% of the TD Waterhouse average valuation for producers with over 60% natural gas exposure.
Considering the depth of the remaining Hunton inventory and the 44% liquids component, a $29000 per flowing barrel valuation is right at the extreme bottom of what could be obtained. Yet even at this reduced price Equal Energy would net $252m out of the deal.
If we were to apply a valuation more in line with what Linn paid for the BP assets, Equal Hunton asset would be valued at $569m.
What is left post deal?
Once the Hunton is divested, Equal Energy will be left with 1100 barrels per day in light oil production from its Cardium & Viking oil assets in Canada, and 50% of the oil rich Mississippian acreage in Oklahoma.
The Cardium Lochend - located in Alberta
38 API sweet oil with over 30+ locations identified:
Source: Equal energy
The Alliance Viking - Located in Alberta
34 API Sweet oil with 150 to 250 identified locations:
Source: Equal Energy
50% of the Mississippian 14500 acreage - Located in Oklahoma
57% Natural Gas - 43% Crude oil with 90+ identified locations
Source: Equal energy
Collectively, those assets are worth between $96m to $129m - based on the value of prior deals in the Cardium/Viking and based on the valuation obtained by the company for it most recent Mississippian Atlas deal.
Source: TD Waterhouse
The company will also have a small oil asset in the Clair oil field in Alberta
Post Divesture value
Cash:
Proceeds from the Hunton Divesture: $252m
Net Cash position after debt repayment: $105m
Net Cash per share: $3
Production value:
Production: 1100 barrels light oil; with significant production upside from continued drilling at the Viking, Cardium and the Mississippian, production could double within one year of the divesture. The company's ample cash position will give it added flexibility to pursue an aggressive drilling program.
Considering the debt free position of the company, an oil focused production and extensive growth inventory, Equal production can be easily valued at $100K per flowing barrel post divesture; thus giving us a value of $110m or $3.2 per share.
Total value per share post divesture:
$3 net cash +
$3.2 production value
Total: $6.2 per share (or 90% higher than the current stock price).
There is also a potential for significant appreciation as the company's oil assets are exploited. A special cash dividend can also be envisaged.
The need for a restructuring
The exercise above confirms yet again the immense hidden value in Equal Energy shares. The company's management and board of directors must understand that their current strategy, or lack thereof, has completely failed. While they may choose to ignore the dissident shareholders, the company can't continue to ignore the market (Equal shares declined by over 30% since the start of the year vs. a 9% decline in the S&P TSX energy index). A new path along the lines of the shareholder's mutual dividend trust plan or along new growth orientated lines needs to be pursued.
Equal Energy needs to publicly announce that it is undertaking a strategic review; such an announcement will halt the continued decline in the share price and protect the company from a possible hostile acquisition at a depressed valuation, while giving the company enough time to evaluate all possible strategic options.
A failure to act prior to the annual shareholders meeting on May 11th could expose the company to an escalating shareholders revolt, which is not in the interest of any of the parties involved. A house divided cannot stand: Equal Energy needs to work with its shareholders to find a suitable solution to get out of its current predicament.
Disclosure: I am long EQU.