BioCryst Pharmaceuticals (BCRX) is spending too much money. In the fourth quarter of 2011 BioCryst spent $13.2 million in net income - this included $15.2 million in research costs. According to the company's balance sheet it has $52.8 million dollars in cash reserves - this means that at its current expenditure level it will be out of money by December 31, 2012. BioCryst has several positive things that could dramatically reduce costs. The first thing that could reduce costs is their Phase III drug Peramivir (antiviral for treatment of influenza) is being subsidized by the Biomedical Advanced Research and Development Authority (BARDA) and requires no additional research money. The second thing that could reduce costs is that their drug BCX4802 (PNP inhibitor for the chronic treatment of Gout) has finished its Phase II trials and is waiting for a partner to take over development costs - so no further development spending is necessary. The third thing that should reduce costs is that Forodesine (PNP inhibitor for the treatment of leukemia) has been licensed to Mundipharma - Mundipharma will take over development expenses. The final thing to reduce costs is that their other drugs have not started Phase I trials yet - which means their expenses are very low. So BioCryst Pharmaceuticals should be able to dramatically reduce costs if management is willing to make the cuts in personnel and lab expenses associated with a lower research budget. Balance Sheet
Peramivir - Influenza Drug
One of the reasons BioCryst Pharmaceuticals looks great is their drug Peramivir. This drug is delivered intravenously and inhibits the interactions of influenza neuraminidase, an enzyme that is critical to the spread of influenza in the patient. Peramivir is an inhibitor of influenza A and B viruses including strains of influenza that may be resistant to available neuraminidase inhibitors. According to the Centers for Disease Control and Prevention (NASDAQ:CDC) an estimated 5%-20% of the American population suffers from influenza annually. In January 2006, BioCryst received Fast Track designation from the Food and Drug Administration (FDA) and the drug is currently being developed under a $234.8 million contract from BARDA. Peramivir currently has an ongoing Phase III trial in the U.S. and has been approved in Japan and Korea. Infuenza could result in income for BioCryst in any particular year.
BCX4208 - Gout Drug
Another reason BioCryst looks great is their drug BCX4208 - a Phase III ready purine nucleoside phosphorylase (PNP) inhibitor for the once-daily oral, chronic treatment of gout. Gout is a serious illness affecting 17 million people in major markets and 8.3 million in the United States. Gout causes inflammatory arthritis caused by monosodium urate crystal deposits in joints and kidneys. The drug BCX4208 was found to be safe and well tolerated through 24 weeks of treatment when used as an add-on therapy to allopurinol in gout patients who have not adequately responded to allopurinol alone. This drug could help millions of people deal with a chronic condition with no known cure. A lucrative partnership deal could be in the works for this drug.
BCX5191 - Hepatitis Drug
The final reason BioCryst looks great in their drug BCX5191. This drug is an investigational nucleoside analog inhibitor of HCV RNA polymerase (NS5B) for the treatment of Hepatitis C. This is a liver disease that results from the infection with the Hepatitis C virus (HCV) and can lead to life-threatening problems such as liver damage, cirrhosis, liver failure or liver cancer. It has been reported from the Centers of Disease Control and Prevention that deaths due to HCV infection are now higher than deaths from HIV infection in the United States. In the U.S. there are about four million people who have chronic Hepatitis C. BioCryst Pharmaceutical has a patent problem with its Hepatitis C drug. Biota Holdings was granted the patent for the drug first. According to Biocryst the patent was "improvidently given" and the company will fight to "correct an apparent error" made by the patent office. Biota Holding's patent application was filed almost a year and a half after BioCryst's application. BioCryst hopes to start Phase I trials of BCX5191 in the fourth quarter of this year.
Income Statement - all in thousands of dollars income statement
Q1 2011- revenues 5,435; research 12,932; selling and admin. 4,002; operating income (11,499); Net Income (13,027)
Q2 2011- revenues 3,735; research 13,975; selling and admin. 4,003; operating income (14,243); Net Income (16,271)
Q3 2011- revenues 5,249; research 14,780; selling and admin. 3,272; operating income (12,803); Net Income (14,458)
Q4 2011- revenues 5,224; research 15,211; selling and admin. 1,055; operating income (11,042); Net Income (13,192)
In 2011 we saw some trends. Revenues stayed flat all year. Research expenses inched upwards from $12,932 in Q1 to $15,211 in Q4. BioCryst must get research expenses under control if they are going to stay in business. Selling and administrative costs decreased from $4,002 in Q1 to $1,055 in Q4 - this was a positive trend. Operating costs inched upward and then ended up at ($11,042) because of lower selling and administrative costs. Net income was a little higher then operating income and followed the same trend.
Chart of BioCryst Pharmaceutical, Inc.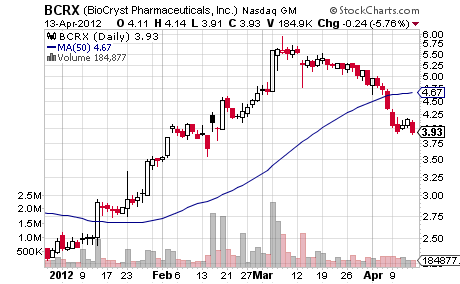 BioCryst Pharmaceuticals trended higher until mid-March. This was the result of the market trending higher and it being flu season. Finally the market sold off for the last few weeks and BioCryst fell to $3.93 a share. Several things are pressuring BioCryst Pharmaceuticals- the first thing is that it was a mild year with no influenza, the second thing is that the company is spending too much on research, and the final thing is that their Hepatitis drug is in a patent dispute.
Disclosure: I have no positions in any stocks mentioned, and no plans to initiate any positions within the next 72 hours.