Company Overview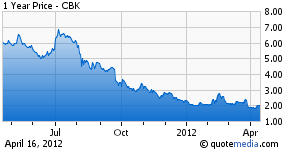 Christopher & Banks (CBK) is a Minnesota based women's clothing and accessories retailer that is worth a serious look at this time. The company operates approximately 676 stores in 44 states, including 389 Christopher & Banks stores, 199 C.J. Banks stores, 62 dual-concept stores and 23 outlet stores. The company also operates e-commerce web sites for each of its brands here and here.
Current Situation
Like other women's retailers such as Talbot's (TLB), Colderwater Creek (CWTR), New York & Company (NWY) and Charming Shoppes (CHRS), 2011 proved to be a challenging year for CBK. Same-store sales decreased 5% for the year, although e-commerce revenue grew by $6 million which was an encouraging sign. Merchandise margins declined 10.4% due to an 8.7% increase in markdowns as a percentage of sales. Higher commodity costs such as cottons and fibers, increased labor rates and transportation costs also pressured margins. The company's CEO and CFO both departed in 2011, which resulted in a $1.5 million charge for severance. For the first time ever, the company had negative cash from operations amounting to -$25.8 million and capital expenditures amounted to $11.7 million. These two factors were the primary drivers behind the overall reduction of the company's cash balance to $61.7 million from $105.5 million at the end of 2010.
(Click to enlarge)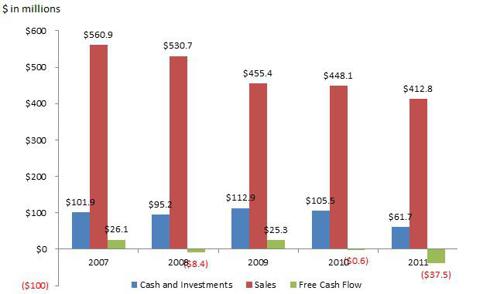 Click to enlarge
At the current share price of $2.00, CBK has $1.71 in net cash per share, which implies that the operating business and other net assets can be purchased for only $0.29. In the table below, we illustrate the main assets and liabilities of the company according to its recently filed 10-K. To be conservative, we've approached the balance sheet from a liquidation perspective and have discounted the current assets to arrive at a sensible downside case scenario of $1.63 per share. We've implicitly assumed the company may continue to burn cash for the next quarter (possibly two quarters), while the effects of the company's new strategy are implemented.
However, we believe the situation is not as dire as the stock price might suggest given that the company has $111 million of total liquidity and is supported by an undrawn credit facility of $50 million. Even if we assume 2012 is as bad as 2011 (which we don't believe it will be), the company has ample liquidity for the remainder of the year. We also note that over $13 million of the company's liabilities are tied to gift cards, store credit and the company's loyalty rewards programs. In a liquidation scenario, there is ample precedent that these liabilities would not need to be honored by the company. Therefore, we assign a 25% discount factor to these liabilities in arriving at our downside liquidation scenario of $1.63 per share.
(Click to enlarge)
CBK's New Strategy
In recognizing that significant and swift changes to the business needed to be made, the company has taken decisive action to implement a turnaround. We have outlined the major changes recently enacted in the bullet points below.
New Management Appointment: The company appointed Joel Waller, a seasoned retail executive in early 2012. Mr. Waller has significant experience driving financial and operational change at retail companies including Wet Seal and Wilsons Leather.
Eliminated Dividend: Conserves $8.5m in cash per year.
Substantially Reduce Capital Spending: Capital expenditures have historically been between $8m - $12m per year. Current year expenditures will be limited to new store expansion only and approximately $6 million.
Close Underperforming Stores: 103 stores were identified for elimination. All but eight of the 103 stores have already been closed since Q4'11.
Restructure Occupancy: In addition to store closures, CBK is seeking to restructure the occupancy costs of a majority of remaining stores and covert or consolidate a number of existing Christopher & Bank or C.J. Banks stores into a dual-store location in order to serve the missy, petite and plus size customers in those locations.
Reduce Headcount: 27% of store operations field managers and 14% of full and part-time store positions have been eliminated. Also, 15% of the corporate office headcount has been reduced.
Optimize Supply Chain: 16% of CBK's merchandise is sourced from overseas manufacturers. The company will work with more domestic suppliers to speed product fulfillment and consolidate suppliers to secure better pricing terms.
Optimize Product Mix and Pricing: CBK's product assortment was too focused on higher-priced, fashion-forward styles for its customers. Going forward, the company is reducing the overall number of unique styles carried at moderated price points to better align its product mix to its core customer base.
Optimize financial flexibility: The company recently amended its credit facility with lenders that temporarily relaxes some of its restrictive covenants, including a reduction of the required inventory turns and the minimum cash requirement. The amendment also adjusted the maximum line amount available.
What could be the upside if CBK is successful in turning around its business? At the current valuation, the Enterprise Value to Sales ratio is a paltry 0.02x. A quick look at a few other struggling women's fashion retailers suggests this valuation is overly punitive, especially since the company is not financially levered and has the best balance sheet among its peers. A normalized, yet still discounted multiple range, would be 0.10x - 0.30x.
(Click to enlarge)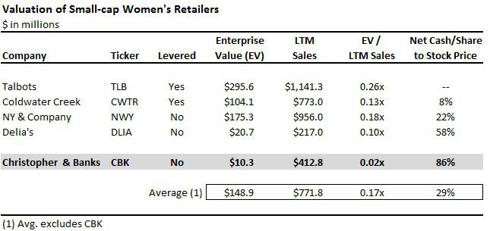 Click to enlarge
On an Enterprise Value to EBITDA basis, a normalized range would be 3.0x - 5.0x. In the table below, we've outlined a range of share prices which assumes the company maintains $50 million of cash on its balance sheet, has no financial borrowings and 36 million shares outstanding. The sales and EBITDA figures are also adjusted for the recently implemented store closures. Our base case price target is between $3.00 - $3.50 per share or 50% - 75% upside.
(Click to enlarge)

Click to enlarge
Summary
2012 will be a pivotal year for CBK, but we believe an overly pessimistic, worst-case scenario is more than priced in, and the current share price represents an attractive risk/reward. Apparently, we are not the only investors that believe this to be the case. Another hedge fund investor North Run Capital recently added 1 million shares in the past year to become a 5% shareholder.
Furthermore, there's been an unusual increase in open interest for call contracts, primarily at the $2.50 strike price. Last week over 6,000 calls were purchased, which expire this week. Could CBK be attracting a takeover offer at this depressed price level? Our call to the management team has yet to be returned, so we are left only to speculate.
(Click to enlarge)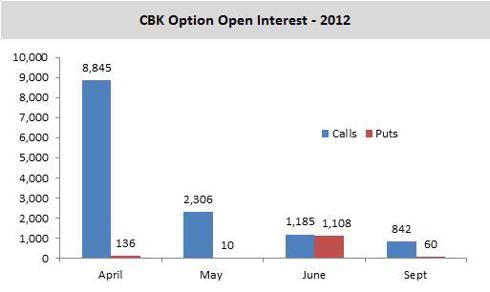 Click to enlarge
Speculation aside, the numerous strategic actions taken by the company to improve performance by jettisoning underperforming stores, conserve capital and the addition of an experienced manager in retail turnarounds, improves our optimism around the company's future. The key to upside share appreciation will be clear indications that the company can limit its cash burn, stabilize operations and start posting positive same store sales comps. Given CBK's solid balance sheet and liquidity, we are optimistic that there is downside protection from the current price. If the company is successful, the stock can appreciate 50% - 75% from its current price.
Disclosure: I am long CBK.