Nokia (NOK) lowered its outlook for the upcoming quarter, sending shares plummeting. It wasn't as though investors weren't warned off this value trap; even CEO Stephen Elop signaled how dangerous his stock had become.
In early 2011, Elop equated Nokia's chance of survival to an oil rig worker jumping off a burning platform into the frigid Atlantic Ocean. Every potential Nokia investor should read his words (and think twice about joining the Finnish company in its plunge):
There is a pertinent story about a man who was working on an oil platform in the North Sea. He woke up one night from a loud explosion, which suddenly set his entire oil platform on fire. In mere moments, he was surrounded by flames. Through the smoke and heat, he barely made his way out of the chaos to the platform's edge. When he looked down over the edge, all he could see were the dark, cold, foreboding Atlantic waters.

As the fire approached him, the man had mere seconds to react. He could stand on the platform, and inevitably be consumed by the burning flames. Or, he could plunge 30 meters in to the freezing waters. The man was standing upon a "burning platform," and he needed to make a choice.

He decided to jump. It was unexpected. In ordinary circumstances, the man would never consider plunging into icy waters. But these were not ordinary times - his platform was on fire. The man survived the fall and the waters. After he was rescued, he noted that a "burning platform" caused a radical change in his behavior.

We too, are standing on a "burning platform," and we must decide how we are going to change our behavior.
Unfortunately, for Elop and Nokia the story has not had the same "happy ending" as it did for the diver: Nokia is still struggling in the perilous iPhone and Android-infested waters. Market share is falling. Operating margins have been clobbered. Nokia is swimming toward a Windows platform in hopes of a "rescue."
I've been warning investors to stay out of this water. Nokia hasn't figured out how to swim in this new smartphone market. Witness Nokia's devastated average income per unit sale: Since the Android and iPhone introduction, operating income per unit sale has plunged from $23 to $3. Apple's (AAPL), in sharp contrast, has gone from $74 to $241 a unit.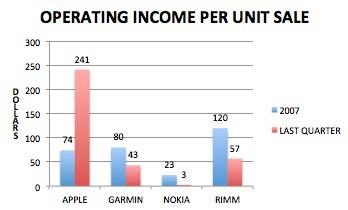 Source: My data, derived from operating income per phone/device sold.
Indeed, in 2007 the two companies -- Apple and Nokia -- moved in opposite directions financially. In 2006, both had identical operating margins. In five years, Nokia's margins have been obliterated, which is all the more remarkable considering Apple's strengthening margins. Nokia suggested operating margins would worsen next quarter.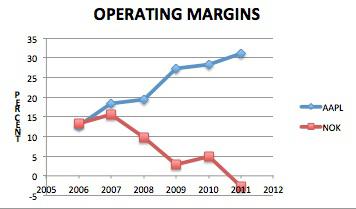 Source: Data courtesy of Morningstar.com.
Per Mr. Elop, Nokia dove off the burning Symbian platform into a treacherous market, clinging only to an untested Windows platform. There are already two successful platforms: Google's and Apple's. It's difficult to imagine Nokia clawing its way back on yet another. This has already become a crowded market, with Apple, Samsung, HTC, LG, and Sony. It's hard to see Nokia recovering.
Even at $4, Nokia is far from a buy. Why jump into the frigid Atlantic? Investors should take their cue and find calmer water elsewhere.
Disclosure: I am long AAPL.
Disclaimer: The opinions in this document are for informational and educational purposes only and should not be construed as a recommendation to buy or sell the stocks mentioned. Past performance of the companies discussed may not continue and the companies may not achieve the earnings growth as predicted. The information in this document is believed to be accurate, but under no circumstances should a person act upon the information contained within. We do not recommend that anyone act upon any investment information without first consulting an investment advisor as to the suitability of such investments for his specific situation.