There is no argument that the Eagle Ford and Williston Basin are great locations for liquid resource. In My Take On Marathon Oil, I interviewed Mr. Clarence Cazalot Jr., CEO of Marathon Oil Corp. It was his opinion that the Eagle Ford is the best play on unconventional resource in the United States and maybe the world. Marathon's results in the Eagle Ford back this assertion. Gonzales County has had the best results, but we will compare it to other parts of this play.
Click to enlarge.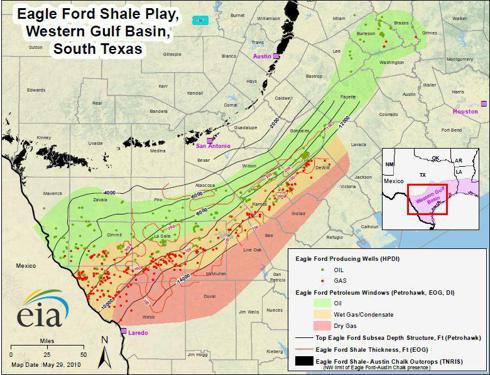 The picture above shows the depths and thickness of the Eagle Ford in the Western Gulf Basin. Some of the least expensive wells to drill are in the oil window of Maverick and Zavala counties. The Eagle Ford is found at depths of 4000 and fewer feet. This is very important as it is more shallow in the oil and condensate windows. Also, pay close attention to shale thickness. This shale increases in thickness to 300 feet in Dimmit County. This thickness decreases to 200 feet in La Salle County. The Eagle Ford is also around 200 feet thick in the Gonzales County area that EOG Resources has gotten very good results.
The Eagle Ford has had robust activity since March of 2010. Here is a list of large acreage purchases over that time frame:
March of 2010: Shell (RDS-A) purchased acreage in southeast Dimmit County for $10,000/acre.
March of 2010: Talisman (TLM) purchased acreage in McMullen and La Salle counties for $9730/acre.
June of 2010: Reliance Industries purchased acreage from Pioneer (PXD) for $11070/acre in Live Oak, Karnes, and DeWitt counties. This purchase formed a JV.
June of 2010: KKR purchased acreage to form a JV with Hilcorp for $10,000/acre in DeWitt, Karnes, Atascosa, Gonzales, Dimmit, and La Salle counties.
October of 2010: Plains purchased Karnes County acreage for $9633/acre.
October of 2010: Talisman and Statoil (STO) purchased Karnes County acreage for $13660/acre.
October of 2010: CNOOC (CEO) formed a JV with Chesapeake (CHK) in Zavala, Frio, Dimmit, La Salle, and McMullen counties for $11011/acre.
June of 2011: Talisman and Statoil purchased acreage in La Salle, Dimmit, and Zavala counties for $14610/acre.
June of 2011: Marathon (MRO) purchased Hilcorp's Eagle Ford acreage listed above for $24803/acre.
June of 2011: Mitsui formed a JV with SM Energy (SM) in Dimmit County for $18846/acre.
January of 2012: Hunt paid over $20,000/acre in the Eagle Ford.
When compared to other US unconventional plays, the Eagle Ford is commanding a much higher price per acre. When the Eagle Ford is compared to other plays, it is obvious the resource potential is much higher. Its EURs have a range of 425 to 1,000 MBoe. This variance is significant, and because of this it would be important to identify the sweet spots that produce to the higher end of these estimated recoveries.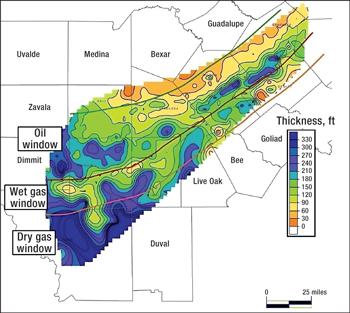 The map above gives a much more specific view of what may be the sweet spots of this play. Gonzales County has seen some significant interest, and another area to watch is Dimmit and La Salle counties.
Marathon breaks down its acreage into four areas. I use this company as a base example due to its large and broad-based acreage holding in the Eagle Ford. The dry gas window will not be discussed here, as it is not economic to drill at current gas prices. The most northern window is the oil window. The further north the lower the gas to oil ratio, which has had lower EURs and IP rates. The low GOR oil window has an average 30-day IP rate of 385 Boe/d and EURs of 445 MBoe. This area includes these counties:
Central Maverick
Central Zavala
Central Frio
Central Atascosa
Central Wilson
Northern Gonzales
Northern Fayette
The high GOR oil window is located to the south of the low GOR oil window. A very general way to locate this window is the southern half of the standard oil window. 30-day IP rates improve here to 675 Boe/d and EURs to 645 MBoe. This area includes these counties:
Southern Maverick
Northern Dimmit
Northern La Salle
Northern McMullen
Southern Atascosa
Southern Wilson
Northern Karnes
Southern Gonzales
Northern Lavaca
Marathon identifies the condensate window as the best area of the Eagle Ford with respect to IP rates and EURs. 30-day IP rates of 1650 Boe/d have been seen with EURs of 965 MBoe. These counties are included in this window:
Northern Webb
Southeastern Dimmit
Southern La Salle
Central McMullen
Northern Live Oak
Southeastern Atascosa
Northern Bee
Karnes
Northwestern DeWitt
Eastern Lavaca
Marathon has had some very good wells in its Karnes County acreage. Going from the northernmost well to the south, starting in the central portion, here are those results:
Medina Jonas A 1H: IP rate of 650 Mcfd, 1100 Bo/d, and 65 Bngl/d
Egbert Miller 1H: IP rate of 1000 Mcfd, 800 Bo/d, and 100 Bngl/d
Rippstein Gotthardt 1H: IP rate of 500 Mcfd, 1000 Bo/d, and 50 Bngl/d
Rippstein Rafter 1H: IP rate of 500 Mcfd, 950 Bo/d, and 50 Bngl/d
Mikkelson Witte 1H: IP rate of 1250 Mcfd, 1100 Bo/d, and 125 Bngl/d
Pfeifer Bell 1H: IP rate of 600 Mcfd, 1000 Bo/d and 60 Bngl/d
All of the wells above are in the high GOR oil or condensate windows. The significance of these wells has to do with location. Each well continues to improve to the southeast as we move from the high GOR oil window to the condensate window. Remember, this is not all about the window that is being drilled, but about the geology below.
Marathon has made some improvements to its Eagle Ford wells. It has increased lateral lengths from 5000 feet to 5600. Proppant concentration has increased 25% and drill times have improved. It is currently testing the application of 80, 60 and 40 acre spacing. Marathon will continue to improve as it gets more comfortable in this play. Well costs vary from $7.7 to $8.1 million, with lower costs being realized in the low GOR oil window due to its shallow depth.
In summary, it will take a very broad examination of the Maverick and Gulf Coast Basin to find the best areas to drill and complete. Areas to watch:
Dimmit County
La Salle County
Atascosa County
Karnes County
Wilson County
Gonzales County
Dewitt County
Disclosure: I have no positions in any stocks mentioned, and no plans to initiate any positions within the next 72 hours.
Disclaimer: This is not a buy recommendation